>> Test the latest technology and much more: apply to us! <
Asus Zenbook 14X OLED review: A colorful performance package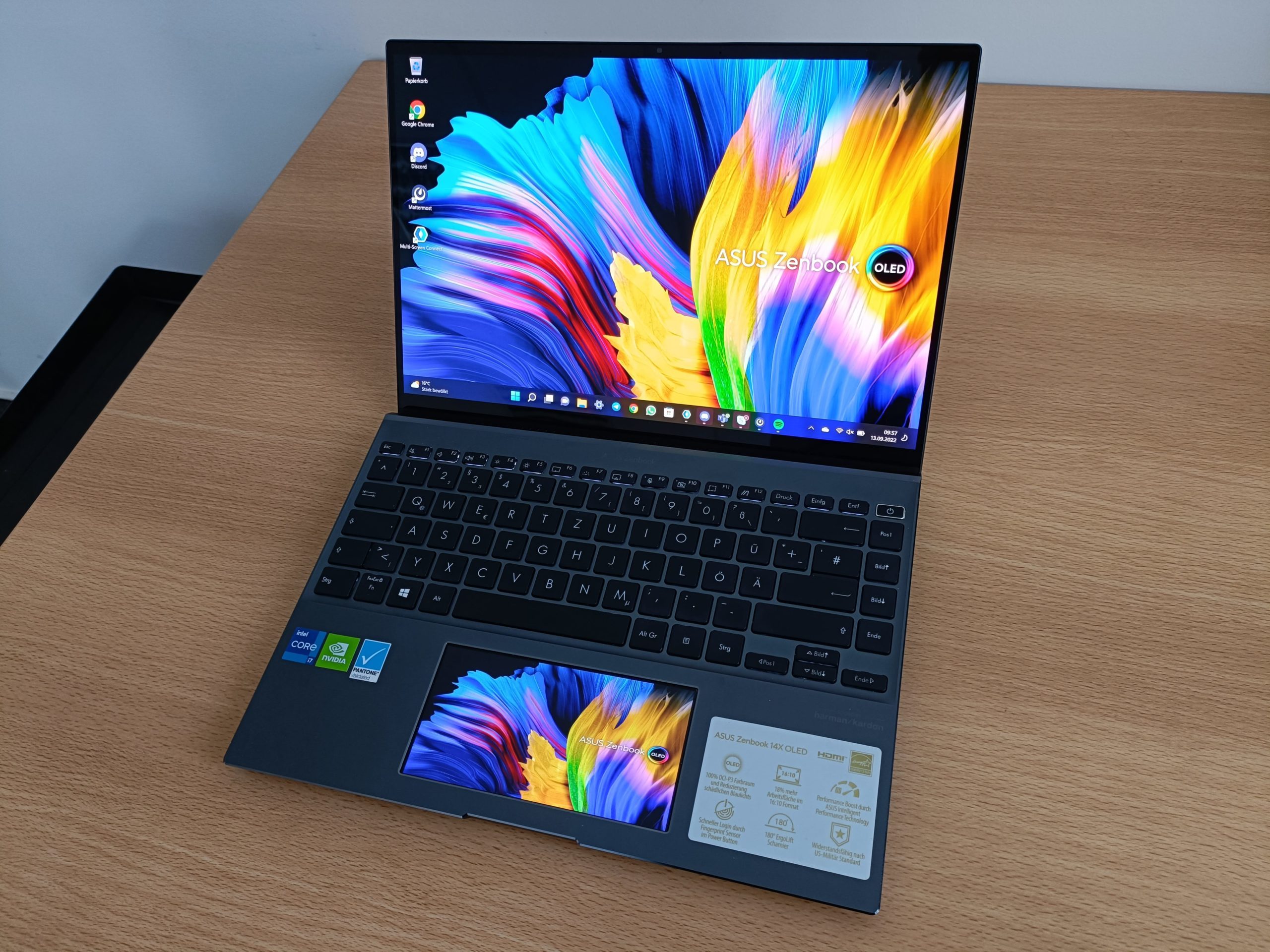 (Post picture: © 2022 TechnikNews.net)
Asus has launched a really good laptop with the Zenbook 14X OLED. Among other things, it tries to convince with a special gimmick. We have tested it for you in everyday life.
With the Zenbook 14X OLED, Asus is following the proven path of modern laptops. You rely on a bright and high-resolution 14-inch OLED screen. This can even offer touch operation in certain configurations.
What's in the box
Asus Zenbook 14X OLED
Laptop sleeve with Zenbook design
100W USB Type-C charger
As is typical for Asus, the Zenbook 14X OLED comes with a high-quality case or sleeve for the laptop. Unfortunately, this is no longer a matter of course these days.
Technical data
14 inch, 4K (3840 x 2400) OLED 16:10, with touchscreen alternatively 2,8K with 90Hz
Intel® Core™ i7-1165G7 2,8GHz 4 Core
ScreenPad™ 2.0 (FHD+ (2160 x 1080) IPS level panel)
16 GB LPDDR4X on board (can be upgraded to up to 32 GB RAM)
512GB M.2 NVMe™ PCIe® 3.0 SSD or 1TB
63WH battery
KG 1.4
720p cam
I/O connections
1x USB 3.2 Gen 2 Type-A
2x Thunderbolt™ 4 display and charging
1x HDMI 2.1
1x 3,5mm Combo Audio Jack
MicroSD slot
We get a decent selection of ports on the Zenbook 14X OLED. The 2x Thunderbolt 4 connections also give you the option of connecting a display and a power supply.
Even if the Intel i7-1165G7 Prozessor is already 1 year old, it is still just as impressive in everyday use as current CPUs. Nothing stutters in daily use. Load times are fast and lag-free thanks to the fast PCIe 3.0 SSD. Nevertheless, I would advise current buyers to configure an AMD Ryzen in the Zenbook 14X OLED: This performs significantly better in terms of efficiency.
WLAN works without much Protrouble. Windows 11 was already pre-installed in my case. What is of course really fun in everyday life is the OLED display. The colors and the black levels are typically OLED bright and black is really black. Actually you can do it very well with that Zen Book 13, which I tested last year. Just the 14 inch version with a slightly better battery life.
Battery life: Pretty solid, but nothing special
With the 63WH battery, the Zenbook 14X OLED lasts a good 4 to 5 hours. This in normal mode with no energy saving option. Unfortunately, the OLED display does not bring out any real energy saving measures here. But still, this should be more than enough for most users. Thanks to the 65W charging technology, the Zenbook is at least recharged very quickly.
Graphics powered by NVIDIA
For once, the graphics unit in the Zenbook 14X OLED is not a built-in Intel HD or UHD version, but an NVIDIA MX450 with 2 GB of video memory. Indie games or even older games should be able to do this well. But in general, the Zenbook series from Asus is not a gaming device. The focus is clearly on the workflow and business. Therefore, it does not need an extra powerful graphics card. After all, there is ASUS ROG as a sub-brand.
ScreenPad 2.0: 2 displays are only available from Asus
Asus is probably one of the only manufacturers to build two full-fledged displays into a laptop. Last time they did it at Zenbook 14 Duo.
This solution was a little more thoughtful. Since the trackpad or touchpad in the Zenbook 14X OLED simply acts as a second display, it is correspondingly small and cannot be used as a second desktop. There are QuickApps for this: These can be run via quick selection on the lower display. Except for the calculator or notes, these shouldn't really offer many functions.
If you don't feel like using the second display and just want to use it as a touchpad, you can simply deactivate it using an FN key. This should also save battery. In general, I found the Zenbook 14 Duo's extended display idea to be a little better implemented. With the Zenbook 14X OLED, on the other hand, I didn't use it often or not at all.
Summary
Currently you can even get a newer version of the Zenbook 14X OLED with the 7th generation Intel Core i12. As is well known, this is significantly more economical than the 11th Gen. In terms of price, however, our test device comes in at 2,8 euros with a 7K resolution and i12 1.280th Gen. This is already a high price. Nevertheless, the buyer gets a lot of performance, a good battery life, fast charging and on top of that a very good OLED display, then the price should be justified somewhere.
However, as mentioned in the beginning, I recommend the AMD Ryzen version. Since this should work much more effectively and should achieve better performance in special applications.
Buy Asus Zenbook 14X OLED
Recommendations for you