Asus Zenfone 8 Flip review: is it still worth it?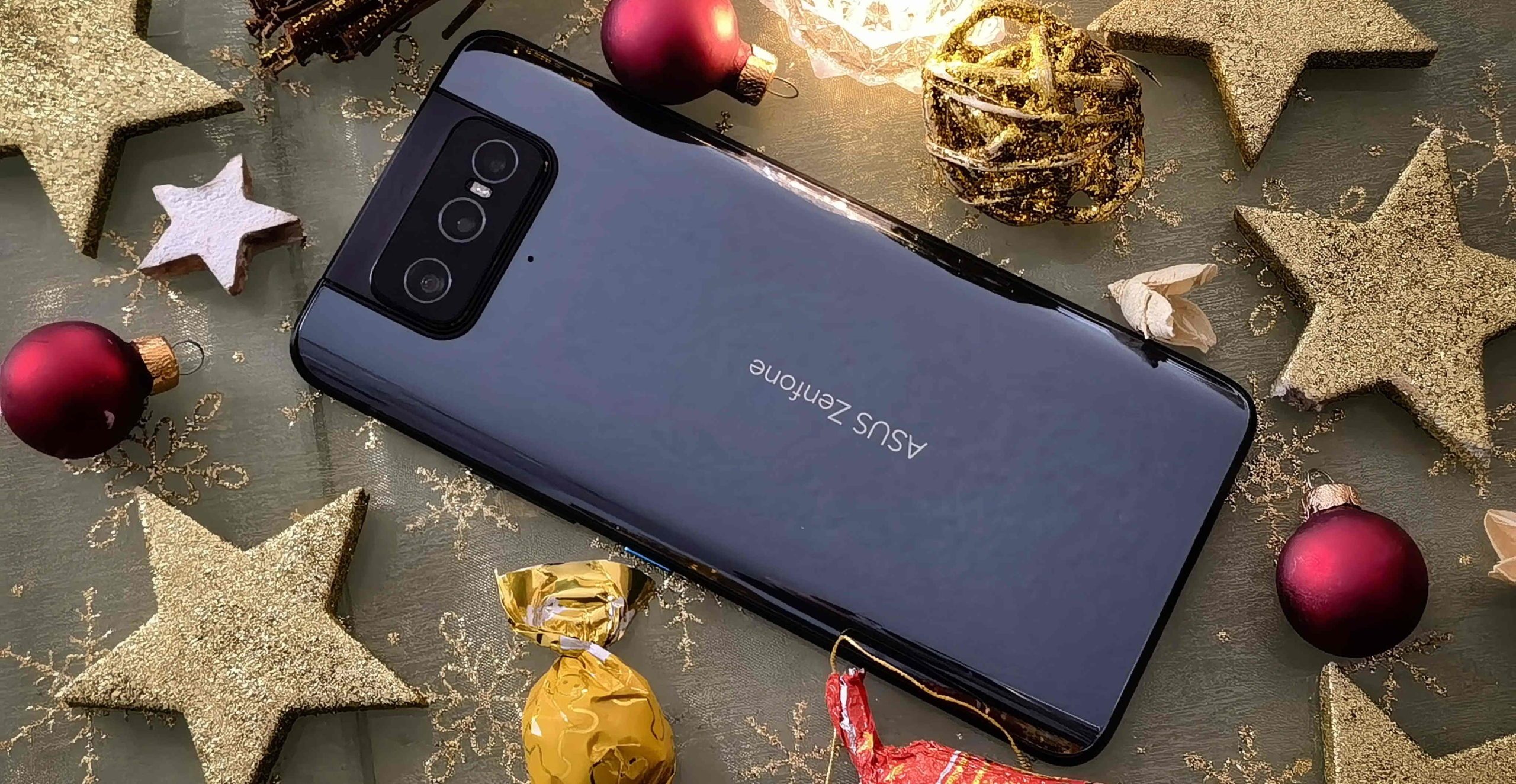 (Post picture: © 2021 TechnikNews)
Asus introduced the Zenfone 8 and 8 Flip presented two new high-end smartphones with interesting features. This review is about the larger Asus Zenfone 8 Flip, which started for a recommended retail price of 799 euros.
For this price, customers get a high-quality housing made of glass and aluminum, a huge 6,67 inch 90 Hertz OLED display without annoying cutouts, a Snapdragon 888 from Qualcomm and a 5.000 mAh battery. In addition, the built-in 64 megapixel triple camera also functions as a front camera, because as the name "Flip" suggests, the cameras can be folded over with one click. We have tested the smartphone extensively and you can read in the following lines whether it is still worth it.
Haptics, design & processing
The Asus Zenfone 8 Flip is a large, heavy and thick smartphone, which in many situations is not procan be easily operated with one hand. The dimensions are 165 x 77,3 x 9,6 millimeters and the weight is a whopping 230 grams. The smartphone also looks a bit top-heavy and feels a bit sharp-edged in the hand, since the transition from the display to the frame isn't all that successful. I would recommend all potential buyers to hold the 8 Flip in their hands before making a purchase, as the dimensions and weight may put many people off, but those who prefer big and heavy smartphones will get their money's worth here.
The frame is made of aluminum, which is quite resistant to fingerprints due to the matte surface. It also conveys an extremely high-quality feeling and gives the device stability. Glass with a high-gloss finish is used on the back, which unfortunately almost magically attracts fingerprints, regardless of whether you choose black or silver. The black color is relatively unspectacular and looks more gray than black. I like the silver color much better, because depending on the incidence of light, it shimmers slightly bluish and every now and then it also looks gold, which I really like. In addition to the colors and the "ASUS Zenfone" lettering in the middle, the horizontally arranged cameras in the upper third immediately catch the eye. A total of three sensors can be found here, which protrude a good deal from the case, but do not cause any wobbling when being operated lying on the table. If necessary, the cameras can also act as a front camera by folding forward, which is quick and without any Proproblem works. In the camera app, the mechanism can also be controlled using the volume up and down buttons, which means that photos can be taken from almost any angle and if you drop your smartphone, the cameras fold in automatically.
A huge OLED display dominates the front, which is not interrupted by a notch or a punch hole, which is very little seen these days. The bezels around the screen are by no means the thinnest and for an MSRP of 799 euros I would have expected a little more, but it's still okay.
There is no reason to criticize the workmanship. The Zenfone 8 Flip makes a stable, well-made impression, the keys sit firmly in the case, are easy to reach and have a good pressure point. The "flip camera" also makes a great impression.
Display - neat
With a diagonal of 6,67 inches, the OLED panel has a resolution of 20 x 9 pixels in the elongated 2.400:1.080 aspect ratio, which gives us 395 pixels pro inches and brings about a sufficiently sharp display of the content. In everyday use, no individual pixels can be seen without comparison to other devices, but if you compare the panel with displays with a higher resolution, you can definitely see a difference in sharpness. A difference to the similarly expensive competition can also be seen in the refresh rate, because the screen only supports 90 Hertz, which means that 90 frames per second can be played back. 90 Hertz is fine and looks great, but for the price on offer and compared to the cheaper Zenfone 8, which supports 120 Hertz, I expect more.
Thanks to the OLED technology, we are dealing with excellent black and contrast values ​​and even the white value, which is often the case with OLED panels Prorepresents a problem can convince all along the line. The viewing angle stability and the brightness are also good, but by no means outstanding. Colors are reproduced a bit too saturated for my taste, but it is by no means particularly annoying.
Software - Stock Android with many additional functions
The in-house ZenUI, based on Android 11, is used as software. The ZenUi is a very clear user interface, which is very similar to Stock Android. In addition, the system is expanded with some useful additional functions, such as the "smart button", which you can use to start the Google Assistant by tapping twice, for example. Furthermore, the display can be switched on or off by tapping twice on a free space, which I find very useful in everyday life.
With Netflix, Instagram and Facebook, some bloatware was initially preinstalled, but luckily all of the apps mentioned can be uninstalled except for Netflix.
However, I am a bit disappointed with the update supply, because the security patch of my test device is still from March 2021, which definitely shouldn't be. Of course, it can also be an isolated case with my test device.
Performance - fast and fluid
Under the hood is the Snapdragon 888 from Qualcomm, paired with 8 GB of RAM and 256 GB of internal storage procan easily be expanded via a microSD card, which is very commendable in this price range.
Together with the 90 Hertz refresh rate and the simple software, the smartphone flies through everyday things. You won't find any stutters or delays here and overall the operating speed is at an extremely high level. Even larger apps or games never cause problems Prostated problems.
heat development
Like all smartphones with the Qualcomm Snapdragon 888, the Asus Zenfone 8 Flip gets very warm, especially when taking photos or using it more intensively. Every now and then it gets noticeably warm even with normal, everyday use, but it never became worrying during my entire test phase. A Xiaomi mi 11 ultra for example, it becomes noticeably warmer again.
Battery - good
Asus has given the Zenfone 8 Flip a 5.000 mAh battery that can be fully charged with up to 30 watts in around 90 minutes. Some competitors offer a bit more here, but at least the right power supply is included, which is unfortunately anything but self-evident these days. Wireless charging is unfortunately not possible, which is completely incomprehensible because the cheaper Zenfone 8 can be charged wirelessly.
In principle, I am satisfied with the battery runtimes, since I always prowent through a day without any problems and often not even 1,5 days Proproblem. At the end of the day, with a screen-on time of 5 to 6 hours, I usually still had between 20 and 35 Procent battery left, which is very satisfactory. For 5.000 mAh and (only) 90 Hertz I would have expected a little more, but that's probably due to the Snapdragon 888 again, which is extremely inefficient.
Camera - light and shadow
The camera equipment can really be seen on paper, because Asus fortunately does without an unnecessary macro camera and instead installs a useful telephoto camera, which has a resolution of 8 megapixels and enables a 3x optical zoom. There is also a 64 megapixel main camera and this setup is complemented by an ultra wide-angle camera with 12 megapixels.
The main camera succeeds in surprisingly sharp images with a decent dynamic range and mostly accurate color reproduction. Only shades of green are sometimes reproduced a little too dark for my taste. As soon as the lighting conditions get worse, the Asus Zenfone 8 Flip can no longer really convince, especially in view of the high price. The recordings often get too dark and quickly start to rustle. In comparison, it is almost half as expensive OnePlus North 2 has the edge at Lowlight and that too Huawei nova 9 or Google Pixel 6 are visibly better.
The ultra-wide-angle camera takes solid pictures, but the MSRP of 799 euros is not really appropriate. For this price, I mainly expect a higher image sharpness, as is the case with the cheaper one, for example OnePlus 9 the case is.
I would like to positively highlight the 3x optical zoom, which does a very good job. Colors are usually reproduced naturally and the image sharpness is great, so that even with 5x magnification you can still take very good-looking photos. Many competitors in this price range and even a few flagships, such as the iPhone 13 for 899 euros, can do the OPPO Find X3 Pro with an MSRP of a proud 1.149 euros or that Samsung Galaxy Z Fold3 for 1.799 euros not quite keep up.
The greatest strength of this smartphone is of course the excellent selfie quality. No other competitor gives you such sharp, true-color selfies with great dynamic range and beautifully natural bokeh. For group selfies, we recommend using the ultra-wide-angle camera, which also takes very good pictures. Those who value selfies will get their money's worth with the Zenfone 8 Flip. Videos can even be recorded in 8K, which doesn't look too good though. I recommend videos in 4K with 30 or 60 frames pro second, because the 8 Flip delivers great sharpness, good colors and good stabilization here. While recording, the flip camera can be controlled using the volume up and down buttons, giving cool possibilities.
Test photos
Let's take a look at a few test photos. As always, the following images are absolutely unprocessed, but compressed without loss in order to keep loading times and memory consumption of the website low.
Comparison with the OnePlus Nord 2
Last but not least, we want to see how the cameras in the Asus Zenfone 8 Flip compare to the competition. This is what occurs OnePlus North 2 which, mind you, costs at least 300 euros less. (By clicking on the pictures you can read the results of the respective comparison).
Miscellaneous - solid stereo speakers, poor vibration motor, and more
Asus installs stereo speakers that are very loud and provide a very good sound. The Xiaomi 11T sounds a bit better, but you can also be more than satisfied with the speakers of the Zenfone 8 Flip.
The built-in vibration motor is rather disappointing, especially for such an expensive smartphone. It does not convey a particularly high-quality feeling in the hand and it also sounds quite annoying, especially when the smartphone receives notifications while lying on the table and then vibrates. Xiaomi as well as OnePlus and Realme have a lot more to offer even in the middle class.
Last but not least, I would like to mention that the smartphone is of course not protected against the ingress of water and dust due to the flip camera.
Summary
The Asus Zenfone 8 Flip is actually a convincing upper-class smartphone with a high-quality case, decent display, excellent performance, solid battery life, good zoom camera, outstanding selfie quality and satisfactory stereo speakers. With the main and ultra-wide-angle camera, the missing 120 Hertz frame rate, the expandable vibration motor and the lack of wireless charging, there are also a few weaknesses in view of the high RRP of 799 euros that should not actually be in this price range.
Unfortunately, the price has not really fallen yet, which is probably due to the chip crisis. As long as the price does not drop below 600 euros, it is very difficult for me to recommend the smartphone, because the smartphone costs between 600 and 800 euros OnePlus 9, OnePlus 9 Pro, Samsung Galaxy S21, Google Pixel 6 Pro and Co. many good smartphones that are superior to the Zenfone 8 Flip in some points. If you attach great importance to the selfie quality, then you are welcome and you will be very happy, but maybe I would wait a little longer until we have reached around 600 euros.
Thank you Asus Germany for providing the Asus Zenfone 8 Flip!
Buy Asus Zenfone 8 Flip
Recommendations for you