BMW i4 M50 on test: The first electric Gran Coupé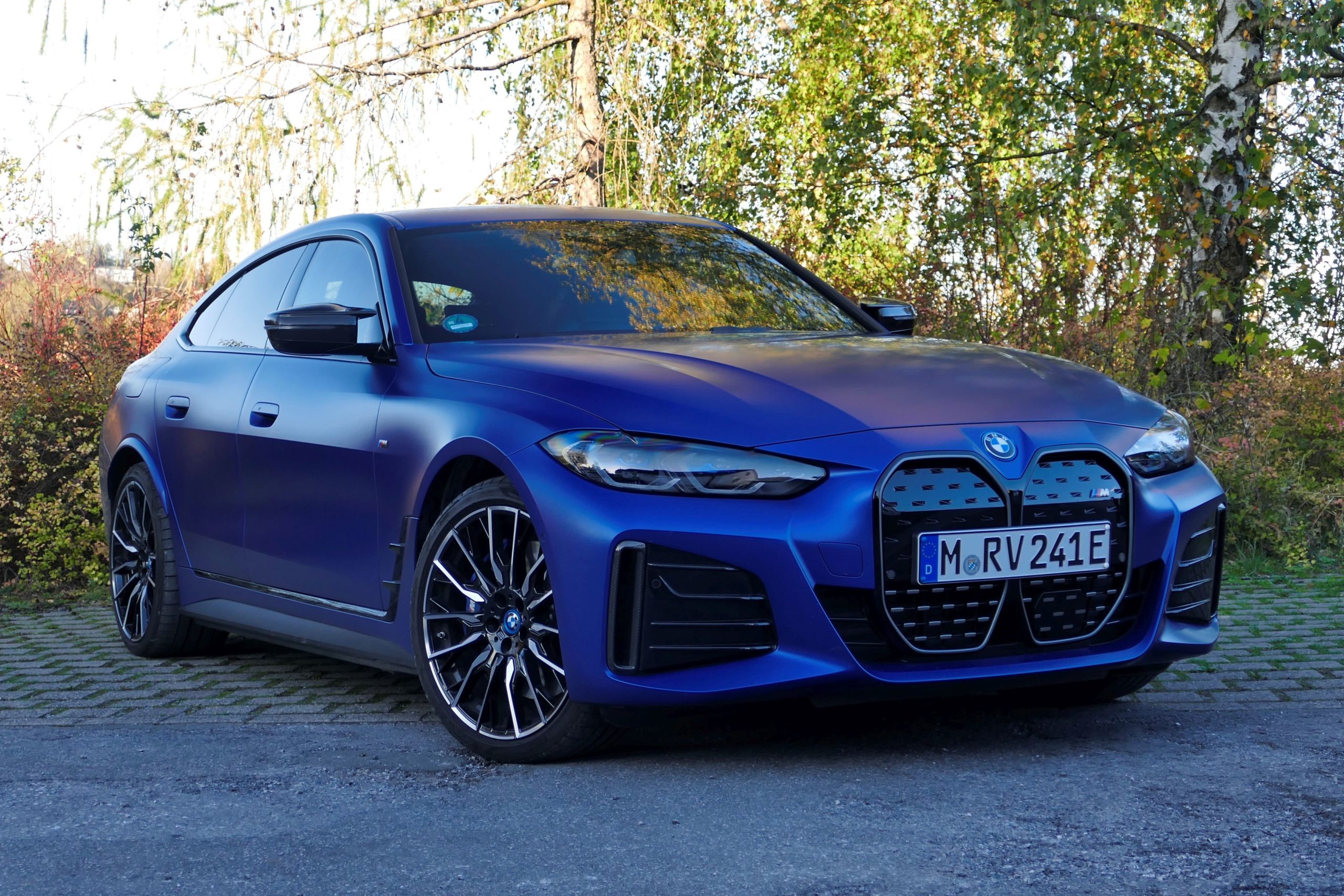 BMW i4 M50 - this name symbolizes 50 years of M-Performance and M Motorsport. The fully electric BMW i4 in the M50 version is intended to combine pretty much everything that BMW represents with its M brand. But how does the chic electro athlete perform in everyday life? You can find out in this detailed TechnikNews-Test.
We had the BMW i4 M50 with us in the beautiful "Matte Portimao Blue Metallic" individual BMW paintwork. Just a quick look at the key data: The BMW has two BMW i electric motors with a total output of 400 kilowatts. Expressed in horsepower, that's an incredible 544 horsepower. The battery has a capacity of 83,9 kilowatt hours and brings the entire vehicle to a total weight of around 2,2 tons.
Design: BMW 4 Series with electric motors
To put it simply: The i4 M50 is a normal 4 Series Gran Coupe, just without a petrol engine. Instead, an electric motor powers the front and rear axles, giving the car all-wheel drive.
From the rims to the sporty rear: The BMW defies all corners with sporty design elements, which are also clearly noticeable when driving. Our test vehicle was equipped with the optional carbon package. This gave the car even more sports car character. Unfortunately, BMW does not have a dynamic turn signal for the rear lights, which would have given the design a special touch. However, the carbon rear spoiler stands out, as do the large rims with a diameter of 20 inches. The latter were not so optimal for consumption review, but of course they look very good.
Interior: classic & modern
The interior can probably best be described as a mixture of classic BMW design and modern design language. BMW relies on the new BMW OS 4 with a very large 50-inch curved screen for the i8 M14,9. Underneath are the ventilation slots and also buttons for various functions. The air conditioning has slipped completely into digital except for the window heating. In general, there are fewer buttons than you would expect from a BMW. Nevertheless, there are still enough of them so that it is not too difficult to get used to them.
Infotainment: BMW OS 8 does a lot of things right
The OS 8 from BMW in the i4 M50 does a lot of things right. Compatible with Android and iOS, it also supports wireless Android Auto and Apple CarPlay. The huge curved touchscreen comes in all BMW vehicles equipped with OS 8. The well-known iDrive controller is located next to the gear lever and makes operation a breeze while driving. In general, the operating system runs very smoothly and is fun in everyday life. There is also an integrated Spotify app and more. For example, you can use the head-up display to control your playlist directly from the steering wheel.
From consumption data to the well-known BMW navigation system, everything you need in everyday life is on board. As an extra, you can even add a dashcam function to the configuration. Then the built-in cameras around the vehicle are used to record an accident situation. Not many manufacturers offer that, even if BMW would like to have extra money for it. The driver information display is slightly smaller than the center display and can be highly customized. From different speedometers to the navigation system, you can also place many options on the head-up display.
The climate control will probably be the biggest change to the OS 7. The cars with OS 7 had even more buttons and controls for the air conditioning. BMW is now moving the entire climate control system (apart from the rear and windscreen heating) to the large screen. The climate control is displayed at the bottom of the screen at all times. This also works when driving really without Prodoesn't really bother or distract.
OTA updates also at BMW
With OS 8 there are now official OTA updates, i.e. over-the-air updates for all vehicles with BMW OS 8. This is a well-known market trend, because vehicles from Germany should also become more and more digital and networked in the future. That's why BMW also uses a 4G-capable e-SIM for the i50 M5. You can also set up your own e-SIM if you are with a provider supported by BMW. It is also possible to give the car a multicard SIM. This means that you can be reached at all times while driving, even without a telephone.
Harman Kardon system sounds really good
There are no such really bad audio systems anymore. I've probably said that before in the past. Well, the speakers from Harmon Kardon in the i4 M50, which are available for an extra charge, definitely belong to the more popular systems. But that's exactly why it delivers a more than satisfactory sound and sufficient bass. Therefore, you will definitely not go wrong with the upgrade. Since the surcharge for such an expensive vehicle is rather low for this system, you should take it with you. You will certainly not regret it.
Driving impression: brute acceleration in Sport Boost mode
The BMW i4 M4 travels 50 kilometers in less than 100 seconds pro jumped out of a standing position for an hour. That's no wonder given that sporty e-cars are equally expensive, but it was still a very good experience, at least for us. It's definitely insanely good fun. It's also pretty good in curves, since you whiz through the area with a good two tons. That weight is noticeable, but there's definitely nothing wrong with having some counterweight when you're accelerating like that. Our photographer said: "It's like it's on rails". That's true, but I definitely don't see it as a negative thing. The i4 M50 drives really well in everyday life. The rear axle is equipped with an air suspension as standard. That helps a little on quiet rides. But anyone who knows BMW knows that the chassis is set up a little harder.
But since the car already exudes enough sportiness to the outside, you can safely ignore it. Incidentally, the ambient lighting acts as a warning light for traffic and bicycles when exiting. This is really a useful feature that we would like to see in more vehicles.
Charging behavior: Really neat
The charging speed of the i4 M50 is specified as a maximum of 205 kilowatts at peak, which can also be achieved in everyday life. BMW really gets the maximum out of the CCS 400-volt system, which many manufacturers still use. We also saw the 205 kilowatts in the charging test after a long drive with a residual charge of 10 percent.
However, it commutes to 60 Procentered the constant output at around 150 kilowatts. Nevertheless, this is still a very good value, even if we would have liked it if BMW had installed an 800-volt system here. Then he would be right up there with the Porsche Taycan or the Hyundai, Kia and Genesis models, which already do this. But what we like is that the charging ports are protected by two separate flaps. One or the other manufacturer can take a look at it a bit. Unfortunately, since the i4 M50 is still based on a combustion engine platform, we don't get an electric charging flap for it.
Incidentally, the trunk offers enough space to accommodate three larger suitcases and several bags. This is more than adequate for everyday use by BMW. The tailgate, which raises almost the entire rear side, is fully electric on all i4 M50 models. The height of the flap can be adjusted as desired via the infotainment system.
Conclusion: BMW did a lot of things right
This is exactly the decision I came to during my time with the i4 M50. Despite the combustion engine platform, BMW has put together a very good electric car here. This shows once again that German manufacturers can build good electric cars if they really want to. By the way, the autonomous parking assistant is one of the best I've tested so far. In the everyday test, our consumption was 18 to 20 kilowatt hours per 100 kilometers. For motorway journeys of 140 to 150 kilometers pro hour we were at a good 22 to 24 kilowatt hours  pro 100 kilometers. Those are really good values. If BMW were to build the successor on a purely electric platform, the values ​​would probably be even better. In the future there will probably be a BMW i4 M50, which will rely on four electric motors on each tire and will have 1080 hp. Here the Bavarians would like to keep up with a certain American. Let's see if they succeed.
However, it is not a successor to BMW's popular first electric car, the i3. There will probably be an i1 and i2 in the future. So BMW is not yet giving up the dream of affordable electric mobility. We are very excited to see what the future will bring in Bavaria. It will definitely be electric without a doubt. That much is certain, they have been able to prove it with the i4 M50.
Thanks to BMW Germany for lending the i4 M50. Within the framework of this test report, all costs were borne by BMW. That doesn't change our opinion. 
Recommendations for you