Huawei MatePad 11 review: A 400 euro iPad Pro?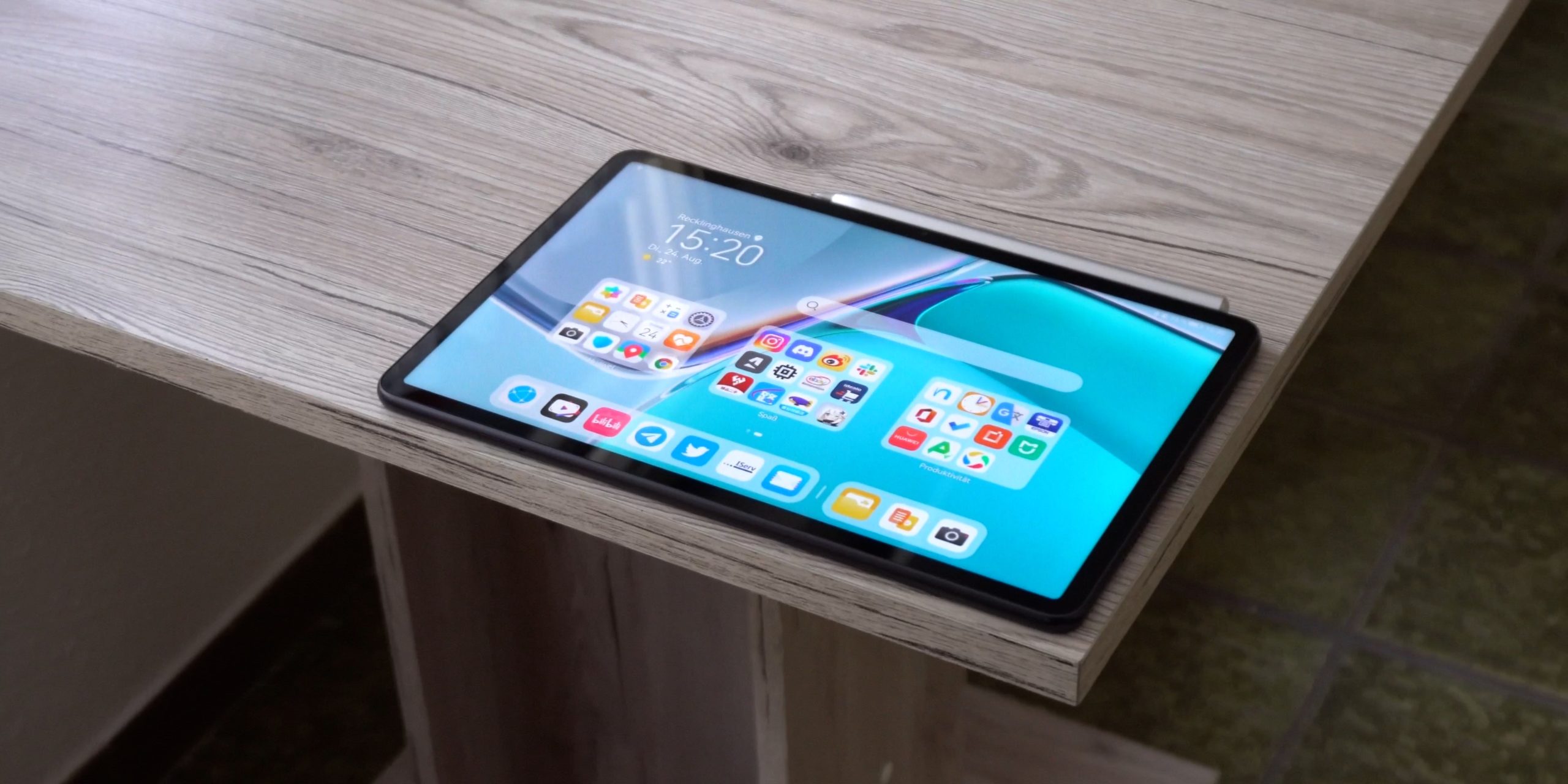 (Post picture: © 2021 TechnikNews)
When you talk about tablets, most people think of the iPad right away. This special position is due to the fact that Apple always maintained its own apps through its own operating system, while Google gradually left this market with Android. Ultimately, the Android manufacturers who wanted to introduce a tablet were responsible for themselves. Of course, Huawei has always wanted to fill this market: first with the MediaPad and then with the MatePad. In 2021, the tablet for the masses will be the new MatePad 11.
For only 399 euros you get a flagship SoC, 120Hz and four Harman/Kardon speakers. So on paper it's a really strong one Product, but how it works in real life and with that iPad compares at a similar price, we want to find out in this test.
Design & processing
If you look at the MatePad 11, the first thing you notice is the long aspect ratio. It uses a wide 16:10 format that is unusual for iPads. This shows its advantage especially when watching normal 16: 9 videos, but it also has disadvantages when reading text, as less content is seen. The front has four symmetrically thin display bezels. Compared to the normal iPad for 399 euros, it even looks pretty futuristic.
The back and the frame are both made of an unusual material, which is definitely more plastic than aluminum. It also feels significantly less valuable in the hand, especially when it is used without a cover. In the hand, the MatePad is average in weight and when held up, of course, it is significantly heavier than a smartphone. The camera dump, which looks like it houses three sensors, sticks out quite a bit for a tablet. However, this does not match the image quality.
Display & speakers
The Huawei MatePad 11 uses an LCD screen with a resolution of 2.560 x 1.600 pixels. This results in a pixel density of 275 PPI. That doesn't sound like a lot, but it is completely sufficient for a tablet that can be viewed from a distance. In reality, with a similar pixel density, it also looks significantly sharper than the iPad, which is probably due to the subpixel arrangement.
The ProThe problem with this panel is more the color representation. Although it supports the DCI-P3 color space, the colors initially look very cold and not that accurate. The illumination is also not particularly good, as is typical for LCDs. However, there is a feature similar to Apple's True Tone that adjusts the display's colors to the environment, which is humane for such a large display.
I recommend setting the colors as shown so that the picture doesn't look so cold. (Image: TechnikNews)
In comparison, the speakers are significantly better. With the MatePad 11 we have two speakers pro Installed side, all of which were coordinated by Harman / Kardon. The sound is very full and loud. Compared to the normal iPad, they sound many levels better. The tablet also has a vibration motor, but it is very light and of very poor quality, so that you hardly notice it in everyday life.
Performance & battery
Many may worry about a trade-off in performance. However, I can reassure you here, because the MatePad 11 uses the Qualcomm Snapdragon 865 SoC. As the strongest Processor of the last year, it is of course always strong enough for everyday tasks, the reputation should go with it Proproblems with the Snapdragon 888 are not necessarily worse. Because a tablet has significantly more space for cooling, the performance is kept more constant. Gambling with the tablet is more fun because you don't have to hold a hot frame in your hand.
The MatePad 11 uses a 7.250 mAh battery. Because it also has to power a 120Hz LCD screen, one can assume that the runtimes won't be particularly good. Charging once a day is almost always necessary in everyday life. However, after using it, I was satisfied with it, I plugged the tablet in for a bit whenever I could. It can be charged with up to 22,5 watts. That's not really that special, especially compared to the MatePad's current 66 watts Pro. For 399 euros, the charging times are perfectly fine and compared to an iPad, the battery is even fully charged faster.
Accessories - keyboard & stylus
Along with the MatePad, there is a keyboard cover and the second-generation Huawei M-Pencil. The former also serves as a protective case. Its PU material is very comfortable and of high quality, the entire structure is not particularly heavy. The keyboard itself is completely sufficient for typing. For me personally, a notebook with a larger area and the Magic keyboard are still more comfortable, but I would definitely prefer this keyboard to the old Smart Folio keyboard. Only the magnets are sometimes too tight at the bottom and too loose at the top that it can be a bit uncomfortable when removing them. But I don't want to complain about a free keyboard.
The M-Pencil is much more pleasant to use. Unlike iPadOS, you can use it to operate all of the tablet's gestures and keep your greasy hand away from the screen. In some optimized apps, it achieves a low latency of two milliseconds with its 120 Hertz. That sounds better compared to the nine milliseconds of the Apple Pencil, but in my experience this behavior could not be true because the apps also have to be optimized. Only when it comes to the typing experience, Apple is still slightly ahead. However, the M-Pencil is very comfortable in the hand and sticks magnetically to the top of the MatePad for charging.
Software - HarmonyOS without Google services
For many, the most important thing about the MatePad is still the software. The MatePad 11 comes pre-installed with the HarmonyOS 2.0 user interface. Except for a few mandatory ones Proproblems, Huawei actually put a lot of effort into it. We have intuitive multi-tasking with draggable small windows, customization and much more. If you have a Huawei smartphone, connecting to it via HarmonyOS is also very sophisticated.
The biggest ProThe problem with HarmonyOS tablets is of course still the lack of Google services. My preferred solution here is to use alternative app stores, such as APK Pure, since you no longer have to download the apps from different sources in the browser. This also gives you access to most of the apps you use in everyday life, apart from those from Google itself, which I use via the browser, similar to using a PC. Of course, you have to research more individual requirements yourself, at least for me there were absolutely none Prostated problems.
And if you only write texts in Office and notes with the pen on the MatePad, then you don't even have to worry. My favorite app for the stylus "Nebo" is also available. Unfortunately, push notifications in Twitter, eBay and some other apps are still out of the question. Here I recommend using a Google smartphone in combination.
Summary
At the end of this review, you might notice that the Huawei MatePad 11 doesn't bring that many surprising changes. Nevertheless, for me personally it is really the most pleasant tablet for 400 euros to use. You always have to consider the price. In return you get a Snapdragon 865 with 120 Hertz for everyday use, good speakers, a pleasant front design and HarmonyOS as an ecosystem. The situation with the Google software is all the more unfortunate. My conclusion is therefore: If the huge selection of apps is not that important to you and you only take a few notes and Word documents and watch YouTube, for example, then it is by far the best tablet you can find for the price. together with a Huawei smartphone even correctly productive. If you really need specific apps on iPadOS or the Apple system for things like AirDrop or AirPlay, you already know your answer.
Comparison with the iPad 2021
If we only look at the tablets, many people are looking to compare the MatePad 11 and the iPad 2021, perhaps the two most recognized tablets for 400 euros.
On the hardware side, I see the advantage here with Huawei. 120 Hertz, four speakers, laminated display and so on. For me, these are important points where the iPad hangs back on the hardware side. Of course, the iPad 9 also has some advantages in terms of display quality and the materials used.
| | | |
| --- | --- | --- |
| | HUAWEI MatePad 11" | Apple iPad 2021 |
| Design | Plastic, thin edges | Aluminium, thick edges |
| Display | 11 ″, 16:10, Hertz 120 | 10,2 ", 4: 3, 60 Hertz |
| Accumulator | 7.250 mAh, 22,5 Watt | approx. 8.800 mAh, 15 watts |
| Loudspeakers | Four speakers (stereo) | Two speakers (mono) |
| Unlock | 2D face recognition | fingerprint sensor |
| Stylus | 2nd generation M-Pencil | 1st generation Apple Pencil |
| Connection | USB-C | lightning |
Many will say that Apple has the advantage when it comes to software, which is why the iPad is still unrivaled. In my experience, I would put it this way: Apple's iPadOS has more high-quality applications such as Goodnotes or Notability, but the most important apps are also represented on Android, with the MatePad apart from the Google apps. Personally, I didn't even notice the better optimization. Poorly optimized apps like Instagram don't run any better on the iPad, even a little worse.
Ultimately, the decision is up to you, but I have to remind you of the price again. The iPad costs 64 euros in the basic version with 379 gigabytes of memory and the MatePad 399 euros, but you already get the pen, the keyboard cover and a Bluetooth mouse for free. This accessoryProproducts cost an additional charge at Apple. The next largest memory version is Apple's 256 gigabytes for 549 euros, the MatePad 11 is 128 gigabytes for 449 euros. Therefore, Huawei has some advantages in terms of price, especially with the accessories.
Buy the Huawei MatePad 11
Recommendations for you