Huawei nova 9 review: Lots of light, but also some shade for 500 €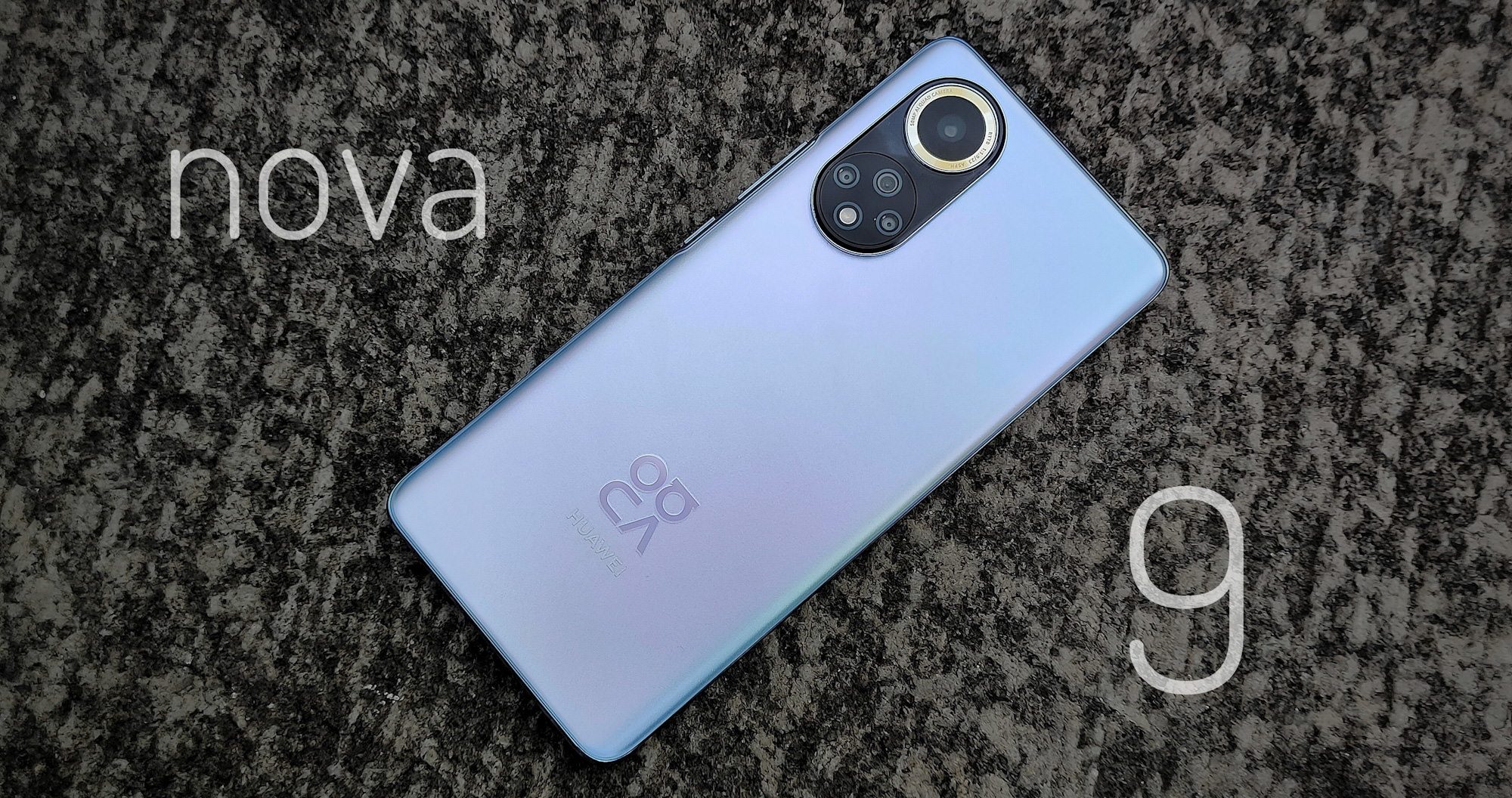 (Post picture: © 2021 TechnikNews)
The Chinese manufacturer is finally back on the European smartphone market with the new Huawei nova 9. It still comes without Google services, which is why it is almost certainly not an option for many people, but the technical data reads well for a recommended retail price of 499 euros. 
Among other things, customers get a high-quality and beautiful smartphone with a matt glass back, a large OLED display with a smooth 120 Hertz refresh rate, a Snapdragon 778G from Qualcomm, a 4.200 mAh battery, 66 watt fast charge and a 50 megapixel RYYB quad -Camera required. All of this can be read quite well, but you can find out in this review whether it can also convince in everyday life and not just on paper and whether I can recommend it for the price of 499 euros.
Haptics & design - beautiful and relatively high quality
Smartphones have become bigger, thicker and, above all, heavier in recent years, which many people do not like at all. The Huawei nova 9, with dimensions of 160 millimeters in height and 73,7 millimeters in width, is not a compact smartphone either procan easily be operated with one hand, but compared to most of the competition it is noticeably handier and more pleasant to use. One reason for this is the thickness of only 7,77 millimeters, which is quite thin by today's standards. The low weight of 175 grams also contributes to the extremely good handling. All of these points, coupled with the slightly rounded edges on the front and back, mean that the nova 9 fits the hand very well and can often be operated with one hand. At this point I would like to praise Huawei across the board.
After all the praise, however, I have to criticize a bit, because compromises were made with the frame, which in my opinion should not be for a recommended retail price of 499 euros. It is made of plastic with a high-gloss finish, which means that fingerprints are almost magically attracted. Furthermore, it doesn't feel particularly high-quality either and thus diminishes the actually beautiful device a bit. Here I would have expected a little more for 500 euros, mainly because Huawei recently launched very high-quality smartphones with metal frames. To be fair, it must also be clearly stated that almost all competitors in this price range come with a frame made of plastic, but I still don't think that's good.
Fortunately, I like the back a lot better, because it is made of glass, which looks very high quality. When it comes to colors, customers have two colors to choose from with black and blue. I got the latter for testing, which I am very happy about because it is matt, which is why fingerprints are not noticeable even after days without cleaning. Huawei did an excellent job of doing this and is definitely a bit of consolation over the plastic frame. Depending on the incidence of light, the blue color always looks a little different. Sometimes it looks slightly silver, now and then purple and if the light shines directly on the color, it also shimmers slightly greenish and yellowish, which in my opinion looks beautiful. For me personally we are dealing with one of the most beautiful colors of the year. The black color, on the other hand, is quite unspectacular, especially since it is unfortunately also shiny, which is why fingerprints are almost magically attracted. So I would advise everyone to use blue.
Otherwise, the oval camera element in the left corner is also noticeable on the back, which differs from the P50 Pro is colored completely in black. There is space for a total of four sensors, which protrude visibly from the housing, causing the smartphone to wobble a bit when it is used on the table.
Next, let's take a look at the front. A large OLED display dominates here, which is surrounded by pleasantly thin edges and is only interrupted by a rather large punch hole in the top center. The front camera is located here. As already mentioned, the screen is slightly rounded on both sides, which never bothered me in everyday life.
Good workmanship
The Huawei nova 9 leaves a stable and well-made impression. Nothing creaks here, there are no gaps between the back and the frame and, unlike some other smartphones - yes Samsung, I mean you - the back cannot be dented. In addition, the buttons are super placed, so you can use them procan easily be reached with one hand. The pressure point is okay and they sit sufficiently firmly in the case, but there is still a little room for improvement here.
Display - very good
With a diagonal of 6,57 inches, the OLED panel has a resolution of 19,5 x 9 pixels in the elongated 2.340:1.080 aspect ratio, which gives us 392 pixels pro inches and brings about a sufficiently sharp display of the content. In everyday use, no individual pixels can be seen. In addition, the screen supports a smooth refresh rate of 120 Hertz, which means that the panel can display 120 frames per second. As a result, all animations and scrolling appear buttery smooth, which ensures a great user experience.
The display can also convince in all other points, such as brightness and color rendering. Thanks to OLED technology, we are dealing with perfect black and contrast values, and even the white value is satisfactory, even if I think so on this point Realm GT Neo 2 and Xiaomi 11 Lite 5G We liked it a little better, because the white value appears minimally reddish on the nova, but it is still completely okay. Colors are reproduced extremely faithfully in "Normal" mode, which I really like. If you like it more saturated, you can select the "Lively" mode in the settings. The viewing angle stability is also on a very high level. The panel changes its color slightly to yellow at extreme viewing angles, but this is so minimal that it is not annoying at any time during everyday use. The aforementioned GT Neo 2 cannot quite keep up on this point. On the other hand, I like it a little better in terms of brightness, even if the panel of the nova 9 is still very easy to read even in brighter surroundings.
Software - EMUI 12 (almost identical to HarmonyOS)
Which, at first glance, has a lot to do with the HarmonyOS operating system on the Huawei P50 Pro reminds, on closer inspection it turns out to be the usual user interface of the Chinese manufacturer, namely EMUI in version 12. The biggest difference compared to EMUI 11 is the changed control panel and the notification bar. Here you probably got a little inspiration from Apple, because the idea is very similar to that of IOS. If you swipe down from the top right, you get to the so-called "control panel", which IOS calls the "control center". All the necessary controls, such as WiFi, Bluetooth and the flashlight, are displayed here, and you can also control your music and display smart devices. On the other hand, if you swipe down from the left, you get to the notification bar, where all incoming notifications are displayed. Personally, I like this solution optically very much because it makes everything look a little tidier than before, but I find it less practical because I have to constantly change my grip or use my second hand when I want to swipe down from the top left to get mine To be able to see notifications. The nova 9 is not as big as many other smartphones, but it is still not small enough to be reasonably operated with one hand.
Otherwise everything is actually like EMUI 11. The software is nicely clear, decorated with beautiful animations and equipped with some useful additional functions. For example, you can change the animation when unlocking using the fingerprint sensor integrated in the display, adapt the app symbols to your own taste and much more. There is also an excellent night mode and a first-class always-on display, which can be configured in the settings.
As you should have noticed, the current Huawei smartphones since the Mate 30 Pro However, there is an unavoidable disadvantage, as they are delivered without pre-installed Google services. Most applications, apart from those from Google, can be downloaded from alternative app stores, the AppGallery or Petal Search. ProHowever, there are problems with banking apps and push notifications in apps such as eBay or Twitter. I personally do great without Google services because there's a lot more possible than some people think, but if you use Google apps a lot or rely on other apps that need Google, the nova 9 probably won't make you 100 Probe totally satisfied.
Performance - good, but ...
Qualcomm's Snapdragon 778G works under the hood and it's important to mention that this is a 4G version, because Qualcomm is not allowed to use 5GProcessors to Huawei. For me personally it isn't Problem, since 4G is completely sufficient, but if you put a lot of value on it, you have to look around at the competition. There is 8 GB of RAM and 128 GB of internal storage, which unfortunately cannot be expanded via a microSD card. Unfortunately, there is no option for 256 or even 512 GB, which I find extremely sad, especially because the storage cannot be expanded.
The day-to-day performance is actually very good, because apps start and close extremely quickly, but I noticed a few stutters in the first few days, for example when pulling down the control panel, which I actually didn't expect from Huawei and the Snapdragon 778G. Fortunately, this small Proproblem fixed with an update, so that I am now extremely satisfied. I still find that, for example, the cheaper Realme GT Neo 2 runs even better with the Snapdragon 870 and that a Snapdragon 778G in a smartphone that costs 500 euros is rather borderline, but the everyday performance of the nova 9 is more than sufficient. Games also look quite good on the Huawei and run with appealing graphics. I would like to praise Huawei for the excellent RAM management, because apps remain open in the background for a very long time.
Battery - decent runtimes, even better charging times
The 4.300 mAh battery can be charged in 66 minutes with the included 15 watt power supply up to 53 Profully loaded and after about 40 minutes the smartphone is fully charged, which is very commendable. Flagships from Samsung, Google and Apple can only dream of values ​​like this. Kudos to Huawei.
I find the battery life to be decent. It's not outstanding and heavy users should not be able to use this smartphone Probleme empty in one day, but I always got through one day and sometimes even 1,5 days were possible. With permanent activated 120 Hertz I still had 5 to 6 at the end of the day with a screen-on-time of 10 to 20 hours Procent battery left. If you would like to get a slightly longer runtime out of the nova 9, you can also set the refresh rate to "Standard" (permanently 60 Hertz) or "Dynamic" (depending on the scenario 60 or 120 Hertz) in the settings.
Camera - light and unfortunately also a lot of shadow
The camera has always been a great strength of last year's Huawei smartphones and at least the main camera seems to be really convincing again on the nova 9. It is the IMX 766, which has a resolution of 50 megapixels and even in the currently best camera smartphone, the P50 Pro, is used. It is 1 / 1.56 inches tall, which is neat and on top of that the sensor comes with the in-house RYYB technology to ensure even better results in poor lighting conditions, because yellow pixels let more light through than the usual green pixels. The rest of the camera setup sounds rather unspectacular and also slightly disappointing, because we can see the built-in ultra-wide-angle camera with 8 megapixels in smartphones for less than 300 euros and with the two remaining sensors with 2 megapixels each for macro shots and depth effects is usually relatively little to begin with. A 32 megapixel front camera is responsible for selfies.
Starting with the main camera, which is particularly strong in terms of dynamic range. On this point, I like it best in this price range and the dynamic range has been a great strength of smartphones from Huawei for a long time. The general image sharpness is perfectly fine, but to be honest, I would have expected a little more, because Huawei artificially sharpens the images far too much, which means that some details are lost and the images look very unnatural overall. Furthermore, some recordings are very noisy, which shouldn't be the case in good lighting conditions for a smartphone that costs 500 euros. Huawei can certainly improve a lot here with future updates. In terms of color rendering, I should have looked for the great one Huawei P50 Pro Expected a little more because the nova 9 is not consistent in this regard. Every now and then, colors look beautiful and natural, but they are often reproduced too oversaturated or sometimes even too pale. Reddish tones in particular give the nova 9 a great deal Protrouble. As soon as the lighting conditions deteriorate, the nova 9 can score with a decent low-light performance. Here, too, I might have hoped for a little more, since images quickly start to become noisy and colors sometimes appear unnatural, but for 500 euros we are still dealing with great low-light performance here. The sharpness in particular is really good and even in extremely poor lighting conditions, pictures can be taken WITHOUT NIGHT MODE thanks to the innovative RYYB technology very brightly reproduced. The more expensive one Xiaomi 11t or the Realme GT Neo 2 cannot keep up here by a long way, where the cheaper one is OnePlus North 2 in no way has to hide.
The 8 megapixel ultra-wide-angle camera is useful for one or the other photo, because significantly more can be captured, but the quality is rather disappointing in this price range and especially for Huawei. I like to remember mine Huawei P40 Pro+, which has pretty much the best ultra-wide-angle camera in a smartphone to this day, and the regular P40 or even the P30 have a better one, so I can't quite understand why we have the same 9 megapixel ultra- Get to see a wide-angle camera that already comes with a similar Quality at 150 euros Realm 8 are. That ProThe problem with this camera is mainly the low sharpness. The Xiaomi 11T, for example, has the same sensor but takes sharper pictures. However, I would like to positively emphasize the noise level at the edges, which Huawei has visibly managed better than many other smartphones in this price range.
The dedicated macro camera, which has no place for a recommended retail price of 499 euros, is quite useless. The pictures mainly lack accurate color reproduction and sharpness. As soon as the light is only marginally worse, you probably never want to use this camera again. It is much better if you use the main sensor for macro shots, in which you digitally zoom in about 2 times on the objects to be photographed. The following comparisons between the macro and main camera show a clear difference in quality in favor of the main camera (the 1st and 3rd images come from the macro camera and the 2nd and 4th images from the main camera):
Selfies, on the other hand, work very well with the nova 9. Faces are drawn a bit too soft despite the deactivated beauty filter, but the sharpness and dynamic range are more than impressive.
Test photos
Let's take a look at a few test photos. As always, the following images are absolutely unprocessed, but compressed without loss in order to keep loading times and memory consumption of the website low.
Comparison with the OnePlus Nord 2 & Xiaomi 11T
Last but not least, we want to compare the cameras in different situations with the similarly expensive competition from OnePlus and Xiaomi. The comparison with the Nord 2 should be particularly exciting, because both smartphones have the same 50 megapixel main sensor. The 11T uses a 108 megapixel main sensor.
Let's start with the ultra-wide-angle camera, because there is a lot of room for improvement in all smartphones. Nonetheless, the Xiaomi 11T wins on this point, as colors are usually displayed most accurately and most of the details are retained on closer inspection. The nova 9 sharpens too artificially for my taste, so that the photos unfortunately look very unnatural. The colors don't always reflect reality either. If we switch to the main camera, all three smartphones take very good pictures that hardly differ at first glance. If you crop the pictures, you can unfortunately see a visible sharpening of the nova 9 and a surprisingly high level of noise, which shouldn't be the case for a 500 euro smartphone during the day. Apart from that, the sharpness is actually quite satisfactory. The color rendering of the main camera is not really constant, because in the second comparison the colors look much too pale and in the fourth comparison they look almost perfect.
As soon as the light gets worse, the strengths of the 50 megapixel RYYB main camera become apparent. I might have expected a little more here, too, but the Huawei delivers really good, sharp and bright images here that can keep up with the OnePlus Nord 2 very well. The Xiaomi 11T has absolutely no chance with Lowlight.
Others - good fingerprint sensor, average vibration motor, and more
The Huawei nova 9 can be unlocked using the fingerprint sensor integrated into the display, which is positioned a bit too far down for my taste, but unlocks the smartphone very quickly and extremely reliably.
The built-in vibration motor is unfortunately only average for the price. Although it gives a good feeling in the hand and still sounds okay, I am not satisfied with it. Realme, OnePlus and Xiaomi are one step further here, but with Samsung, Honor and Sony there are also some manufacturers that are even worse when it comes to the vibration motor.
In 2021, Huawei will actually only install a mono speaker on the bottom of a smartphone costing 500 euros, which also sounds anything but good. It gets loud enough, but sounds already at 50-proquite tinny at a moderate volume. If the manufacturer decides to go with a mono speaker, then I expect it to at least sound really good, like the P40 for example Pro+, but unfortunately the speaker of the nova 9 is disappointing across the board. In fact, (almost) all other smartphones in this price range are audibly better here. Shame Huawei.
Last but not least, I would like to mention that the nova 9 is not protected against the ingress of water and dust in accordance with IP68, which is completely bearable for the price offered. With the exception of the Samsung devices of the current A series and the Sony Xperia 10 III, hardly any other smartphones in this price range are officially certified against the ingress of water and dust, so I can't really criticize that.
Summary
The Huawei nova 9 is a good mid-range smartphone, which mainly scores with the beautiful and high-quality design, the great display with a smooth 120 Hertz refresh rate, fast fast charging and the great fingerprint sensor. The main camera, the performance and the battery life are also decent. However, the loudspeaker, the macro and ultra-wide-angle camera are somewhat disappointing, and there is also room for improvement with the vibration motor. The biggest point of criticism and the reason why this smartphone will unfortunately have an extremely difficult time is of course the lack of Google services, which for most people are simply indispensable. In addition, there is the recommended retail price of 499 euros, which is too high for what is on offer and compared to the competition, because the cheaper OnePlus Nord 2 or Realme GT Neo 2 has significantly better speakers, a stronger one Proprocessor with 5G, an even better battery life, Google services and, in the case of the OnePlus Nord 2, a similarly good main camera.
So I can hardly recommend the nova 9 for the current price of 500 euros. For those who can do without Google services, I think they should rather go to one Huawei P40, P40 Pro or the Mate 40 Pro that have a lot more to offer for a little more money. Otherwise, I would wait a little longer until the price of the nova 9 has dropped to around 400 euros. Then you can definitely keep up with the similarly expensive competition and get a good, beautiful and high-quality smartphone with an above-average main camera.
We thank Huawei Austria for providing the nova 9!
Buy Huawei nova 9
Recommendations for you