Huawei P50 Pocket Review: It's a lot of fun, but...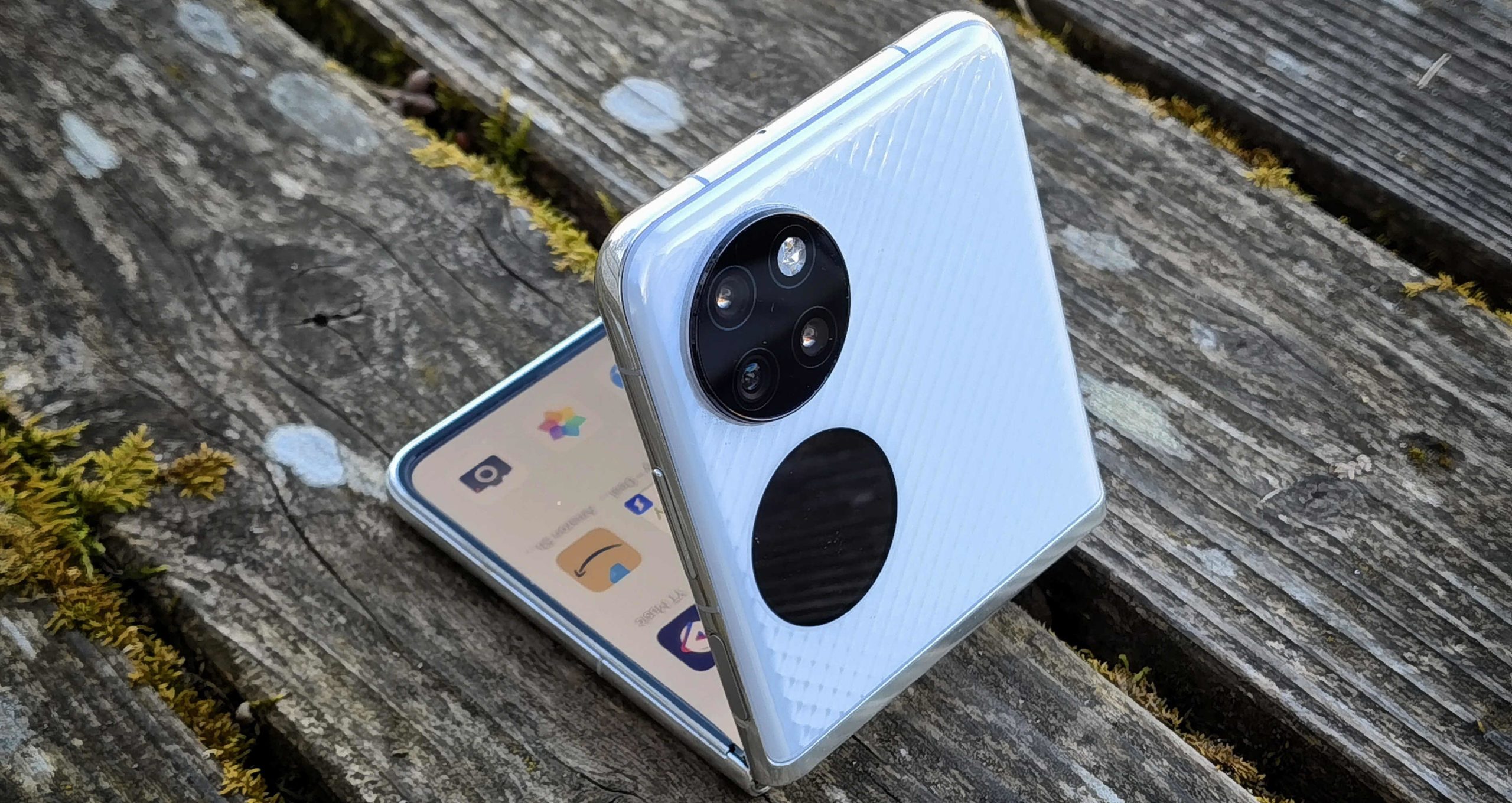 (Post picture: © 2022 TechnikNews)
The idea of ​​the first generations of foldable smartphones was to offer both a normal-sized smartphone and a tablet display together in one device, which was particularly useful when consuming videos and the Productivity has some advantages (you can do all this and much more in our review of the Samsung Galaxy Z Fold3 read). However, such a concept also has disadvantages, such as the enormous dimensions and heavy weight. Samsung and Motorola were also aware of all this, which is why they presented their first flip smartphones at the end of 2019 and beginning of 2020, respectively, which could be made smaller with a simple folding process and thus fit in any trouser pocket. Huawei has also been offering a flip smartphone for over a month now, which is called the Huawei P50 Pocket.
In addition to a high-quality housing made of glass and aluminum, customers get two OLED displays with a refresh rate of 1.299 or 60 Hertz, the Snapdragon 120 888G, a 4 mAh battery, a 4.000 megapixel ultra-spectrum triple for a recommended retail price of 40 euros -camera, stereo speakers and much more. Unfortunately, this smartphone also comes without Google services. We have tested the Huawei P50 Pocket extensively over the past few days and in this detailed test report you can find out how it fared in everyday life, which weaknesses became apparent in use and whether it is worth buying.
Haptics, design & processing
With dimensions of 170 millimeters in height and 75,5 millimeters in width, the Huawei P50 Pocket is an enormous smartphone when opened, which is not the case in many situations procan be easily operated with one hand. It's even bigger than most other current smartphones and even one Galaxy s21 ultra doesn't look much bigger in direct comparison. Despite all this, the P50 Pocket is outstandingprofeels good in the hand, which is due to the pleasant weight of 190 grams and the extremely thin case of just 7,2 millimeters. Add to that a perfectly rounded back that flows smoothly into the frame, eliminating any jagged feel.
The folding mechanism
Since the smartphone is so huge when opened, it will most likely not fit perfectly in every trouser pocket. About this ProTo fix the problem, the P50 Pocket can be easily and conveniently folded in half, which feels extremely high quality, unique and just plain great. The folding mechanism works excellently without any annoying noises, and overall folding is a little more fun than with the Samsung Galaxy Z Flip3, since the Flip3 is slightly "difficult" to open and close. However, this also makes the Samsung hinge feel a bit more stable, which means that the mechanism can be used at almost all angles proholds without problems. That wasn't really the case with the P50 Pocket on the first day of testing, but from the second day of testing at the latest the mechanism held up relatively well and in many different angles. Nevertheless, even after a few days of use, it still happens from time to time that the mechanism does not hold perfectly at every angle.
The biggest advantage of Huawei compared to Samsung is the invisible gap when it is closed and the slightly more subtle kink in the middle of the large screen, which was actually hardly noticeable on the first day, but became much more visible after just a few hours of use. At this point, visible reflections can be seen in sunlight, among other things, but you get used to this over time. It never bothered me. Furthermore, the kink can also be felt with the finger, which did not bother me at any time.
Special design of the back
The frame is made of aluminum with a high-gloss finish, which looks beautiful and has an extremely high-quality feel. However, fingerprints are almost magically attracted. The back is made of shiny glass, which is provided with a special pattern in both the gold and the white color I tested. The pattern on my white back is meant to be reminiscent of diamonds and can also be felt with a finger. Personally, I like the white back quite a bit, even if, strangely enough, it doesn't look quite as high-quality as other glass backs. However, the feeling in the hand is by no means reminiscent of plastic. The P50 Pocket might not be the highest quality, but it is still a good enough smartphone for the price on offer.
In addition to the colors, the similar design language to the P50 Pro on. Huawei places two large black circles in the top left, which are immediately noticeable at first glance. Three sensors and an LED are housed in the upper circle and the lower circle turns out to be a small screen on closer inspection. Thus, the manufacturer provides variety, which I very much welcome and thus the recognition value is enormously high. Anyone who is a little familiar with smartphones will recognize that this is the Huawei P50 Pocket even from a distance. The cameras protrude slightly from the case, which means that the smartphone wobbles slightly when it's on the table.
Modern front
If we turn the smartphone around, we are greeted by a huge display that is only interrupted by a small punch hole that houses the front camera. The bezels around the screen aren't quite symmetrical, but they're still pleasantly thin and overall, the P50 Pocket looks very modern from the front. The already mentioned kink in the middle doesn't bother at all and the fact that the top layer is made of plastic is hardly noticeable during use. I don't see any real difference in the reflections compared to other smartphones and the susceptibility to fingerprints is neither significantly better nor worse.
Good workmanship
I have no reason to criticize the processing. The smartphone makes a well-made and stable impression, the keys have an impeccable pressure point and sit firmly in the case, but at least the volume rocker could be placed a little further down for my taste.
The small outer display
Unlike the competitors from Samsung and Motorola, Huawei takes a slightly different approach with the P50 Pocket, because the outer panel is round instead of square, which may take some getting used to at first, but of course also fits perfectly with the rounded camera design. Unfortunately, the OLED screen is extremely small with a diagonal of only 1,04 inches (2,64 cm diameter). The resolution is 340 x 340 pixels, which brings us to a decent 328 pixels pro customs brings. On top of that, the panel supports a 60 Hertz refresh rate, which means that 60 frames can be displayed in one second. A higher refresh rate of 90 or even 120 Hertz would not have made sense with such a small display. In addition, there is a touch sampling rate (indicates how often the panel registers, scans or recognizes inputs in one second) of a decent 120 Hertz.
In terms of quality, there is (almost) no reason for criticism. Colors are reproduced well, the black value is excellent and the viewing angle stability is also convincing. Only the brightness still needs a little improvement, because you can still read the panel to some extent in direct sunlight, but there is definitely still room for improvement.
Use and features in everyday life
A good always-on display appears on the outer display with a single tap on the panel, which shows the time, date, battery level and received notifications, which can be extremely useful in everyday life. If you tap the screen twice or lift the smartphone, the display activates and the lock screen appears. If you now swipe down from above, all received notifications are displayed, which are very easy to read despite the small diagonal. You can also delete all notifications with one click. Unfortunately, the messages cannot be answered, which would have been great, but given the extremely small diagonal, it probably wouldn't have made any sense. If you swipe right from the lock screen, the music player appears, where you can fast forward, rewind and pause the music, which works great in everyday life and can be very useful. At the moment, playback only works with Spotify and Huawei's own music app, which I think is a shame because I mainly use YouTube Music (Vanced) and SoundCloud.
If you swipe left from the lock screen, users have the choice to display the calendar, the weather and today's plans. All of this can be freely configured in the settings under "Outer screen". In addition, the small screen can also be used as a view finder for selfies with the rear cameras, which according to Huawei should result in excellent selfies. We will clarify later whether this is really the case.
Personally, I didn't use the outer screen that much, mainly due to its small size. The display is simply too small to be able to do anything on it. Huawei has definitely made the best of the small panel, because you can't offer much more with such a small diagonal. There are sure to be some potential customers who will see an everyday benefit from the external display, but to me it's nothing more than a neat and rarely useful gimmick.
The big inner display
If we open the Huawei P50 Pocket, an enormous 6,9-inch OLED display with a long 21:9 aspect ratio appears. This has a resolution of 2.790x1.188 pixels, which results in a pleasantly sharp content resolution. Furthermore, the screen supports a smooth refresh rate of 120 Hertz, which makes animations and scrolling look buttery smooth. In addition, there is a touch sampling rate of 300 Hertz.
There is a small cut-out for the front camera in the top center, which is hardly ever noticed during use. (Image: TechnikNews)
Compared to the display of P50 Pro there are hardly any visible differences here, which you can be very happy about, because the panel in the P50 Pro could in our detailed test report convince all along the line. Colors are intense, as is typical for OLEDs, but are still sufficiently realistic and the black value is excellent. The white value is also convincing, although it looks minimally reddish for my taste, which is not disturbing in everyday use. The viewing angle stability is not perfect, but still good enough to be able to read content well even when looking at it from the side and a Galaxy S21 Ultra, Z Fold3 and Z Flip3, for example, are even slightly worse here. Luckily, the brightness of the inner display is visibly better than that of the outer one, so there is none at all even on sunny days Proproblems with the readability occur.
Use in everyday life
I almost always used the inner screen in everyday life, because only here you can use the P50 Pocket like a normal smartphone. The long 21:9 format only bothered me with YouTube videos in 16:9 format, but otherwise I didn't notice any disadvantages during use.
Software
Somewhat surprisingly, version 12 of the EMUI software is used instead of the in-house operating system Harmony OS. That too P50 Pro comes with EMUI in Europe, only in China it is delivered with Harmony OS. To be fair, however, one must also say that the differences between EMUI 12 and Harmony OS are very limited.
Something has changed compared to EMUI 11. The biggest difference is the changed control panel and notification bar. Here you probably got a little inspiration from Apple, because the idea is very similar to IOS. If you wipe down at the top right, you get to the so-called "control panel", which is referred to as the "control center" in IOS. All the necessary controls, such as WLAN, Bluetooth and the flashlight, are displayed here, and you can also control your music and display smart devices. If you swipe down from the left, you get to the notification bar, where all incoming notifications are displayed. Personally, I like the look of this solution very much because it makes everything look a little tidier than before, but I find it less practical because I have to constantly change my grip or use my second hand when I want to swipe down from the top left to get mine to see notifications. The P50 Pocket is just a bit too big to be able to use it properly with one hand.
Otherwise everything is more or less the same as before. The software is beautifully clear, adorned with beautiful animations and equipped with some useful additional functions. For example, you can double-tap the display, customize app icons to your liking, use multiple apps with Multi-Window, and more. There is also an excellent night mode and a first-class always-on display.
As you should have noticed, the current Huawei smartphones since the Mate 30 Pro However, there is an unavoidable disadvantage, as they are delivered without pre-installed Google services. Most applications, apart from those from Google, can be downloaded from alternative app stores, the AppGallery or Petal Search. ProHowever, there are problems with banking apps and push notifications in apps such as eBay or Twitter.
Our editor Yinan has uploaded a very informative YouTube video on this topic to his channel, which you are welcome to watch if you are interested:
Foldable features?
To be honest, the folding mechanism does not result in any real software features. Only when you fold it in the camera app does the view finder move to the top half of the screen, while all the setting options and various camera modes are displayed below it. In all other apps (that I used in everyday life) absolutely nothing happens when folding.
Performance - lightning fast, fluid and constant
Last year's Huawei smartphones were almost always made by the in-house KirinProprocessors, but that's changing with the P50 Pocket. Due to the US sanctions, it is unfortunately no longer possible for the Chinese manufacturer toProto install cessors, which is why they had to look elsewhere. Fortunately, Qualcomm is allowed to do business with Huawei again. Inside is the Qualcomm Snapdragon 888, last year's topproprocessor, which is only used as a 50G version in the P4 Pocket, because 5GProHuawei is not allowed to use processors. The lack of 5G is a pity, since almost all current smartphones are equipped with 5G, but to be honest, 5G is not that widespread here in Germany and 4G is completely sufficient in my opinion. There is also 8 GB of RAM and either 256 or 512 GB of internal memory, which can be expanded by up to 256 GB via NM Card, which is very commendable, since the memory can be expanded in almost no current high-end smartphone can.
The everyday performance is just terrific, although it is a bit older here, but still really strong Proprocessor is used. Apps start and close extremely quickly, there are hardly any stutters or delays, and overall the operating speed is at an extremely high and smooth level. The animations in gesture control in particular run so smoothly and consistently on hardly any other Android smartphone. Complex games don't prepare the Pocket either Prostated problems.
The Snapdragon 888 once again provides a lot of heat
That the Qualcomm Snapdragon 888 quite a big heatproWe already have a problem with some smartphones, such as the Xiaomi mi 11 ultra, Realme gt or Sony Xperia 5III noticed negatively and unfortunately the P50 Pocket is also affected. Even with normal use, you occasionally notice how warm the smartphone gets. It gets noticeably warm, sometimes even slightly hot, during more intensive use, when gaming or when using high brightness levels. A Xiaomi Mi 11 Ultra got a little warmer for me, but unfortunately the P50 Pocket is also pretty high up there and in midsummer that could well be the case Procause problems.
Battery – very disappointing runtimes, good loading times
On paper, the P50 Pocket is clearly ahead of Samsung when it comes to the battery. While the battery of the Z Flip3 is only 3.300 mAh, the Pocket offers a proud 4.000 mAh battery, which is extremely impressive for a foldable. For this and for the fast charging with up to 40 watts, I would like to praise Huawei across the board. The P50 Pocket is fully charged in about an hour. The power adapter required for this is also included, which is anything but a matter of course these days and compared to Samsung. In contrast to the Flip3, the Pocket unfortunately cannot be charged wirelessly, which is quite sobering for a smartphone with a recommended retail price of 1.299 euros.
Unfortunately, the runtime is extremely disappointing, which I didn't expect. with permanently activated 120 Hertz was over after a good 3,5 to 4,75 hours, which by my standards is almost frighteningly bad. For comparison, the China variant of the Huawei P50 Pro with only 360 mAh more battery, I still had between 4 and 6 after 10 to 40 hours of use Procent battery left, which represents a good battery life for me. There you can see again how inefficient the Snapdragon 888 is. I also find the comparison with the Samsung Galaxy Z Fold3, which offers a capacity of 4.400 mAh and also comes with the Snapdragon 888, interesting. Despite the Fold3 having a much larger internal display, it lasted me up to two hours longer than the P50 Pocket.
After a few days of use, I changed the refresh rate in the settings under "Screen refresh rate" to "Dynamic", which means that the display only runs at a smooth 120 Hertz in certain scenarios (for example when scrolling or using gesture control). Thankfully, the battery life got a little better after that. It now lasted for 4,5 to 5 hours, which are still very weak values. Pity!
Camera - Superior main camera
Huawei installs a triple camera on the back, which on the paper is under the des P50 Pro is to be arranged. A 40 megapixel sensor is used as the main camera, which has an average size of 1/1.74 inch. There's also an ultra wide-angle camera with a resolution of 13 megapixels and a sensor size of just 1/3 inch, which is arguably the same as in the P50 Pro seems to be. The third camera is a 32 megapixel ultra-spectrum sensor, which is supposed to provide more sharpness. Unfortunately, you won't find a zoom camera here. Selfies succeed on the one hand with the help of the outer screen with the 40 megapixel main camera and on the other hand with the 10,7 megapixel front camera in the inner display.
Starting with the main camera, which delivers extremely detailed photos with excellent dynamic range. It is precisely in these two points that I like it best of the current flagships. Only the Mi 11 Ultra, Google Pixel 6 and P50 Pro can still keep up well in these points, but a Galaxy S21 Ultra, for example, takes visibly blurry photos and the iPhone 13 despite the higher resolution Pro has almost no chance with the dynamic range. In addition, colors are reproduced extremely naturally, which is often the case with previous Huawei smartphones Proproblem was. Surprisingly, the Pocket delivers outstanding results even in low light, which I often find even better than the P50 Pro favor. Even without night mode, you can take very bright and sharp pictures with flawless color reproduction and accurate white balance. A Galaxy Z Flip3, Z Fold3 and even S21 Ultra cannot keep up here. The P50 Pocket is right at the top here and doesn't have to compete with a P50 Pro, iPhone 13 Pro, Mi 11 Ultra and Google Pixel 6 Pro hide. Kudos to Huawei!
The ultra wide-angle camera also impresses with a very beautiful, natural color rendering and a very good dynamic range. The sharpness is even slightly better than a Galaxy S21 Ultra, but the P40 Pro and Mate 40 Pro are still visibly better. Even in low light, the P50 Pocket still delivers passable pictures. I see that here though OnePlus 9 Pro, Find X3 and I baked the P40 Pro a bit further ahead, but it doesn't have to hide from Samsung, Apple and Xiaomi. The sharpness is okay and the brightness and color reproduction are definitely on a high-end level, which I would never have expected from such a small sensor.
Fluorescence mode is a nice gimmick that gives great and interesting results:
Selfies with the 10,7 megapixel front camera are fine. They are pleasantly sharp and the dynamic range is great, but faces are drawn a little too softly, even with the beauty filters deactivated. The 40 megapixel main camera performs significantly better, taking significantly better selfies overall. The P50 Pocket currently delivers pretty much the best selfie quality of the current smartphones.
Test photos
Let's take a look at a few test photos. As always, the following images are absolutely unprocessed, but compressed without loss in order to keep loading times and memory consumption of the website low.
Comparison with the Huawei P50 Pro & Samsung Galaxy S21 Ultra
Finally, let's compare the cameras of the P50 Pocket to those of the P50 Pro and Galaxy S21 Ultra compare. All results are under the respective pictures.
Other - Average speakers, top notch vibration motor and more
The Huawei P50 Pocket has stereo speakers, which actually sound pretty decent, but for $1.299 I would have expected a bit more, especially given the in-house P50 Pro sounds audibly better. The Pocket's speakers don't get too loud and almost every trace of bass is missing. Nevertheless, the quality is generally good, but not really for 1.299 euros.
The built-in vibration motor is one of the best on the market, as it conveys a high-quality feel in the hand and never sounds annoying. The Mi 11 Ultra and OnePlus 9 Pro I like it a little better due to better optimization, but that doesn't prevent the P50 Pocket from clearly beating itself against an S21 Ultra, OPPO Find X3 Pro or Huawei P40 Pro+ positioned.
The foldable can be unlocked using the fingerprint sensor on the side of the power button. He reacts extraordinarily quickly and expedientlyprochen reliable.
Last but not least, I would like to mention that the P50 Pocket is unfortunately not IPX3 protected against water ingress compared to the Galaxy Z Flip8.
Summary
The Huawei P50 Pocket is an excellent and exciting smartphone, which I have been using a lot in the past few weeks and have given a few people a hand with. The reactions were mostly one-sided, because everyone was extremely enthusiastic about the design and the concept and didn't want to put it down so quickly. It's just something completely new again, which is extremely fun to use.
Furthermore, the P50 Pocket can of course also convince in terms of hardware across the board. Both the display and the performance, the camera, the vibration motor and the outproThe relatively fast charging is at flagship level, which is very commendable for a foldable smartphone, especially when compared to the Galaxy Z Flip3, which can't quite keep up, especially in terms of the camera and the display. In return, the Z Flip3 offers both the somewhat more stable hinge and official water protection, Google services, 5G and on top of that is worlds cheaper at currently around 700 euros, which is why it is unfortunately brutally difficult to recommend the Huawei P50 Pocket. If this form factor offers advantages in everyday life, you should definitely use the Flip3, even if the pocket hardware is slightly better, but the extra charge of the Flip3 of a proud 600 euros is absolutely not worth it. If the price has reached around 1.000 euros in a few weeks or months and you like the Pocket better than the Flip3 in terms of looks, the form factor offers you many advantages in everyday life, you can do without Google services and live with a rather poor battery life If you can, then a purchase can definitely be worthwhile.
In conclusion, I would like to say that the P50 Pocket is already one of my highlights of the year. It's not worth it for most people and the battery life is really poor, but I hope that Huawei sticks to this concept and fixes the few weaknesses with the successor and offers it for a more attractive price.
Thank you Huawei Austria for providing the P50 Pocket!
Buy Huawei P50 Pocket
Recommendations for you