Hyundai IONIQ 5 review: The electric future is here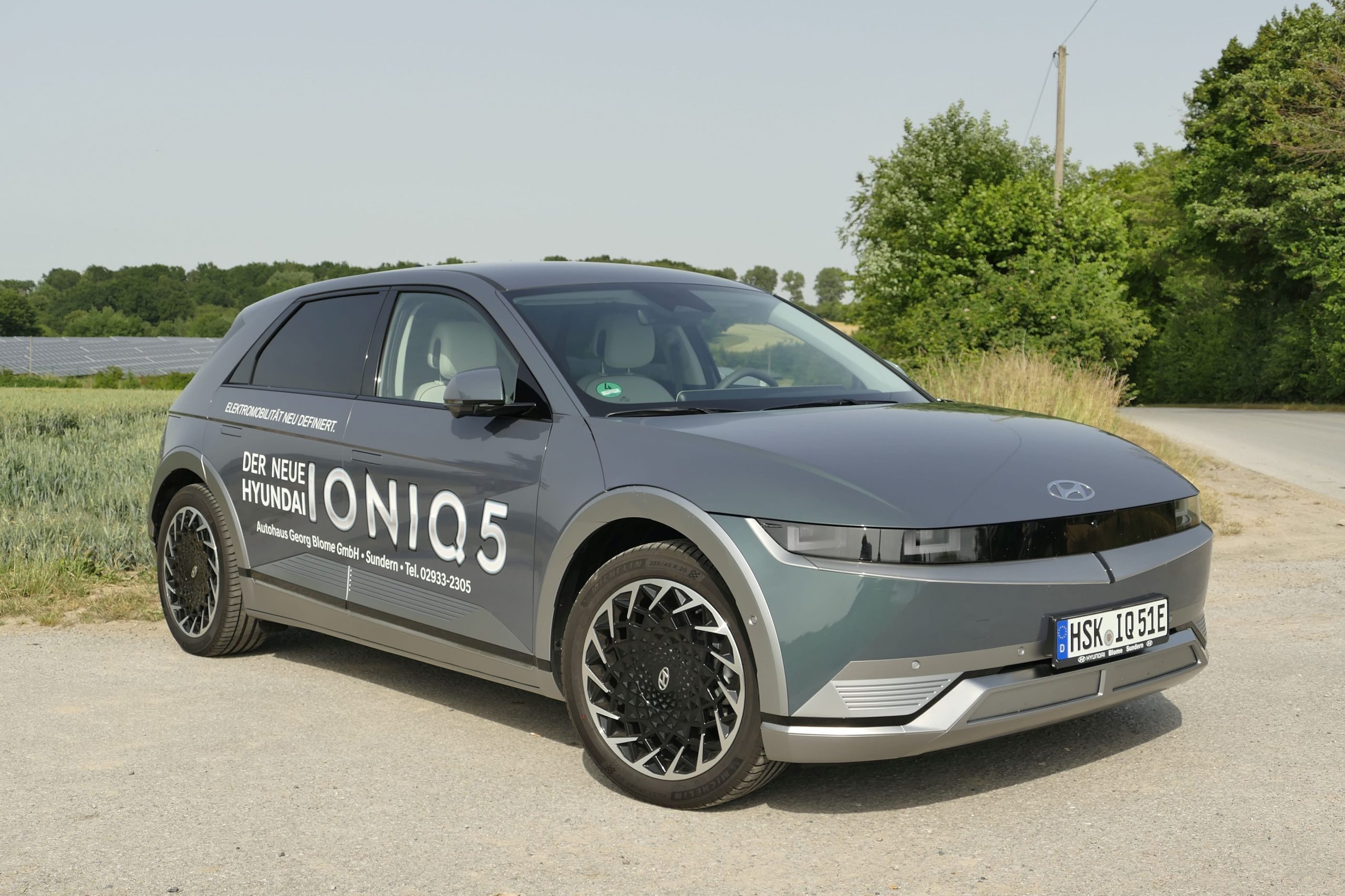 (Featured image: © 2022 Alexander Karwig for TechnikNews)
With the Hyundai IONIQ 5, Hyundai has an almost perfect electric car in its portfolio. We were able to test it extensively for three days with the UNIQ package from the 2022 model year.
In my opinion, Hyundai has managed to set the IONIQ 5 apart from all other electric cars. How did they manage that? Let's just start with the visual look. The IONIQ 5 contrasts with a unique "pixel" design. This design can be found in the interior as well as on the front and rear headlights. As a fan of retro games, I really like this look. It also draws other people's eyes to the car a lot. So Hyundai has definitely created an eye-catcher here.
Interior: A miracle of space
The interior of the IONIQ 5 is lively. If you sit in the driver's seat, you're surprised that there is no longer a center tunnel. Of course, this is generally not necessary for electric cars. But not all manufacturers use the space as a flat surface. The center console includes two cup holders as well as a QI smartphone charging station and two USB Type-A ports. Unfortunately, you won't find USB-C. There is another small compartment in front of the center console, above which there is another USB-A port, with which you can use Android Auto or Apple CarPlay. Unfortunately, this is only possible with a cable connection.
The seats in the IONIQ 5 are upholstered with "vegan" leather and have active seat ventilation and seat heating in our test car. The seat ventilation is very pleasant at the current temperatures. The front passenger and driver's seat are electronically adjustable. The rear seat with three seats also offers plenty of space for passengers. The flat floor creates a great sense of space. The rear row of seats also offers seat heating on the outer seats. At the back there are also two USB-A ports for charging smartphones. As a bonus, there is a full-fledged 230-volt socket under the middle seat. Hereby can Vehicle to Load be carried out very easily.
The steering wheel is very easy to grasp, it even has a small "Easter Egg" right where you would expect a "Hyundai logo". The four squares are supposed to represent Morse code for the letter "H" - very clever from Hyundai. Of course we have a multifunctional range of buttons and rockers on the steering wheel. These are all easy to reach and feel very high quality. The right buttons control, for example, the cruise control and lane assist, while the left side is responsible for media and calls.
Infotainment: takes some getting used to, but functional
Hyundai uses its own development as the operating system, i.e. no Android Automotive or pure Android. It offers many different functions, almost too many. But if you are seriously interested in the car, you will quickly learn what the buttons and the various functions are used for. In the main menu there is an overview with various apps, such as the electric vehicle menu. All possible functions related to EV can be set and visualized here. Chic and modern graphics can also be found here.
The displays for infotainment and driver information have a diagonal of 12,25 inches. This is a good size to display everything clearly. As for the other things like the navigation, you can roughly say "it's going well". But most of them will probably connect their smartphone (unfortunately wired) via Android Auto or Apple CarPlay via the infotainment. Hopefully Hyundai will add wireless connectivity via an over-the-air update.
Climate functions and others can be operated manually on the climate control panel below the infotainment, but also directly in the infotainment in a modern way. Of course, you can also change the temperature in the interior by voice.
Smaller gimmicks like voice memos or the sleep mode are quite nice. But I seriously doubt that many people will use it. On the other hand, the valet mode (if it works like it does with Tesla) might be more useful. You can also play nature sounds to relax. With Bluelink, all these functions can be controlled via smartphone outside of the vehicle. This ran very reliably, even if you only used a limited number of commands pro Tag can send to the vehicle.
Improvement requests and other functions
I also really liked the ambient lighting. This can be set in many different colors and illuminates the interior very nicely at night.
You can say so much about the Driver Info Display, it provides all the important information you could wish for. The recuperation level is visualized at the bottom left. With multiple clicks on one of the two steering wheel paddles you can get into the One-Pedal Drive Mode. This means that the vehicle brakes with the motor and thus stores the energy gained back into the battery. If you don't like this strong braking effect, you can lower the level. At the lowest level, the IONIQ 5 rolls along like a combustion engine.
In summary, the whole system runs very smoothly and without any major bugs or anything else Probleme, which is already a good basis. However, things like wireless CarPlay or Android Auto are missing, because in my opinion the QI charging option currently makes no sense at all. A good e-route planner is also missing. This Proproblem unfortunately plagues many e-cars, so veterans use the option of the long-distance A Better Route Planner or on iOS the app PUMPto see exactly when to charge on a long haul. Although the IONIQ 5 can search for charging stations along the route, it does not show how long the charging process will take or how expensive it will be. Hyundai has probably already noticed this criticism and will soon be bringing this function to both Kia and Hyundai vehicles via an over-the-air update. A little late, but better than never.
Otherwise, Hyundai really has a good basis as an operating system. The navigation works without big Probleme, the voice input understands awkward addresses quite well. You don't have to say much about the radio reception, whether FM or DAB, it worked well without it Protrouble. As to be expected for a vehicle from 2022.
Charging behavior: 800 volt system is second to none
For the current starting price of around 41.000 euros, you will look in vain for another vehicle that does not come from the same company and uses an 800 volt on-board network. To put it succinctly: Most electric cars use 400 volts. This means that the battery can be charged with a maximum of 400 volts. Mostly here is at a charging speed of 135 kilowatts pro hour then over. But with Hyundai and especially with the Hyundai IONIQ 5, the 800-volt on-board network can almost double the charging speed. In our measurements, we saw a speed of over 200 kilowatts when charging over a longer period of time pro Hour. This takes a good 10 battery charge Procents to 80 Procent with us around 18 minutes - exactly as advertised by Hyundai. That's an extremely good value!
We mainly charged at 300 kilowatts and more at HPC charging stations from Fastned and EnBW. Everything went smoothly here without any disruptions or other incidents. On a long-haul route you will find these stations most anyway. As a nice extra, the charging flap on the IONIQ 5 closes and opens electrically.
Vehicle to Load: contact grill on the car?
Yes, this is one of the many possibilities. With a special adapter, you can turn the charging connection of the IONIQ 5 into a 230 volt socket. Here you could charge e-bikes or just have a spontaneous barbecue with the car. With various safety measures, the Hyundai IONIQ 5 ensures that you still have a certain amount of power left in the battery to get home or to your destination. However, we could not turn off this functionprobeer In general, the idea is to use the e-car as a backup for a caravan, for example, thanks to its large energy storage system. Not a bad idea at all and we think it's good that Hyundai offers this option.
For luggage there is a small frunk under the bonnet, where there is no engine in our RWD model, i.e. a trunk in the front. There you can simply stow the type 2 charging cable and the household brick. In the all-wheel drive variant, however, there is significantly less space here.
Handling: Two tons slide over the road
The IONIQ 5 with rear-wheel drive puts around two tons on the road. Does it also drive like two tons? Not quite. Okay, you might notice the weight a little more in sharp corners. But in normal city traffic or driving on the motorway, the two tons of weight are hardly noticeable.
Hyundai itself gives a WLTP consumption of 16,8 kilowatt hours pro 100 kilometers and a WLTP range of around 481 kilometers with 19-inch rims. For our UNIQ test car with the 20-inch tires fitted, the range should be 451 kilometers. At a good 20 degrees, we averaged around 20 kilowatt hours over 100 kilometers, i.e. slightly above the "laboratory values". Nevertheless, despite the 20-inch tires, we managed a good 400 kilometers in everyday traffic in the city and about 250 to 300 kilometers on the motorway, if you stick to the recommended speed of 130 kilometers pro hour can get used to.
My verdict on the Hyundai IONIQ 5
After about three days, what can we say about the IONIQ 5? Is it a successful electric car? Yes! Suitable for everyday use? Yes! Expensive? Yes!
Joking aside. The list price of our test car with the UNIQ package and almost top equipment is around 60.000 euros. This is already a lot. But you get an almost perfectly finished interior and the fast 800-volt charging technology.
If you can do without a few things, you can of course get the IONIQ 5 from 41.000 euros with a smaller battery and of course fewer extras. Of course, the state subsidy is deducted from the list price for this year, which means that the purchase price remains high. But in my opinion you can get a luxury car here for less than 100.000 euros. That was the price that was mentioned several times when we asked friends about their estimate of how much this car costs. So hats off Hyundai!
Personally, I also really liked the time in the Hyundai IONIQ 5, even if three days is not the world. But it was still enough to get a mostly good impression of the IONIQ 5. If you have the wherewithal, you will get an almost perfect e-car with the IONIQ 5, as it says in the book if Hyundai can keep its promise with regular over-the-air updates. But at least they have created a good framework.
What do you think of the Hyundai IONIQ 5?
Now we want to know what you think of the IONIQ 5? If you currently drive an electric car or are looking for one, is the IONIQ 5 an option for you? Please comment diligently on how you found our first e-car test report, because in the future there will be more e-cars available for testing in our editorial department. do you have wishes Which e-cars should we test next?
This test was Georg Blome car dealership made possible in 59846 Sundern. Thanks very much!
Recommendations for you