>> Test the latest technology and much more: apply to us! <
K&F Concept K254A1+BH-28L on test: Hammer camera tripod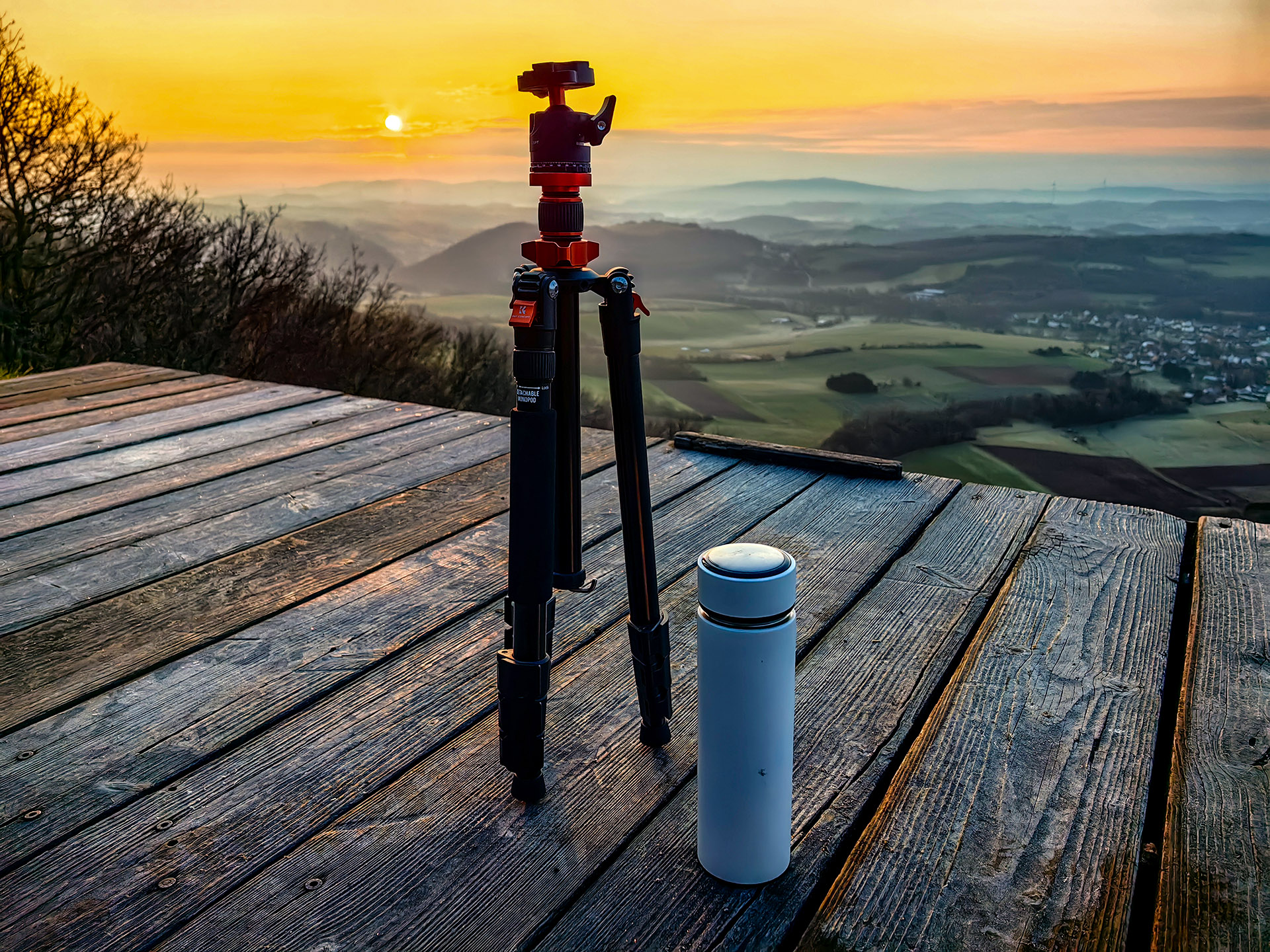 (Post picture: © 2023 TechnikNews)
The tripod from K&F Concept is very robust, looks great and is very easy to use. As you can already guess, I am thrilled and had fun testing the tripod with the not quite catchy name K254A1+BH-28L for you in detail, especially since I can use it not only for my SLR camera, but also for my smartphone . You can find out in this test report whether the tripod is something for you.
tl; dr: Of the tripods I've had, the K&F Concept K254A1+BH-28L camera tripod is the best. I hope I can get you excited about the tripod with my test report. In my opinion it is worth the money (185,99 euros). With the camera tripod K254A1+BH-28L you have a variety of options to get a secure stand for a shake-free picture in every situation. The various locks, such as the angle adjustment buttons and the inverted center column together with the ball head and the conversion to a monopod / monopod, help with this. But above all with macro shots, where you don't want to or can't stay bent over or kneeling for long. If you would like to know anything else about the tripod after the test report, please write it to me in the comments.
stability and adjustability
The tripod consists of a magnesium-aluminum alloy and weighs 1,59 kilograms in total. To take it with you on the trip, you can push it together to a length of 41 centimeters and carry it comfortably in the accompanying bag. It can be set up in a space-saving, stable manner and precisely aligned using the water trolley. It is also very easy and quick to convert thanks to the quick-flip leg locks. You can also ensure more stability by hanging something on the gravity hook and thus weighing down the tripod. But even without the extra weight, the tripod from K&F Concept is still stable even at the maximum height of two meters.
As compact as this tripod is (travel tripod), it can also be converted into a monopod or a hiking stick in just a few simple steps. Yes, you read that right, it can be converted into a walking stick, what more could you ask for? You are definitely on the move with it in a variety of ways.
The ability to turn the center column around was really funny. I can't say whether my other tripods were able to do that, but the K254A1+BH-28L can do it and thus enables exciting pictures from a frog's perspective and good macro shots. More on that later.
A good all-round view
If you are interested in panoramic photos, then the K254A1+BH-28L camera tripod is a powerful tool for it. Because the ball head, which can be rotated 360 degrees, has a diameter of 28 millimeters and thus achieves a load capacity of around 10 kilograms according to the manufacturer. My DSLR was secure and I didn't have to worry about it getting stuck. The aluminum ball can also be adjusted very precisely and firmly if required, so nothing jerks. Furthermore, the degree scale is extremely practical and, together with the spirit level, helpful for taking clean panoramic photos.
quick release plate
The tripod has a 2-in-1 quick release plate. It is therefore compatible with the Arca Swiss system and Sony, Canon and Panasonic cameras. As you have seen in my picture, but also with Nikon. The locking plate can also be used with a smartphone. But regardless of whether a camera or a smartphone is sitting on the locking plate, each device holds securely. I loved it.
Buy K&F Concept Camera Tripod K254A1+BH-28L
Thanks to K&F Concept for providing the tripod.
Recommendations for you
There are currently no personal recommendations.