Lenovo ThinkBook Plus 15 20TG review: the laptop with e-ink display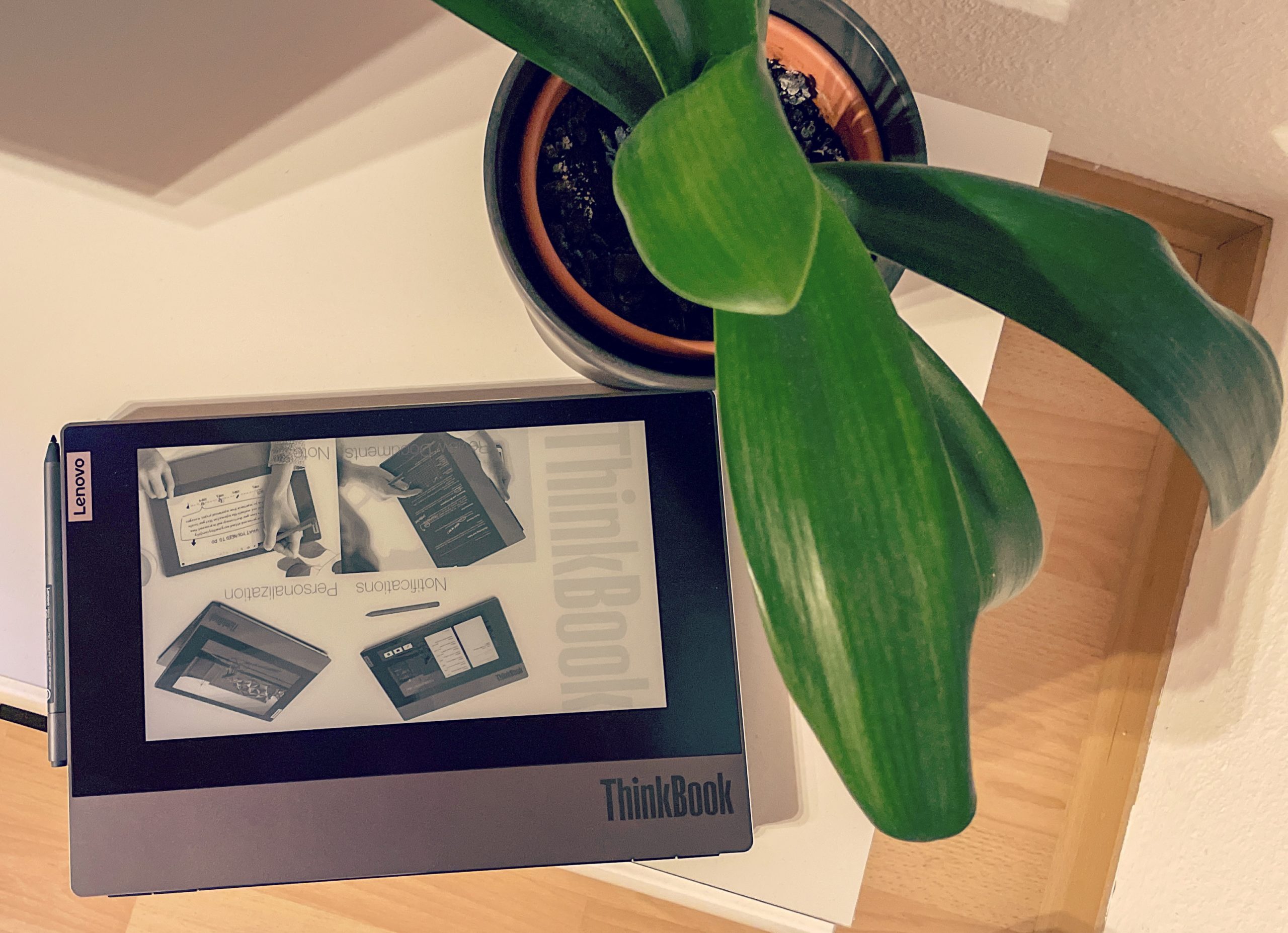 (Post picture: © 2020 TechnikNews)
When it comes to notebooks, Lenovo has always been a price and performance champion. The Chinese manufacturer also doesn't keep its fingers out of the game when it comes to innovative technologies. Lenovo proves that with the ThinkBook Plus 15 20TG and we have it for youprobeers.
There is now a computer of any kind for every target group - whether foldable, conventional or with an integrated second display in the touchpad. Lenovo has come up with something really useful with the ThinkBook Plus 15 20TG and has built a kind of "note" on the back. I will explain in more detail below how this works.
A scope of delivery with a nice gadget
The scope of delivery includes a 65 watt USB-C power supply, an e-ink pen that communicates with the ThinkBook Plus 15 20TG via Bluetooth, a quick start guide and a leather case to transport the device safely and securely. However, you don't need more nowadays.
Typical Lenovo design with good workmanship
The ThinkBook Plus 15 20TG remains true to the usual design line in every respect. Both aluminum and plastic have been used as materials. This gives the user the "Lenovo feeling" that the company has been successfully implementing for years. In my opinion, a sensible innovation is the conversion of the fingerprint sensor. This is because it has moved to the side of the keyboard, which is ergonomically more useful if you unlock your laptop frequently.
Since the ThinkBook Plus offers e-ink pencil support, which of course comes with a small battery, an inductive "charging dock" has been built in to supply the pen with power.
Unlike other manufacturers, Lenovo has not yet done without all connections except USB-C and has installed the following combination in its notebook: 1x HDMI, 2x USB-A, 1x 3.5 mm combination jack and 1x USB-C. The latter, however, is not a full-fledged Thunderbolt 3.
Decent display with Full HD
The display of the Lenovo ThinkBook Plus 15 20TG has a full HD resolution and is sufficiently bright for most users. The matte display protects against reflections in direct sunlight, but you shouldn't work directly in full sunlight because the brightness is not too bright. In normal daylight, however, you could work carefree and did not have to make any compromises.
One of the best keyboards out there
Lenovo has opted for the keyboard that is also used in the well-known ThinkPads. The feel of the keyboard is incomparable and in my opinion no manufacturer can match it. You quickly get used to the good, haptic "click feeling", so that you quickly get used to typing with these keys and don't want to miss them anymore. In comparison, even the new MacBook keyboard feels worse in my opinion.
Furthermore, Intel was installed
Especially in the age of switching from an IntelProprocessor to AMD, Lenovo could have switched this device to an AMD Ryzen as well. Since the ThinkBook Plus 15 20TG focuses on endurance and mobility instead of performance, that would have been obvious. Nevertheless, the case houses a 5th generation Intel Core i10210-10U with a base clock speed of 1,6 GHz (max. 4,2 GHz), preinstalled Windows 10 Pro and a 256GB SSD. The RAM is 8 GB.
Notes possible via e-ink display
The special thing about the ThinkBook Plus is clearly the second display on the back of the notebook - the e-ink paper display. Handwritten notes are possible with the included E-Ink Pencil.
In my opinion, however, these notes were not necessarily outstanding and in need of improvement. The reason for this is simply the excessive latency between display response and pen input. Entries with the pen very often came with a long delay or even not at all. Sometimes the display did not recognize when you wanted to use the pen. In addition, the e-ink display is a bit on the small side.
Here one would like to have more than eighty Procent of the back may take. However, the input here cannot be compared in any way with an iPad. The pen is charged via an inductive magnetic field on the side of the device by simply docking it magnetically. Unfortunately, the positioning of the pen isn't optimal, so you don't hit the first swipe to load the pen.
If you hold the pen in your hand to write, you get a solid feeling of plastic in your hand, which feels high quality, but not premium.
Battery life - typical for Lenovo
If you are looking for a notebook with endurance and a typical Lenovo design and would like to get by for a working day without a power adapter, you will be happy with the ThinkBook Plus. I worked more than eight hours via RDP (Remote Desktop) before the battery warning was displayed. Image editing depending on the requirements, as well as video editing can also be done with the ThinkBook Plus to a limited extent, but depending on the use, it will fail due to the RAM and the battery will be more stressed.
My conclusion on the Lenovo ThinkBook Plus 15 20TG
If you are looking for a laptop with a long battery life and a USB-C connection (no Thunderbolt 3!), you will find a daily companion with the ThinkBook Plus with a special E-Ink display. However, you should place less value on this, since in my experience it is not really mature yet. Lenovo's innovation and way of thinking is the right way, unfortunately there is still a lack of implementation and Proproductivity. However, if you only want to make a short note or create a small drawing, you can rely on it as far as possible. At around 1000 euros, the price for what Lenovo has planned is unfortunately too expensive at the moment.
Recommendations for you