Moto G31 review: solid entry-level smartphone with one weakness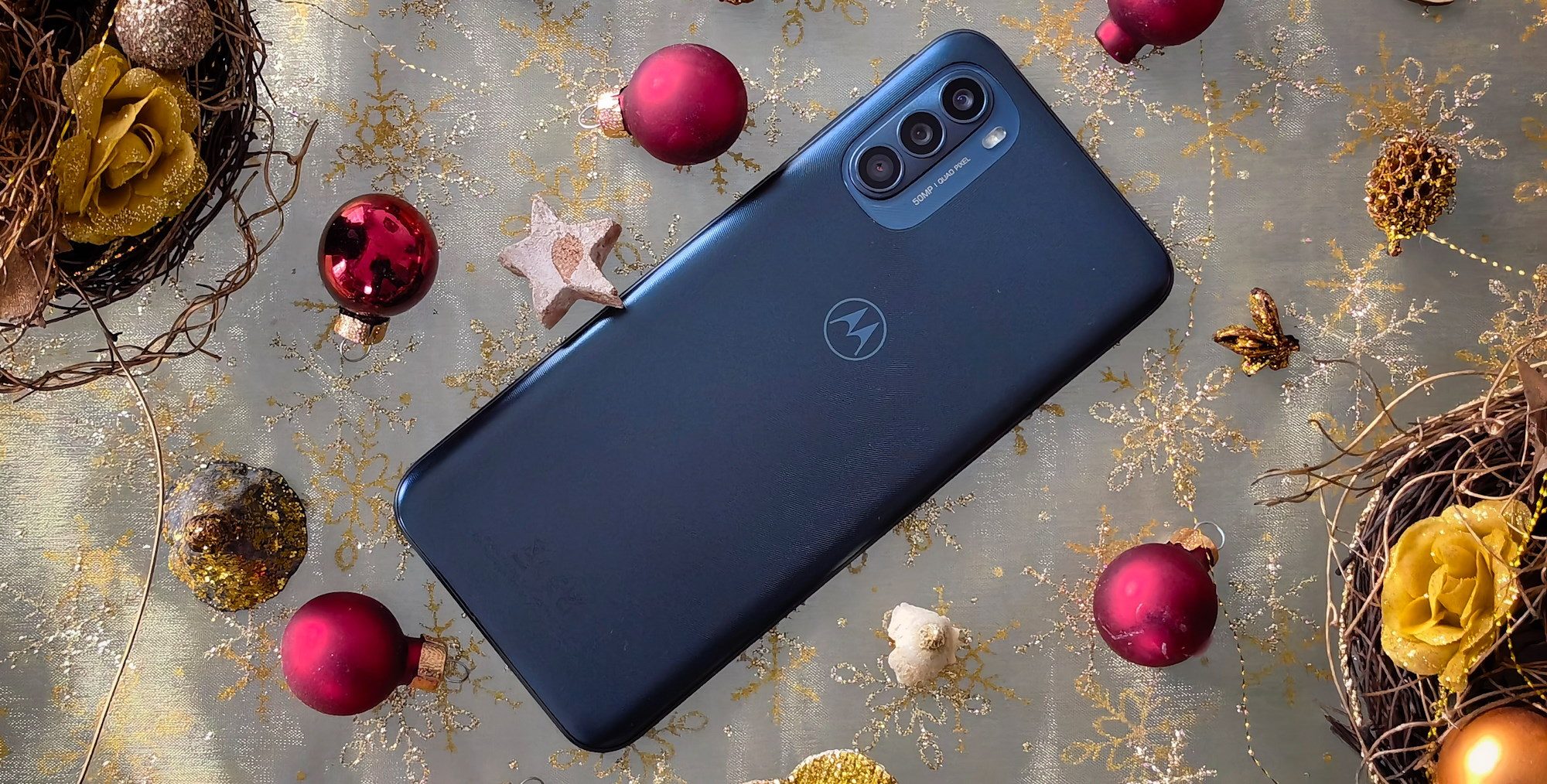 (Post picture: © 2021 TechnikNews)
A few weeks ago, Motorola officially presented another smartphone from the G series with the new Moto G31. This is a comparatively inexpensive entry-level smartphone, which is offered for a recommended retail price of 199,99 euros.
For this price, customers get a high-quality OLED display, a 50 megapixel triple camera and a huge 5.000 mAh battery, among other things. Only at Proprocessor, slight compromises have to be made on paper, because the built-in Helio G85 from MediaTek is not the strongest SoC, even for less than 200 euros.
Haptics, design & processing
The Moto G31 has a very comfortable size that probably most people don't bother with Proproblem, because by today's standards it is neither particularly small nor large with dimensions of 161,89 millimeters in height and 73,87 millimeters in width. In addition, there is the quite comfortable weight of 181 grams and the thickness of 8,55 millimeters is perfectly fine. All of this, coupled with the slightly rounded back, results in the G31 being very responsive in the hand and even without a larger one Procan be operated with one hand. Kudos to Motorola.
The frame is made of plastic, which is very grateful for fingerprints due to the matt surface. It doesn't feel too high-quality, but you can't expect anything higher in this price range and since all other competitors in this price range also come with a plastic frame - and sometimes make that even worse than the G31 - I don't want to complain here. The manufacturer has come up with something new for the rear. Although it is also made of plastic, the dark gray model has a rough texture, which feels very pleasant and grippy. It also means that fewer fingerprints are noticed. If, on the other hand, you opt for the blue variant, you unfortunately have to forego the texture. In addition to the well-known Motorola logo, the triple camera in the left corner is also immediately noticeable. Three vertically arranged sensors are positioned here, which protrude slightly from the case, causing the G31 to wobble slightly when it is on the table.
Depending on the incidence of light, the gray color also shimmers slightly bluish. (Image: TechnikNews)
If we look at the front, we see a familiar picture from the entry-level class. The lower edge in particular is noticeably thick, although I don't want to complain too much here and the panel is interrupted by a small punch hole, as is the case with almost all competitors. It's in the middle of the screen and is unfortunately a little gray in color, which looks a little weird in my opinion. In everyday life, however, the recess does not interfere at any time.
The front of the Moto G31 is typical for the price range of less than 200 euros. (Image: TechnikNews)
The lower edge of the screen is noticeably thick, but hardly any other manufacturer does it significantly better in this price range. (Image: TechnikNews)
The recess is very small, but unfortunately it's colored gray, which looks a bit strange. (Image: TechnikNews)
There is hardly any reason to criticize the workmanship. The smartphone makes a well-made, stable impression. The keys sit firmly in the case, but there is still a little room for improvement at the pressure point. In addition, the buttons are positioned a bit too high for my taste, but you get used to them after a few days.
Display - very good OLED panel
The display in the elongated 20: 9 aspect ratio with a diagonal of 6,4 inches has a pleasantly sharp resolution of 2.400 x 1.080 pixels, which brings us to a pixel density of 409ppi. Individual pixels cannot be seen in everyday use. The panel only supports a refresh rate of 60 Hertz, but since this is a high-quality OLED panel, you can't expect an additional 200 or even 90 Hertz for 120 euros. For the price offered, an OLED screen is anything but self-evident.
The black value is great as usual and the white value is surprisingly good as well. Colors are reproduced very faithfully in the "Natural" mode, although this is just as expensive for me on this point Realm 8 like something even better. The maximum brightness is sufficient to be able to read the display reasonably well even on sunny days. For 200 euros you can't complain, and that also applies to the viewing angle stability, which is unparalleled in this price range.
Software - Stock Android with the well-known "Motorola gestures"
The in-house user interface based on Android 11 is used as software. From a purely visual point of view, the software is very reminiscent of Stock Android 11, which is sure to please some. Everything looks nice and clear and there is no annoying bloatware. The G31 also has the well-known "Motorola gestures": the features "hack twice to activate the flashlight" and "twist to start the camera" can be extremely useful in everyday life. Unfortunately, there is no option (at least I didn't find one) to activate the switched-off display by tapping twice or lifting it up.
Performance - too weak
The Helio G85 from MediaTek works under the hood and is supported by 4 GB of RAM. There is also a choice of 64 or 128 GB of internal memory, which can be expanded via a microSD card.
The rather weak hardware is not only noticeable on paper, but unfortunately also in everyday life. App starts and closes rather sluggishly and stutters and delays are simply part of using the Moto G31. Even now the smartphone often reaches its limits, which becomes particularly clear with more intensive use. For just under 200 euros I would have expected more. Realme is noticeably better here, and even that Little X3 NFC performs more fluently.
Battery - long running and charging times
You don't notice it on this smartphone, but inside there is actually a huge 5.000 mAh battery, which ensures very long runtimes. I always came protrouble-free for a day, even 1,5 to almost 2 days were not Problem and even heavy users should proget through a day without a charge. At the end of the day, with a screen-on-time of 5 to 6 hours, I usually still had between 40 and 50 Procent battery left, which is really good.
Unfortunately, it takes a long time with the supplied 10 watt power supply before the battery is fully charged again. In this point, the competition from Realme, Xiaomi and Redmi is a bit better, but at least a power supply is included with the G31.
Camera - average
Motorola has installed four sensors on the back, which can be found in the top left. The main camera is a new 50 megapixel Samsung sensor with a size of 1 / 2.6 inches, which according to Motorola should deliver excellent results for less than 200 euros. There is also an ultra-wide-angle camera with 8 megapixels and a typical 2 megapixel macro camera. A 13 megapixel front camera is responsible for selfies.
Starting with the main camera, which can score with a decent sharpness. I find a Poco X3 NFC or Realme 8 resp. 8i a bit better, but the Moto G31 also takes attractively sharp pictures. When it comes to color reproduction, however, the smartphone's performance is inconsistent, because colors sometimes look nice and natural, but they are often very pale and gray (e.g. test photo 3). There is also room for improvement in terms of dynamic range (e.g. test photos 4 & 5). As soon as the lighting conditions get worse, the Moto G31 can no longer really convince, which is completely normal in this price range. The shots mainly lack sharpness and accurate white balance. Partially proHowever, the smartphone also produces very nice shots (e.g. test photo 8).
The ultra-wide-angle camera performs visibly worse. Even if a lot more can be captured and I find it extremely praiseworthy that there is even one on board for less than 200 euros, the quality still leaves a little to be desired. There is a lot of noise at the edge areas and details are quickly lost. For less than 200 euros I can't complain, because even that is twice as expensive OnePlus North 2 or the 450 euro expensive one Realm GT Neo 2 don't really perform better.
As with all of the entry-level competition, the dedicated macro camera is completely unusable. Even in good lighting conditions, recordings are far too blurry and quickly start to rustle (e.g. test photo 1 & 2). I recommend using the main camera for macro photos. With the front camera, you can take quite decent selfies.
Test photos
Let's take a look at a few test photos. As always, the following images are absolutely unprocessed, but compressed without loss in order to keep loading times and memory consumption of the website low.
Comparison with the Poco X3 NFC
Last but not least, we want the cameras of the Moto G31 in different situations with the sensors in the similarly expensive one Little X3 NFC to compare.
The camera comparison shows pretty well that the Poco X3 NFC has the edge in almost all areas. Both the ultra-wide-angle camera and the main camera take sharper images with a better dynamic range. The Moto G31 can only score points in comparison to the Poco in terms of color rendering. As soon as the lighting conditions get worse, both smartphones tend to take unusable photos, but the X3 NFC does visibly better here as well.
Others - solid fingerprint sensor, good speaker, and more
The smartphone can be unlocked using the fingerprint sensor on the side of the frame. The button could be positioned a little further down for my taste, but the fingerprint sensor is definitely convincing in terms of speed and reliability.
In the meantime it is no longer so uncommon for even inexpensive entry-level smartphones to come with stereo speakers, but Motorola opted for a mono speaker, which is perfectly fine, because the quality is more than impressive. It is sufficiently loud and delivers a nice, clear sound with a hint of bass (if you can speak of bass with a smartphone speaker).
The built-in vibration motor is absolutely average. It doesn't convey a high-quality feeling and doesn't sound particularly good either, but I've already seen worse in this price range and you simply can't expect anything better for less than 200 euros.
Summary
The Moto G31 from Motorola is a rock-solid entry-level smartphone for less than 200 euros, which is particularly strong in terms of feel and design, display, software, battery life and speakers. In these points it doesn't have to be in front of you Realm 8, 8i, Redmi 10 or Poco X3 NFC, but there are also weaknesses. Above all, the poor performance, which is the only reason why I find it very difficult to recommend the G31 to others. If the smartphone is already reaching its limits, what will it look like in one or two years? The Realme smartphones mentioned above perform much faster and I also like the camera a little better. So I would rather use one of these two smartphones or a little more money for a Poco X3 NFC or Pro output that are superior to the G31 in terms of camera and speakers.
However, if you are a fan of stock Android, find the Motorola gestures useful and practical in everyday life and do not attach too much importance to fast performance, you can also use the Moto G31, because it is definitely not a bad smartphone.
Thank you Motorola Germany for providing the Moto G31!
Buy Moto G31
Recommendations for you