>> Test the latest technology and much more: apply to us! <
Nokia G21 review: Lots of positives and two big disadvantages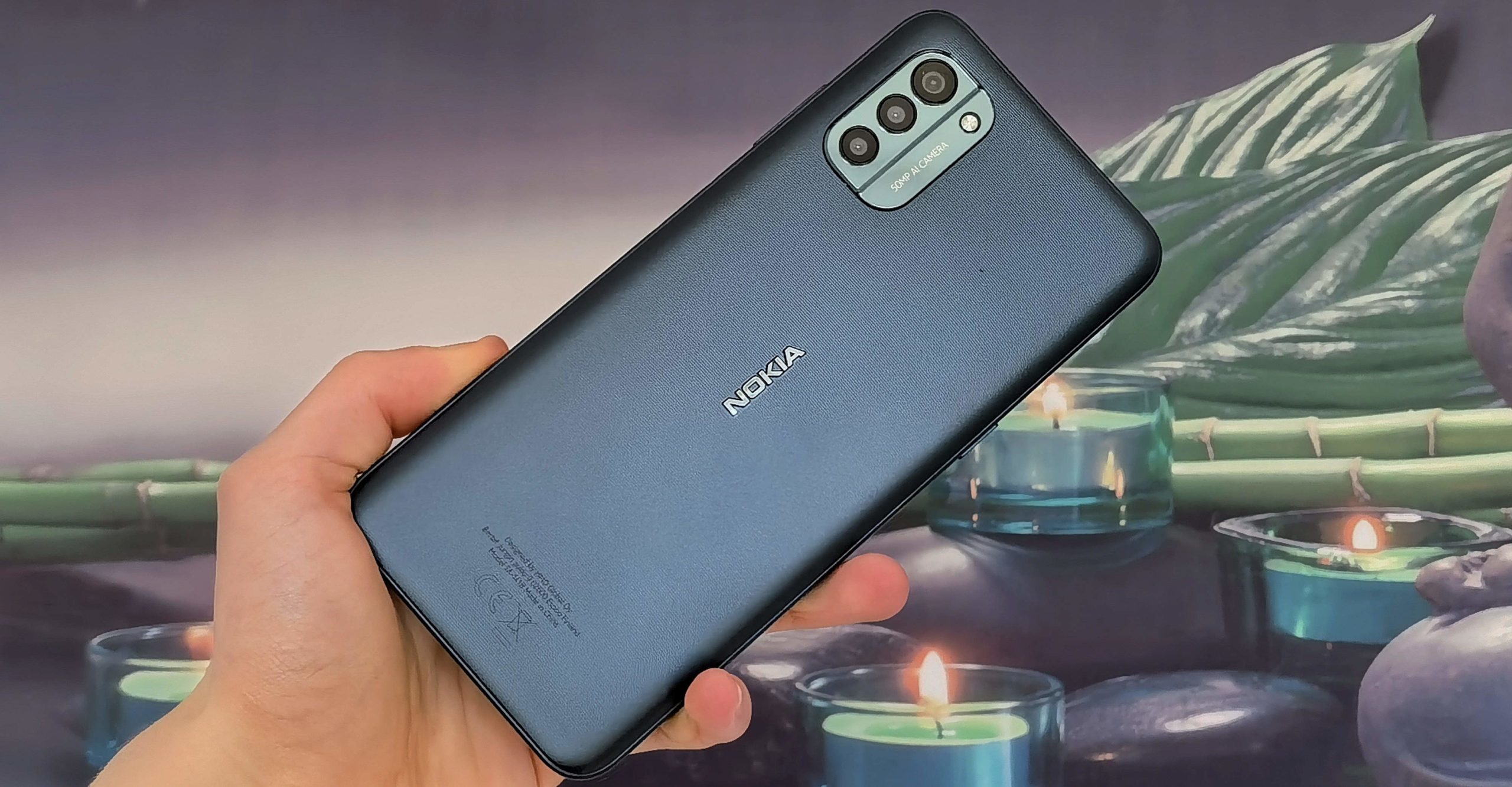 (Post picture: © 2022 TechnikNews)
HMD Global introduced a few days ago with the Nokia G21 and G11 two new entry-level smartphones, which should particularly score with an outstanding battery life and simple software. In this review, we only take care of the slightly better G21.
This starts at a recommended retail price of 189 euros, which sounds like little, but is probably a bit too much for what is on offer on paper: A Unisoc T606 with 4 GB RAM works under the hood, which supports the LC display with an HD+ resolution 90 Hertz, the battery is an impressive 5.050 mAh and the cameras use a 50 megapixel main sensor from Samsung. As a special feature for such a cheap entry-level smartphone, the manufacturer promises a total of 36 security updates and a two-year Android version supply. That sounds great, of course, but you can find out in this review whether that's enough to recommend the G21.
Haptics, design & processing
With dimensions of 164,6 millimeters in height and 75,9 millimeters in width, the Nokia G21 is clearly one of the larger smartphones, which can no longer be operated with one hand in many situations. However, the weight of 190 grams and the thickness of 8,55 millimeters are absolutely fine, especially when you consider that a huge 5.050 mAh battery is installed inside.
The frame is made of matte plastic, which doesn't feel bad at all. It is very angular (reminiscent of the iPhones), which makes it very easy to handle. It is also by no means sharp-edged in the hand, since the back is slightly rounded towards the frame.
The back is made of plastic, which has a very special, ribbed structure, which I actually really like and definitely looks higher quality than most other backs from the similarly expensive competition. For 189 euros, the Nokia G21 feels really good in the hand, leaves a pleasant feeling and, in my opinion, also looks very nice, especially in the color I tested Nordic blue. Otherwise, the color will also change Dusk offered. In addition to the color and the structure of the back, the camera bump in the upper left corner is also immediately noticeable. A total of three sensors can be found here, which only protrude very slightly from the case, which means that the smartphone hardly wobbles when it is used lying on the table.
For the front, the manufacturer opted for a notch and not a punch hole, which I don't think is a big deal. For 189 euros, there is no reason for criticism. On the other hand, where there is a lot of room for improvement is at the bottom of the screen, which is quite thick even for a smartphone in this price range.
The processing is absolutely fine. If you grip the smartphone a little tighter, it creaks slightly, but you don't have to worry about it. The keys sit firmly in the case and have a decent pressure point.
Display – too little
The screen is a 6,52-inch LC display, which has a resolution of 1.600 × 720 pixels that is too low, so that individual pixels can be seen in everyday life. If you are not used to anything sharper, the resolution will not bother you, but in 2022 I simply expect a higher resolution, even for less than 200 euros. Realme, Redmi and Motorola use Full HD+ as the resolution in their entry-level smartphones.
Luckily, the panel supports a smooth 90 Hertz refresh rate, which is very commendable. Unfortunately, the viewing angles, color reproduction and brightness are not entirely convincing. Except for the white value - which is actually really good - the colors look a bit too cold calibrated and this can happen in direct sunlight Proproblems with readability.
In conclusion, I can say that the display in the G21 is not terrible, as for example in the Samsung Galaxy A32 5G, is, but for the RRP of 189 euros it should or must be a bit better.
Software – Stock Android with long update supply
Stock Android based on Android 11 is used as the software. An update to Android 12 will follow soon. Nokia actually promises 36 security updates and two years of software updates, which is extremely commendable in this price range, but you can read in the following paragraph on the subject of performance why it is not a big advantage compared to the competition for me.
Performance - a bit sluggish
The Unisoc T606 works inside. Along with that there is 4GB of RAM and 64GB of internal storage, which procan easily be expanded via a microSD card. In addition, the smartphone can be used in dual SIM mode. So you don't have to choose between dual SIM and memory expansion. Kudos to Nokia at this point.
Unfortunately, the day-to-day performance of the G21 is not really convincing. The system actually runs okay from time to time, but overall the operating speed just seems a bit sluggish. There is stuttering and the camera app in particular isn't fun to use. Slightly more complex games can be played, but they don't really look good and the loading times are extremely long. The smartphone is already reaching its limits and future updates unfortunately cannot improve that much. Unfortunately, a long update supply is of no use to me if the hardware is not good enough for it.
If you are not used to anything better, you will probably be fine with the performance of the Nokia G21, but the majority of smartphones for less than 200 euros, such as this Realm 8, 8i and Motorola G31 perform noticeably better. Shame Nokia!
Battery – fantastic runtimes
The battery with an impressive capacity of 5.050 mAh can be charged with up to 18 watts using the included power adapter, which is appropriate for this price range.
The runtimes are just outstanding and definitely the highlight of the G21. With a screen-on-time of 5 to 6 hours, I usually had between 50 and 60 at the end of the day Procent battery left. So I always got through a day easily and even two days were never one Proproblem Very good work Nokia!
Camera - reasonable for the price
On the back there is space for a triple camera, which is led by a 50 megapixel JN1 sensor from Samsung. There are also two (unnecessary and bad) sensors, each with 2 megapixels, which are responsible for macro shots and depth effects. Unfortunately, there is no ultra wide-angle camera. An 8 megapixel front camera is used for selfies.
The main camera usually achieves usable results, which are particularly convincing with a surprisingly good color reproduction. The dynamic range is okay, but there is definitely room for improvement when it comes to sharpness. I was pleasantly surprised by the low light performance. Of course, the Nokia G21 doesn't do any miracles here and the recordings are generally not really good, but for a 189 euro budget smartphone I would have actually expected even less. The similarly expensive competitors from Redmi, Poco and Realme are no better here either, in some cases even slightly worse.
The dedicated macro camera is completely unusable, as is the case with all of the entry-level competition. Even in good lighting conditions, photos are far too blurry and quickly begin to rustle. I recommend using the main camera for macros. Selfies are rather mediocre. Colors are still okay, but the images often look noisy.
Test photos
Let's take a look at a few test photos. As always, the following images are absolutely unprocessed, but compressed without loss in order to keep loading times and memory consumption of the website low.
Other - good fingerprint sensor, ordinary speaker and more
The smartphone can be unlocked via the fingerprint sensor on the side of the frame, which is easy to reach. Both the speed and the reliability were also able to completely convince me.
I find the mono speaker on the underside to be quite average. It doesn't get too loud and sounds from 80 ProQuite tinny at the center of the volume, but the loudspeaker is completely sufficient for watching one or two videos and for the price offered I don't expect stereo loudspeakers either.
As with all smartphones in this price range (except for the redmi 10) very bad, but I don't think you can expect much more.
The fingerprint sensor is easy to reach and unlocks the smartphone quickly and reliably. (Image: TechnikNews)
Conclusion
The Nokia G21 is a budget smartphone with ups and downs. On the one hand, it delivers an outstanding battery life, simple software with a long supply of updates, a beautiful and sufficiently high-quality case, a great fingerprint sensor and 90 Hertz. However, there are two major weaknesses with the display and especially the performance, which is why I unfortunately find it extremely difficult to recommend the G21. I see no reason why one shouldn't rather become one Realm 8 or 8i should grab, because these smartphones also convince with an excellent battery life and are with their respective Processors worlds more future-proof.
Even if the price were to drop to 150 euros in the near future, I can't really recommend the smartphone unless you really want stock Android and don't attach great importance to performance.
Thank you to Nokia Germany for providing the Nokia G21!
Buy Nokia G21
Recommendations for you