>> Test the latest technology and much more: apply to us! <
Nomad Steel Band for Apple Watch review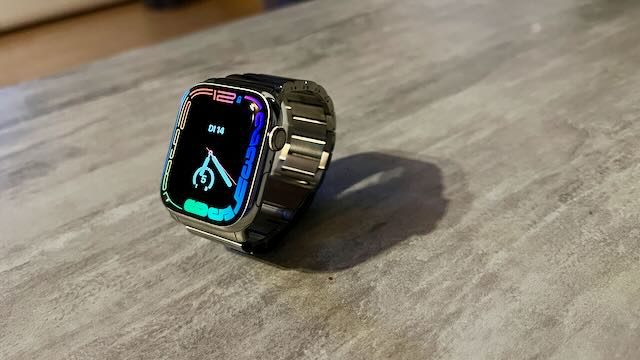 (Post picture: © 2022 Kevin Özgün /TechnikNews)
Nomad is now an established gadget manufacturer for AppleProproducts. From cases to bracelets, the range is wide. In this article I have tested the Nomad Steel Band made of stainless steel for you. 
The stainless steel bracelet from Nomad for the Apple Watch is really an eye-catcher. It differs from Apple's offer in particular in terms of quality and price difference. Let's see what to expect with the Steel Band.
The scope of delivery
The delivery includes the stainless steel bracelet and an additional tool to adjust the brackets to your arm width accordingly.
Carrying comfort and weight
Anyone who decides to buy a stainless steel bracelet should be aware from the outset that such a bracelet weighs significantly more than a sports bracelet. In addition, one should know that it does not necessarily fit skin-tight on the wrist, but has a slight margin. This is because the brackets are not as adaptable to the wrist as other bracelets.
Not so comfortable for overnight sleep tracking
I've used both the Apple Watch Series 6 and Apple Watch Series 7 for sleep tracking. If you have also discovered sleep tracking for yourself, then I advise against using the Nomad Steel Band during the night. Because of the stainless steel, the bracelet weighs a lot, which in the long run can lead to an immobile and stiff wrist. Here I recommend a conventional bracelet to get better rest at night.
The tape works well in these situations
However, for occasions such as weddings or birthday parties, this bracelet is better thought. It makes the Apple Watch look more like a regular watch than a smartwatch. It can also be used in the shower or in the pool probe worn without problems. The only question is whether it is not too difficult and not comfortable there. However, you do not have to worry about rust.
Nomad Steel Band: My personal conclusion
Yes, I really enjoyed wearing the Nomad stainless steel bracelet, especially on certain occasions or simply as a change from conventional bracelets. Especially at events where the Apple Watch shouldn't stand out so much, the Nomad stainless steel bracelet is just the thing - chic, high-quality, elegant. But as already mentioned, it is not recommended for sleeping or hiking in nature, as it has a certain weight and is therefore unsuitable.
But if around 110 euros for the old version of the band and around 170 euros for the new version are by no means too much and if you are looking for a good Apple Watch band made of stainless steel, the Nomad stainless steel bracelet will get your money's worth. It is available in gray, silver and black.
Recommendations for you