>> Test the latest technology and much more: apply to us! <
Nuki Smart Lock 2.0 review: smart home on the next level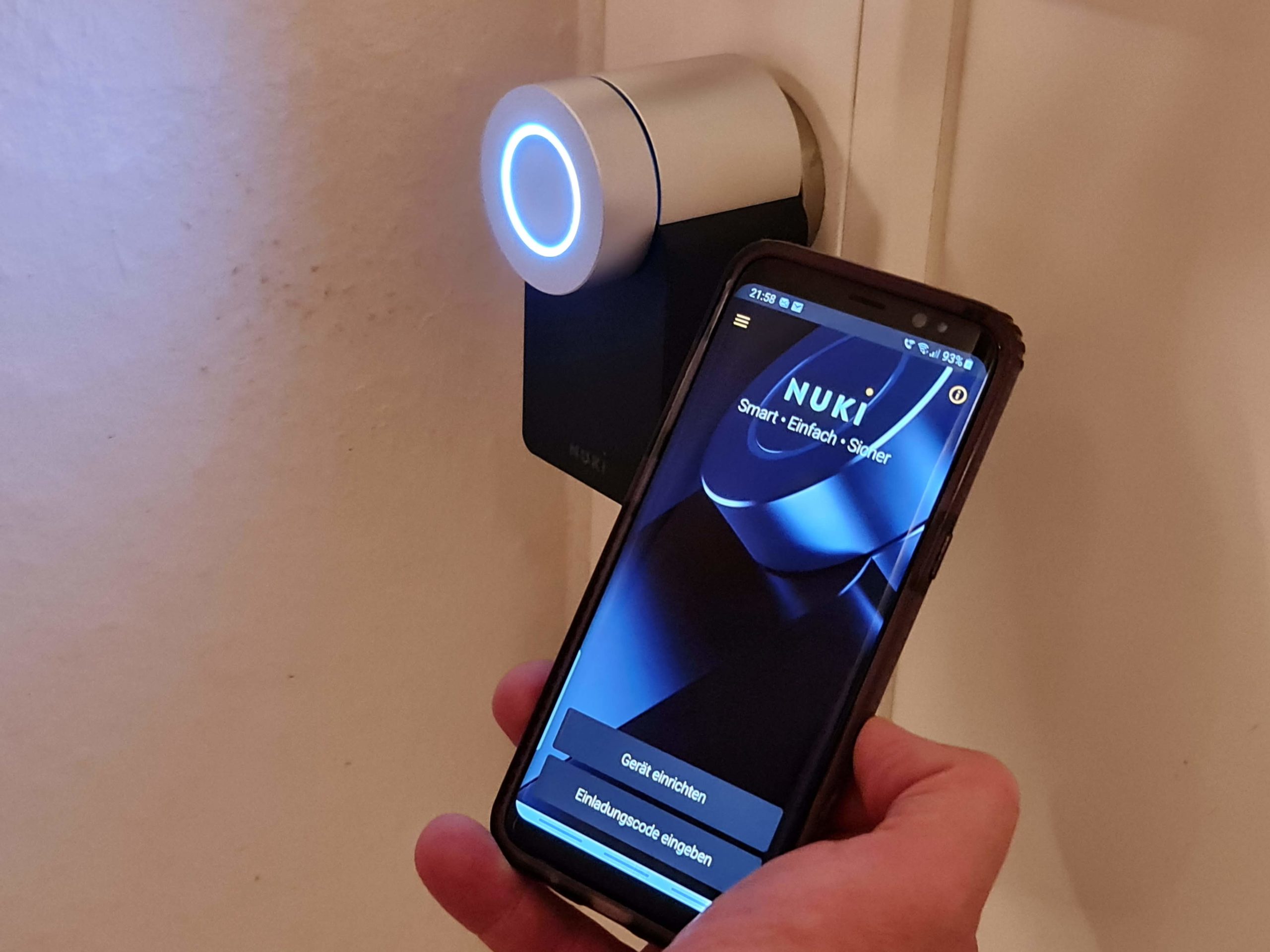 (Post picture: © 2020 TechnikNews)
With the Nuki Smart Lock 2.0, the Austrian start-up would like to make your life a little bit more pleasant. You should be able to open your door easily without a key and that safely and without much effort. I tested the door opener for you.
Nuki provided me with a Nuki Smart Lock 2.0 and the Wi-Fi Bridge as a "combo" for this test. This contains the door lock itself (including batteries), the bridge and the mounting plates (clamp and glue).
Setting up the Nuki Smart Lock
Before you buy the castle, you have to consider a few things. Your lock must use a certain cylinder, which also unlocks on both sides. So you have to check whether there is a key in the house and you can still open the door with a key. aside from that provides Nuki provides a simple "installation check".
Setting up the Nuki Smart Lock was easy and proflawless. First, the mounting plate must be clamped or glued to the lock, then the door lock on top and that's it. Then it goes to the app. This is available for iOS and Android, but it is questionable whether it also works on Huawei smartphones without Google services.

The app guides you through the setupProzess and also set up the WLAN bridge (at our place) on request.
Features
What can a smart door lock do more than a normal one?
Well, first of all, it can be opened by a smartphone or smartwatch. I am a person who likes to forget my key and then stand in front of the locked door. Since I take care of my smartphone most of all, because I use it a lot and it is also my wallet thanks to Google Pay, I now always have my "key" with me thanks to the Nuki door lock.
The second big feature is the "auto-unlock". That worked for me in 9/10 cases and opens your door automatically. When you are within 100 meters of the castle, the app notices that you are moving home. In this radius she will send you a message "Do you want to open the door?". As soon as you receive the Bluetooth signal from the lock, the door opens automatically. This is really very pleasant, because I haven't had to reach for my key for over a month and when I take the shopping into the house I don't have to unlock the door beforehand.
You can also invite family or friends for a certain period of time or for life, especially for owners of Airbnb apartments this should be interesting. Another situation my family and I experienced during our trial period was the exclusion of a family member. My father could then simply let them into the house from his workplace using his smartphone.
Integration into the smart home
The Nuki door lock works with all common smart home systems. Whether it is the Apple HomeKit in the Apple cosmos or Amazon Alexa for the echoes or Google Assistant for the Android users among you.
Open the door lock without a smartphone
Those who live in a city center will hardly have their own entrance, i.e. mostly live in an apartment. What if the grandparents live in the same house or you have children. How do they open the Nuki? I couldn't test that personally, but I asked other testers how they solved it. There is also an "opener" for users in the city center, which lets you enter the stairwell by pressing a button on your doorbell. For users without a smartphone, there is either a keypad or a Bluetooth key fob.
Disadvantages of the Nuki Smart Lock
What brings many advantages, usually also has disadvantages. The door lock is very loud when fully opened and closed (sounds like a cordless drill), which can be really annoying. In addition, the batteries are empty again after about 3 months, but the 49 euro "battery pack" can help. Apropos price, the lock with the WiFi bridge (combo) costs 269 euros from Nuki itself and the package is currently not really cheaper from other providers. Now the question is, is it worth it for the price?
Summary
The Nuki door lock made my life a bit more comfortable. I only have to take care of my smartphone battery and can therefore leave my keys at home. The door lock not only won over me, it also won over my entire family. The setup was pleasantly simple, the functions explained quickly and after about 7 weeks of use you really learn to appreciate the lock.
So do you really need a smart door lock? no For me it's not a must-have, it's nice-to-haveProduct, just like a smartwatch or headphones with ANC. But if you want a smart lock, I can highly recommend the Nuki Smart Lock 2.0. They're not the cheapest though Products, but the most compatible and mature.
Recommendations for you