>> Test the latest technology and much more: apply to us! <
OnePlus Nord review: the all-rounder for only 400 euros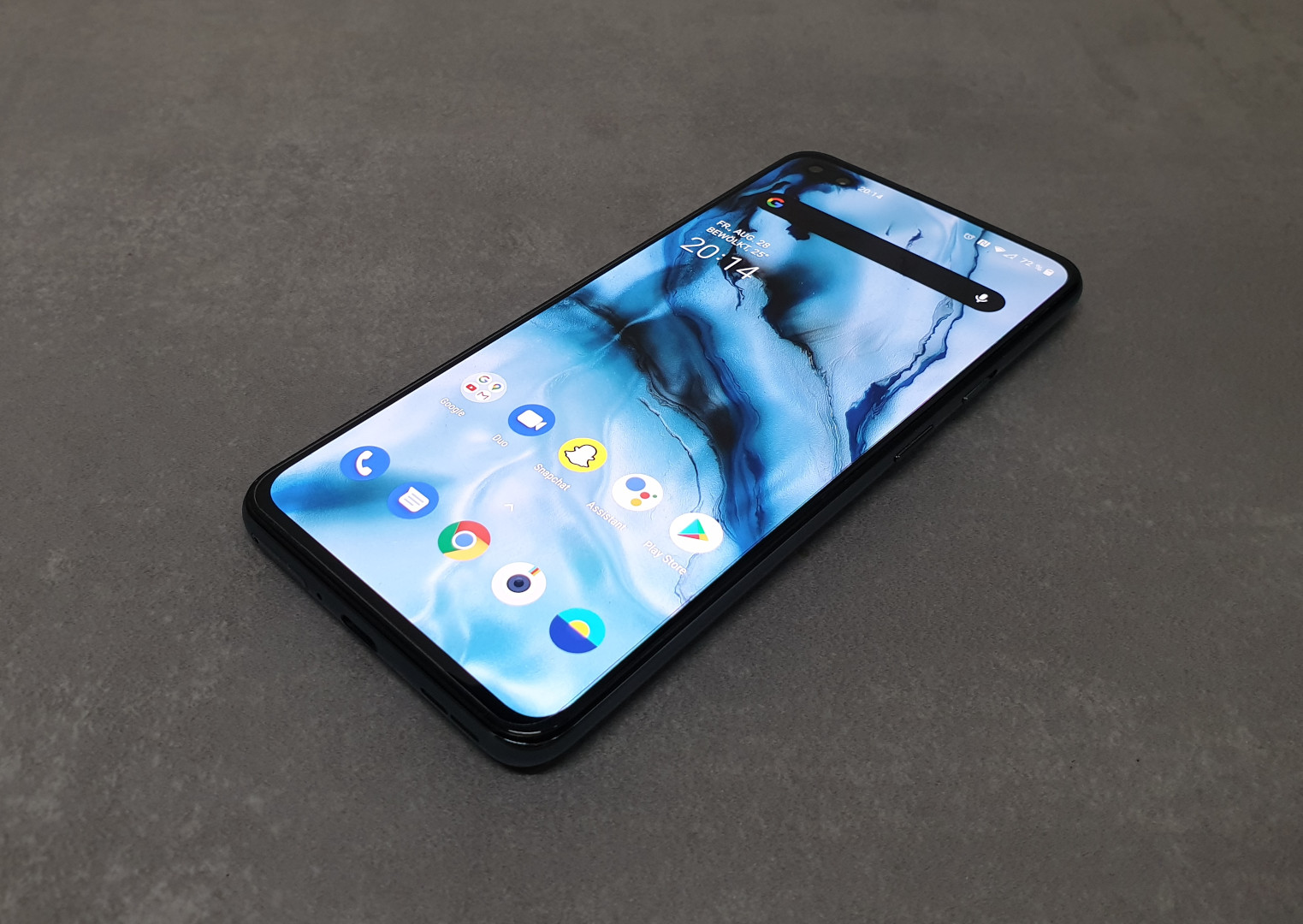 (Post picture: © 2020 TechnikNews)
Not only specs are important for a smartphone, but also the optimized software. With the OnePlus Nord, OnePlus wants to show that you can get a good overall package for 400 euros and also get some features that are usually only found in the more expensive devices.
OnePlus has drifted further and further away from the slogan "Never Settle" in recent years. The prices have continued to rise as the features of the devices have become better and better. But also middle classProcessors have evolved over the years and this is how the OnePlus Nord came about. We took a closer look at the OnePlus Nord for you.
Unboxing
The OnePlus Nord comes in a black box with a blue ("north") accent on the sides and yes - at the top, of course, is north. If you open the box, you will find the OnePlus Nord on top, underneath you will find the blue "Welcome" label, then a transparent case, followed by the 30 watt charger and the unfortunately not blue cable. A SIM card tool, paperwork and stickers are of course also included. Those who would like to have headphones with them have to pay an extra 25 €. If you have pre-ordered the Nord, you will receive a free sandstone bumper case and another larger box.
Design & processing
If you want a color that is not too conspicuous, you choose Gray Onyx, otherwise the more conspicuous blue, called Blue Marble. I chose Gray Onyx here. The back of the OnePlus Nord is made of glass and feels very valuable in the hand. The camera module on the left has already been seen on other smartphones. Personally, I don't mind that it protrudes a little. It's not super noticeable, but looks quite modern with the four sensors.
The frame of the smartphone seems to be made of metal at first glance, but turns out to be plastic and thus reduces the weight to 184 grams. The buttons were taken from the OnePlus 8 series and also feel very high quality, even on the mute slider was not forgotten. A feature that we already know and love from the OnePlus 1. The front looks very similar to the S10 + from Samsung. There you will also find the two front cameras - in the form of a punchhole in the upper left corner. As expected, the bezels are narrow to accommodate a large 6,44-inch display.
Display
This is where the OnePlus Nord shines and can keep up with many a flagship. A 6.44 inch fluid AMOLED display with a repetition rate of smooth 90 Hz was installed here - something rare for this price range. The only point of criticism I could find is the brightness of a maximum of 1000 nits with HDR. A little too little for me personally, at least in a very bright environment or in direct sunlight. If I compare the display with my outdated S9, it is definitely an upgrade, as the refresh rate of the screen is very important to me.
Software
OnePlus is known for a light and fast skin for Android 10 and of course that is no different with the OnePlus Nord. It's more of a more standard Android, as is known on Google Pixel. The OS also has some simple customization options that we otherwise only know from third-party launcher such as the Nova Launcher. All in all, the Nord feels quick and extremely fluid.
Camera
The north's camera array includes four sensors, even if, to be honest, you never use more than two of them. The main show is played by the 48MP main sensor, which can convince review photos. However, one should not forget that megapixels are not everything, the software also has a lot to do with it. This is particularly noticeable here when taking night pictures. As long as the scene has enough light, the large sensor can be used to its fullest and you get very good results. However, if it receives little or no light, it weakens and the image becomes blurred.
The top sensor is an 8-megapixel ultrawide, which, like the first sensor, lives up to its name, as you really get a lot more into the picture. The lower two sensors are divided into a weaker 2 megapixel macro sensor (low resolution) and a 5 MP depth sensor.
With the selfie camera, the OnePlus Nord shines again and twice. OnePlus relies on two front cameras: a 32 MP sensor and an 8 MP ultra-wide-angle sensor have been integrated here. The selfies become very sharp and detailed. If you want to have all your friends in the picture, the ultra wide angle helps again and you get everything on the picture.
All in all, it is an extremely good camera, even if some images are displayed a little too sharp, but the colors are quite natural.
Test photos
Performance & battery
In XNUMX, when Prozessor gives OnePlus a Snapdragon 765G, which also has 5G on board. But such a middle-classProprocessor power a 90 Hertz display? Yes, he can get everything out of the display as long as you don't push him too hard. It feels very fluid if you only quickly flick through the home screen and use less graphically demanding apps. If you open Instagram and scroll through too many posts very quickly, you can already notice that there may be a few small stutters. To be honest, you have to look really closely to even notice the stuttering. In everyday life, only very few will notice this. For gaming it is Processor also quite suitable. You might not get 90 Hertz on the touchscreen on the highest graphics settings, but that's understandable, since it's not a high-end either.Proprocessor is. If you want the best of the best, you have to dig deeper into your wallet and spend a few hundred more – for example OnePlus 8 or 8 Pro.
The 4115 mAh battery is also not exactly small and has always gotten me through a day and a half so far - with a screen-on-time of around seven hours pro Day. And once the OnePlus Nord is empty, you hang it on the warp charger for 30 minutes, which charges the smartphone with 30 watts, and you have 70 again Procent back. Personally, I haven't noticed any battery loss or anything like that, but I would still recommend charging the OnePlus Nord with a weaker charger in between (to save the battery).
Summary
Anyone who buys the Nord will not regret it, because it has a bit of everything: a 90 Hertz AMOLED display, a good camera, good battery life with Warp Charge, and quick updates with very smooth software. I think it's a very good overall package. It's not a flagship killer, of course, as the Nord doesn't have an official IP rating, wireless charging, or even the fastest Proprocessor. It's also important to know that it doesn't have the very fastest storage (UFS 2.1 only) and doesn't have a 3,5 millimeter jack, and that the storage isn't expandable.
In my opinion, the OnePlus Nord is one of the best mid-range smartphones currently and is definitely worth the 400 euros.
Buy OnePlus Nord
The OnePlus Nord is available from the official OnePlus page, but also via Amazon and various other providers.
Recommendations for you