OPPO Find X3 Lite review: the bargain with comproto miss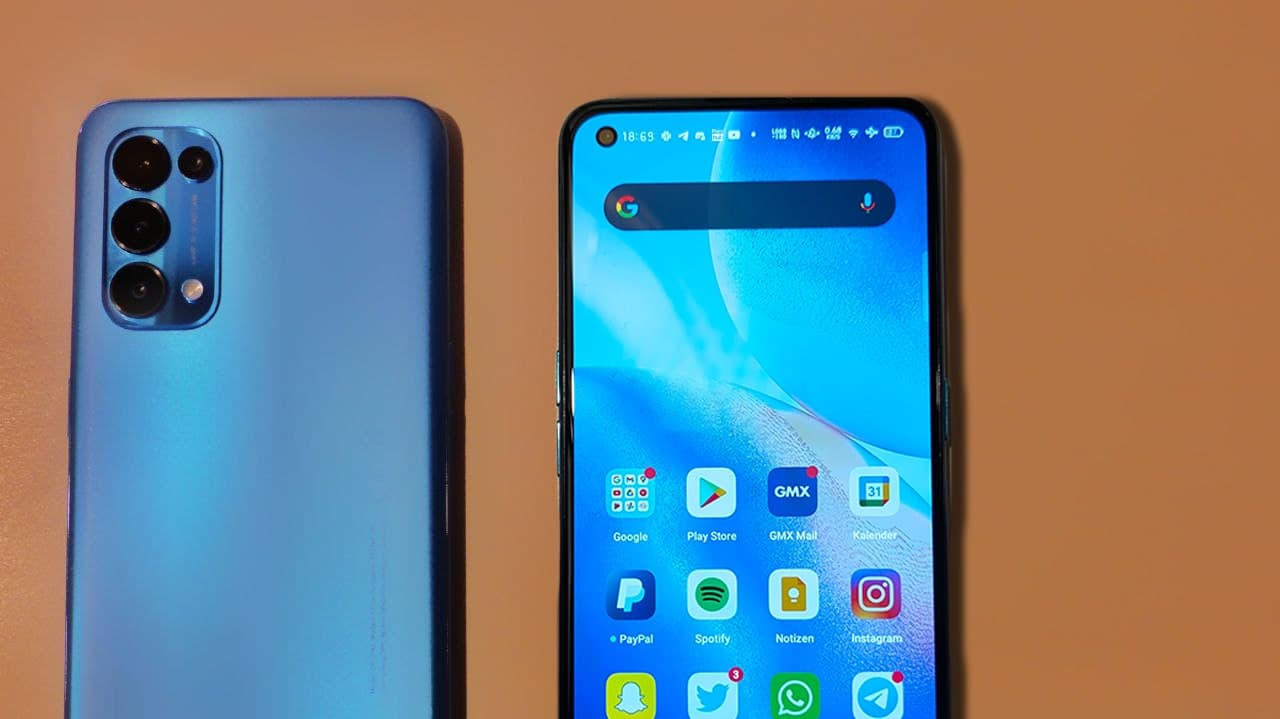 (Post picture: © 2021 Techniknews)
The OPPO Find X3 Lite is the cheapest model in OPPO's newer Find X3 series. You can read in the review what it can do and whether it lives up to its price of 449 euros!
The OPPO Find X3 Lite does not save on accessories, so in addition to the mobile phone you get a 65 watt SuperVOOC 2.0 fast charger, with which the smartphone can be fully charged in a few minutes. Wired headphones, which unfortunately sound rather tinny with bass-heavy music, a very high-quality silicone case and a pre-installed screen protector are also included.
Workmanship and design
The Find X3 Lite is of very high quality and neatly made, the buttons have a good and tight pressure point and do not wobble. Unfortunately, the Find X3 Lite has a matt plastic back and a glossy plastic frame, which are nevertheless top-quality and feel valuable. The camera module is very nicely designed and definitely an eye catcher. A punchhole front camera is built into the display, but it is very small and hardly or not at all bothersome.
Hardware
Inside the Find X3 Lite, a Snapdragon 765G works, which, together with 8 GB of RAM and 128 GB of internal storage, is very fast and is also sufficient for everything in everyday life, provided that you don't need more storage because you can't expand the storage space. Dual SIM is supported, Bluetooth 5.1, NFC, GPS and WLAN are of course also available, 5G of course as well. The Find X3 Lite also has a 3,5mm jack for headphones. The fingerprint scanner is built into the display and works very quickly and reliably.
Display
A 6,43-inch Full HD + AMOLED display with a resolution of 2400 x 1080 pixels, a maximum of 90 Hertz and 750 nits is used as the display. Thanks to the 90 Hertz, the content on the display runs very smoothly, especially when scrolling. In addition, it is bright enough in all cases so that everything can be easily read from the display even in direct sunlight.
Speaker and microphone
A single, not really good speaker is built into the Find X3 Lite, which couldn't convince me. This is not really suitable for watching videos or listening to music, as it sounds very tinny. The microphone has a good recording quality and is ideal for making calls or recording voice messages.
Accumulator
The Find X3 Lite has a 4300 mAh battery, which easily lasts the whole day. I was able to use the device for about 7 hours on average, despite the 90 Hertz refresh rate being activated. Thanks to the generous 65 watt SuperVOOC 2.0 power supply, which is already included, I have the device in less than 40 minutes from 0 Procents to 100 Procent load, although it was used continuously during the loading time. Unfortunately, the device gets a little warmer when charging with 65 watts, around 35°C felt. But that is also to be expected when charging with such high wattage. Unfortunately, the smartphone does not support wireless charging, but in my opinion this is compensated for by the very fast charging.
camera
In the Find X3 Lite, Oppo built a 64 MP main camera, which works together with an 8 MP ultra wide angle camera, a 2 MP macro lens and a 2 MP black and white sensor. So you get more or less good results.
Main camera and zoom
The 64 MP main camera delivers good pictures, but it is not really suitable for zooming, since the picture looks relatively pixelated from a five-fold zoom. From ten times the zoom the picture is no longer really usable because everything looks very blurred.
Ultra wide angle and macro
The 8 MP ultra-wide-angle camera delivers good to medium-good results, but you shouldn't zoom into the image too much, otherwise you would see the podium from the pixels.
The 2 MP macro lens delivers poor, pale images. I would use the main camera with a slight zoom instead, as it takes worlds better pictures.
The main camera delivers better results than the macro camera with a 2,5x zoom. (Image: TechnikNews)
Software
ColorOS 11, which is based on Android 11, is installed as software. The security patch is currently at the status of April 2021. The user interface is clean, runs smoothly and offers all kinds of features, such as privacy tools or the pop-up window with the battery level when connecting Bluetooth headphones from the OPPO brand. OPPO promises 2 years of Android updates and 3 years of security updates for the Find X3 Lite software.
Summary
For the current price of 449 € at The Amazon it's worth it in my opinion OPPO Find X2 Neo, which one is currently günstiger is available and is better in many ways, except for the slower loading technology and shorter update support. However, if the price falls below 400 euros, I would definitely recommend the Find X3 Lite if the comproare aware of.
Recommendations for you