>> Test the latest technology and much more: apply to us! <
Little X4 Pro review: marketing or all-rounder?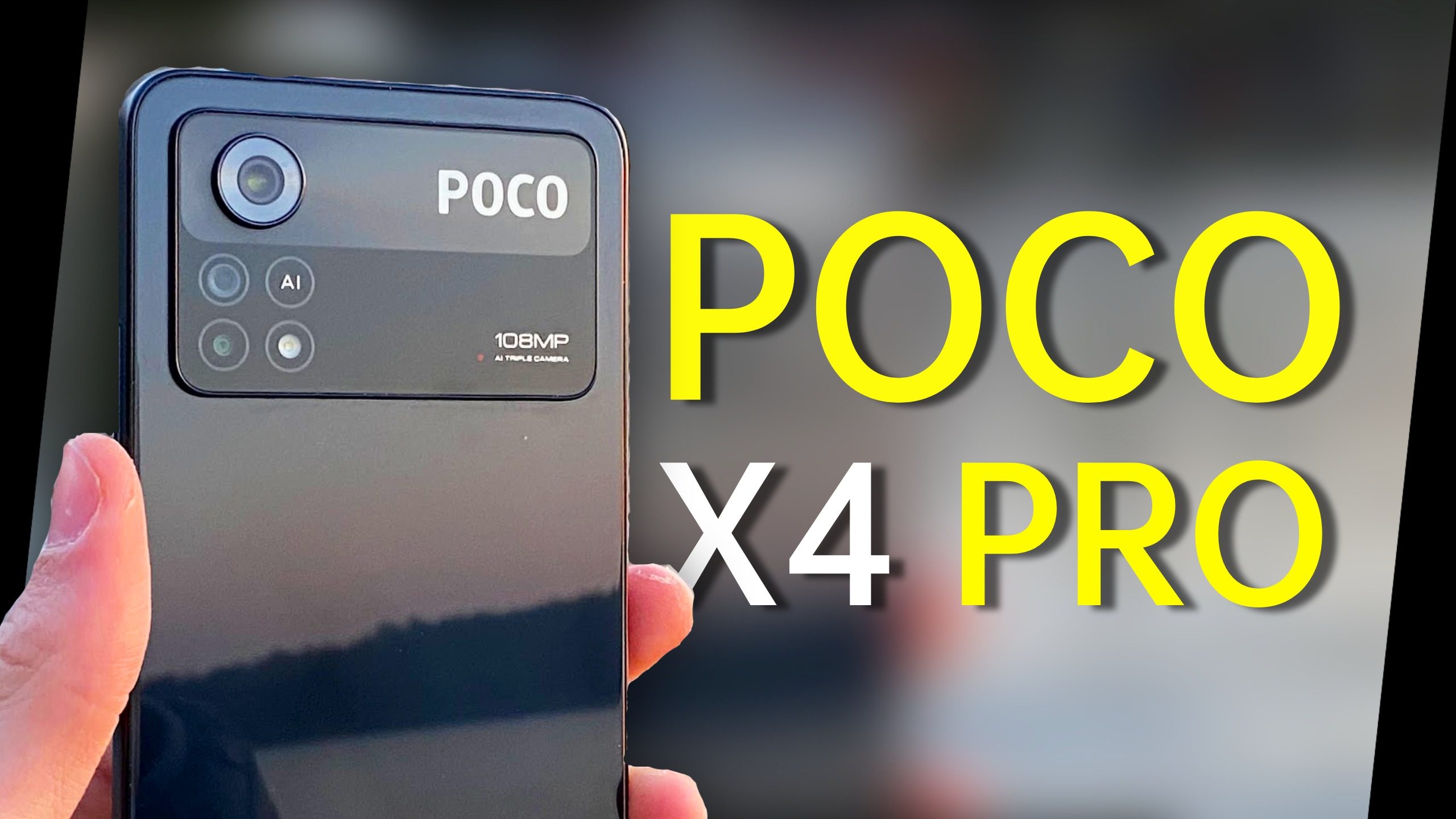 (Post picture: © 2022 TechnikNews)
The Poco X4 Pro is one of the most aggressive price-performance killers. It's a really good device, but there are things that seem a bit inconsistent. Because this device has a very critical marketing. But is the device any good?
The Poco X4 Pro is a real banger in the hand. 6,67 inches is the flagship size, along with this angular frame, the non-rounded display and the thickness due to the large battery. In addition, this width. Even if the device is not for small hands, it has a lot to offer. In this post, we look at the points that are important for the Poco X4 Pro speak, but also the ones where Poco has cut corners.
Display
First of all: The display of the Poco X4 Pro is unbeatable for this price. Of course you paid more attention to the specs here. Accordingly, there is a sharp FHD+ resolution, a 120 Hertz refresh rate and OLED technology for good contrast values ​​and perfect black. The overall package is completed with a beautifully bright brightness. This is a display that from the specs would look good in a $600 smartphone. The display bezels are also amazingly thin and that thick chin, like some other devices at this price point, is non-existent here. There's really only one thing that's not good here, and that's the rainbow coloration, which is very strong when viewed from an angle.
And the front camera in this small hole, in my opinion, shouldn't be put on display with the help of this silver ring. It looks a bit like a protective film was badly applied. But well, these are really very specific requirements. Now if you look at it from a normal person's point of view, this display here is really excellent for this price. Also its size. If you watch videos on it, use WhatsApp or do similar things, you have a top device here. This display is even better than the one from the 499 euro expensive one OPPO Find X5 Lite, the Poco not even remotely costs that much. The display isn't from a flagship though, as it's not made of a flexible material. A flexible display would ensure that those rainbow colors are barely visible. Unfortunately, there isn't one here, but that's common in this price range and beyond. And once you turn on dark mode, the rainbow colors are barely there Proproblem You won't find a better display for the price, at least not with current hardware. 
design and feel
Let's come to the back, which is often a point where savings are made in this price range. And Xiaomi, as always, delivered here itself. The frame and the back are made of high quality materials, the back is made of glass to be more precise and it feels much more expensive than the device actually is. This design reminds me a lot of My 11 Ultra from last year, only in edgy. And even if the main camera looks very out of place from the side, it still looks high-quality. However, one could have saved on the number of imprints and fonts. In addition to a large Poco logo and hints about the 108-megapixel resolution and the AI ​​triple camera, there is also a peculiar red dot.
There are five cameras here in this body - one would think - but what Xiaomi has done here makes me wonder. You have from "Pro straight camera" which is just not true. Firstly, instead of five cameras, as the appearance suggests, there are only three cameras installed and the other is just a flash and the word "AI", which is already written on the other side. Even if we look at the video quality, you can't tell from a "Pro Grade Camera" speak. The resolution is limited to FullHD and the image noise is stronger than it should be with this sensor. Unfortunately, no effort was put into the optimization here. The ultra wide angle is not particularly good in terms of hardware and is hardly optimized. We should probably just ignore the macro camera, because a simple crop with the main camera is much better in terms of quality. And another "Pro Grade" is missing, by which I mean OIS, i.e. optical image stabilization. The comparison in the video shows how good the Poco X4 is Pro for the price it still is. Of course, the quality isn't on the level of a 650 euro smartphone, but there are definitely worse ones for this price. 
hardware and performance
In the Poco X4 Pro it runs the Qualcomm Snapdragon 695 5G, which Poco says should deliver breathtaking performance. I compared the performance with a few smartphones that I am currently testing, with the Poco doing well with almost 2650 points in the combined Geekbench. While this isn't a stellar performance, for the price it's hard to find anything better apart from the Poco F3, which comes from the same manufacturer. Apps start and close pleasantly quickly, games usually run well and smoothly, you don't see any major stuttering and the device is otherwise pleasant to use.
battery and charging
Another point that Xiaomi advertises here is charging. 67 watts is really not bad, Xiaomi is really a bit ahead of almost all competitors, apart from more expensive devices that have fallen in price. This battery fully charges in about half an hour, after which it lasts a really long time, with the power-saving chip in here helping a lot. I can happily report that a one day runtime is absolutely no Proproblem. You can run an entire series marathon and the battery will last. If it does run out, you can refill half of it in 10 minutes, because the power pack is included in the box. Very good Xiaomi.
Prostated problems
Yes, there are also things that Poco has deliberately saved on here, which they also try to hide from you. This is mainly the case for points that do not appear on the data sheet, such as the software.
Xiaomi preinstalled MIUI 13 here, which is found on devices like the Xiaomi 12 Pro is great software. It delivers smooth animations on this smartphone, accompanied by a lot of haptic feedback, a lot of features and the latest Android. But the Poco Launcher on the X4 Pro is not all that. Well, I have to give Poco credit for using haptic feedback, as the vibration motor is better than usual for the price. The recoil effects when you pull down the status bar are there at first glance, but done a bit unlovingly. The effect is there the first time, but not after that. Why?
Once we land on the home screen, animations slowly become a disaster. In the video you can clearly see the difference between the real Xiaomi devices with the uncut software and the Poco with the Poco Launcher. In addition, only Android 11 is available here! Like the OPPO Find X5 Lite, this device comes here with outdated software. Sure, for normal people, the camera and performance are probably more important than the Android version and the animations, but this Oppo Find X2 Neo feels much more mature to use despite a weaker chip. The software from this has two-stage, loving animations instead of these not physically correct animations, which the intern has sleeved shortly before the termination - to put it bluntly.
advertising in the system
And unfortunately I noticed advertisements in the system. To be more precise, this extra screen is often filled with ads when installing apps. It just makes it feel cheaper - not to mention that there's a fair bit of bloatware preinstalled here. There are two folders full of pre-installed apps, which are also filled with additional promotional apps at the bottom. Also, the Wi-Fi reception on my device could have been better, although I'm pretty sure that's really just an isolated case - at least I hope so. Having said that, I have to say that the software is still the weakest feature of the smartphone, although it's definitely better than it used to be.
positive things
In return, and both of these surprised me, there is splash protection here. You can with the X4 Pro So you can turn on the tap without worrying about washing your hands and the stereo speakers should also be able to drown out a shower with their decent sound.
Conclusion
As much criticism was expressed in this test report, the Poco is an above-average device for the price, which we can certainly recommend. But you have to be aware of the downsides, because marketing doesn't tell the whole story behind a smartphone. For a better performance, the Poco F3 could also be exciting, because it has a much more powerful Processor and is only slightly more expensive. You can find the test report here.
Recommendations for you