>> Test the latest technology and much more: apply to us! <
Polestar 2 in comparison: performance package vs. software upgrade vs. standard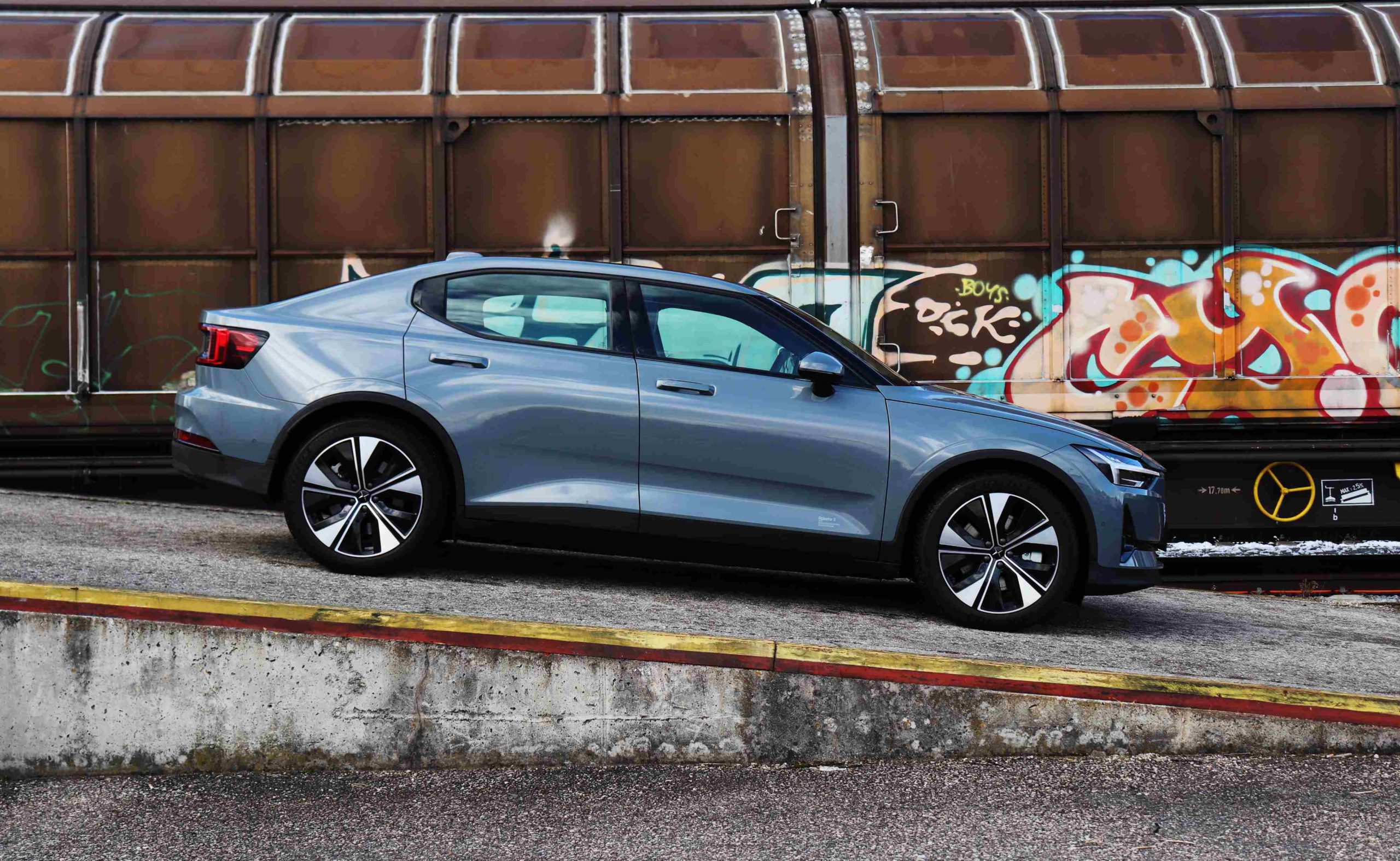 (Post picture: © 2023 TechnikNews/ David Worm)
The Polestar 2 comes in different versions. With the long-range model with dual motor, there is also the option of opting for or against performance equipment. We asked ourselves exactly this question, tested both variants and compared them with each other.
Quick clarification before we start this review. We're talking about the "old" Polestar 2 (2023), not the facelift edition Pole Star 2 (2024). The new Polestar 2 is in the starting blocks and is expected to be delivered this summer. Of course, we are also planning a detailed test for you.
Since we have already published a detailed test of the Polestar 2 in the Long Range Dual Motor version, we will not go into some points again. I would like to refer to Dominik's driving impression:
Polestar 2 vs. Polestar 2 with performance package in comparison
Let's first take a look at the data sheet, what the performance package offers on paper for differences to the other model. Basically, we can only compare here with the Long Range Dual Motor without a performance package, since this is only available in this motor variant.
Model
Polestar 2 (2023) Long Range Dual Engine
Standard equipment
with performance software upgrade
with performance package
Performance
408 PS (300 kW)
476 PS (350 kW)
476 PS (350 kW)
Acceleration (0 – 100 km/h)
4,7 seconds
4,4 seconds
4,4 seconds
top speed
205 km/h
like standard equipment
205 km/h
Reach (WLTP)
487 km
487 km
Battery
78 kWh (lithium ion)
78 kWh (lithium ion)
Charging time (according to manufacturer)
35 minutes quick charge (10-80%, DC)
8 hours (AC, three-phase)
like standard equipment
Brakes
Regenerative braking system and ventilated disc brakes
Regenerative braking system and Swedish gold "Brembo" 4-piston aluminum fixed front calipers, with ventilated and perforated discs
shock absorber
Factory setting
"Öhlins" shock absorbers, including 1x free adjustment at a service partner
Extras
Lowering kit also available (lowering by 20 mm), gold-colored seat belts
Total Price
53.990 euros* (price for Austria; incl. 20% VAT, 0% NoVA)
54.990 euros* (price for Austria; incl. 20% VAT, 0% NoVA)
60.490 euros* (price for Austria; incl. 20% VAT, 0% NoVA)
Review
Model according to this article
-
Polestar 2 (Long Range Dual Motor) review: performance crossover with lots of power
*Price after deducting the manufacturer's share of the e-mobility subsidy of EUR 2.400 gross for private customers. For business customers, this is EUR 1.200 gross.
Interior
The interior is identical except for the gold seat belts. The multimedia system and gear lever are also the same. However, our test vehicles had different colors in the interior, which is why the comparison photos differ.
driving impression
Even if the standard model and the performance package are quite similar in some points, there are some differences, especially in the area of ​​driving impressions - not only on paper. The performance package offers a performance increase of 68 hp. This means faster acceleration of 0,3 seconds from 0 to 100 km/h. But is this difference really noticeable in everyday life?
Definitive. With the performance package, the occupants are pressed much more firmly into their seats. The other shock absorbers also make the chassis feel much harder, and our test vehicle with the kit was also 0,2 cm lower. The Brembo pistons in the performance package for the front brakes are also noticeable - just a gentle foot on the brake pedal allows the Polestar 2 to come to a standstill in a much sportier way.
range and consumption
Does more power also mean more consumption? Yes. In our direct model test, we were able to identify a higher consumption of two to five kWh more per 100 km in the performance package. The 50 kW power difference is noticeable. Provided that the pedal is fully depressed - this can be counteracted by gently accelerating. This brings us to around 23 to 27 kWh/100 km in the dual motor model and almost 30 kWh/100 km on average with the performance package. Unfortunately, the Polestar 2 is not economical.
For comparison: Polestar speaks of an average consumption according to WLTP of 19,4 kWh per 100 kilometers with the performance package and around 18,2 kWh/100 km with the dual motor "non-performance".
charging power
In this respect, the two variants do not differ. Both models offer the same size battery with a capacity of 78 kWh. This means that the charging power remains the same with a maximum power of 150 kW.
Performance package vs. performance software upgrade
In addition to the performance package, which can be selected at the time of purchase, there is also the option of an upgrade afterwards.
Performance software upgrade: Of course, this cannot upgrade other brakes or shock absorbers, but increases the performance as in the performance package. This also increases responsiveness. The Polestar 2 (dual motor only) then races with 350 kW instead of 300 kW. In addition to a new sticker for the grill and the door, the vehicle must also be re-registered. All information about the upgrade can be found on the Polestar website. The price of the upgrade is 1.000 euros (price for Austria; incl. 20% VAT, 0% NoVA), one-off and without a subscription. The software is delivered two weeks after purchase.
Performance package: This is configured directly when purchasing the Long Range Dual Motor and offers all the advantages listed in the table above. The performance package is priced at 6.000 euros (price for Austria; incl. 20% VAT, 0% NoVA)
Or just wait for the Polestar 2 (2024)?
In contrast to buying an "old" Polestar 2 (2023), interested parties can pre-order the 2024 generation Polestar. This contains some advantages of the Polestar 3. The most important differences at a glance:
With the new model year, Polestar is also introducing the SmartZone on the Polestar 2, so the front changes and is now similar to that of the Polestar 3
New electric motors and inverters of the latest generation
Rear-wheel drive on the single motor variants, newly developed permanent magnet motor and silicon carbide inverter
Power of up to 310kW, torque of 740 Nm, acceleration from 0 to 100 km/h in 4,5 seconds
To help increase efficiency, the front engine can now be switched off completely when not needed
82 kWh batteries from CATL with 27 modules
faster charge rates of 205 kW for the Long Range Dual Motor and Long Range Single Motor
up to 592 kilometers WLTP range (+105 kilometers)
All details about the new facelift version are available in our news:
Pictures: Polestar 2 (2023)
Conclusion: performance package vs. performance software upgrade or standard equipment?
Spoiled for choice: which variant should the buyer choose? Let's get to the point.
We would Performance Package recommend to those who prefer to drive in a sporty manner and also want to make the interior of the car look sportier. Due to the harder chassis, the driving experience is not as comfortable as with the other two variants.
The Performance software upgrade offers a useful upgrade for more performance without having to forego the comfortable driving experience, even if more power means a loss in range. Additional costs to re-register the vehicle must be planned for.
Standard equipment profit from the lowest consumption and the highest range. Comfortable riders will not need or want to use the additional power. The right variant for energy savers and leisurely drivers.
Test report Polestar 2
Recommendations for you