>> Test the latest technology and much more: apply to us! <
Razer Blade 15 (2021) in review: one step ahead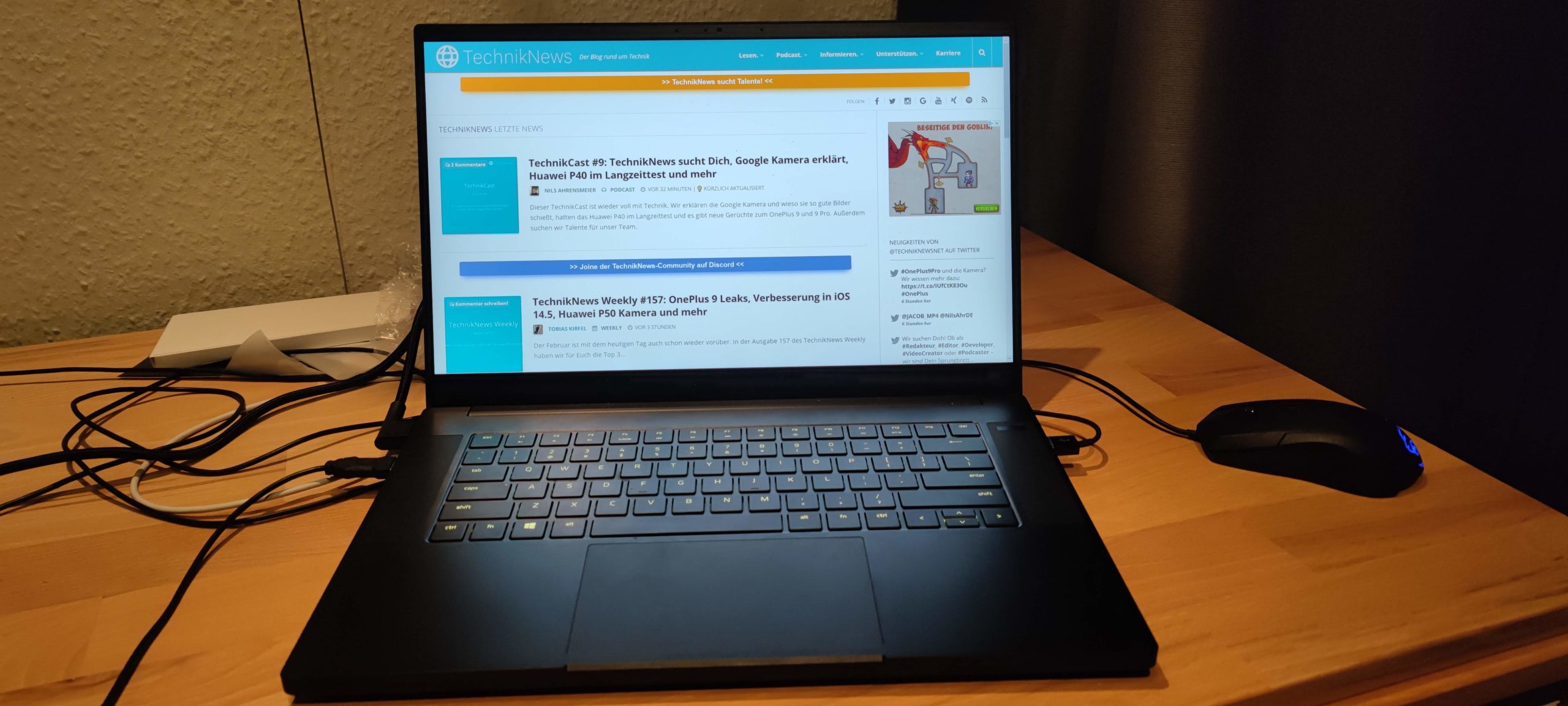 (Post picture: © 2021 TechnikNews)
With the Razer Blade 15 (2021), Razer wants to eliminate the errors of the last generation and bring the ultimate gaming notebook to the market. We tested the laptop for you.
The design of the 2021 version has not really changed. It is a "normal notebook" with a completely black frame. Only the green Razer logo on the back and the green USB-C ports are nice accents in the design.
Like the 2020 version, the laptop is made of high-quality aluminum and therefore feels very high-quality. The speakers are on the edge of the keyboard, and the power button is almost inconspicuous in the right speaker.
The workmanship is very successful, the notebook looks very minimalist and feels flawless. With a weight of two kilograms, the laptop is not light, but considering the hardware used, it is almost unbelievable. As I write this article, I keep looking at my large desktop computer, which is a lot bigger and still has poorer components.
Razer Blade 15 display
The "basic model" we tested has a 15,6-inch (hence the name Blade 15) display, which in our configuration has a resolution of Full HD and 144Hz. This was very helpful, especially with fast computer games like Overwatch, CSGO or PUBG, since the games could be displayed much more smoothly in order to react quickly. So ghosting is not Proproblem, but content such as films or websites also ran smoothly across the display outside of computer games. ProProfessional video editing or Photoshop are also possible, but if you want to do this in 4K, you have to use another version with a 4K or QHD display.
Games look very good despite "only" full HD resolution. Sure, gaming is a different experience on a large 27-inch display with 4K, but Full HD is also sufficient on a smaller display. Together with the new one RTX 30s Series (in my test device the RTX 3060 Mobile) are now also new blockbusters like Cyberpunk 2077 Problem more and look very good on the display.
Specs
In XNUMX, when ProIn the basic version of the Razer Blade 15, a 6-core processor from Intel's 10th generation works, more precisely the "i7-10750H". We would have appreciated an option with an AMD CPU, as these are also popular with gamers and currently would also bring advantages such as Thunderbolt 4, although they are currently very available. However, Razer missed this opportunity.
A 512 GB M.2 SSD is preinstalled as storage, another slot can expand the SSD up to 4 TB. Also with the 16 GB DDR4 RAM, this can be increased to 64 GB. If you prefer to work with external storage, you can connect it via Thunderbolt 3 via USB-C, or via USB-A to one of the three USB 3.1 Gen 1 ports. Another USB-C port supports the currently second fastest standard USB 3.2 Gen 2 (USB 3.2 Gen 2 × 1).
Performance
We were not allowed to perform exact benchmarks because our test device still has a PVT (Proinduction verification testing) model is. This means that the device is not yet finished Proproduction model and therefore the benchmarks are not overproduct would correspond.
But what I can say is that the notebook does not have any Prohad problems with 4K video editing, complex games like Cyberpunk 2077 or with ultra details in "Overwatch". The device finally reached its limit with 4K resolution for Cyberpunk and an external monitor. I was able to measure times during my video editing: 4K video with 30 frames pro second, video length is 8:34. The notebook needed 12 minutes and 45 seconds of rendering time for this. Even more complex PhotoshopProprojects were not for the laptop Proproblem With Cyberpunk, however, the device also got louder and warmer with the fan. I would then use an external keyboard for stationary gaming in order not to have to endure the heat permanently. But that could also be due to the PVT model.
The basic version also has a Gigabit Ethernet connection as additional connections (in addition to the USB ports), and an HDMI 2.1 connection has also been installed. A 3,5 mm jack connection is also available for headsets.
Keyboard and touchpad
Nothing has changed on the keyboard and the touchpad compared to the last basic model, but in the "Advanced model" that was tested last year, every single key could be illuminated with RGB, with the basic version it is only one area. Otherwise, the keyboard is very high quality, it is very easy to type with and the RGB lighting also helps when typing in the dark.
The touchpad is still very large and precise. I also caught myself several times that I preferred to use the touchpad rather than my mouse, as some inputs just went better with the touchpad.
Razer Blade 15 webcam
Since last October, the external circumstances have changed again to the extent that I sat in many video conferences during my test period and accordingly the webcam in the laptop became more important again. This has a resolution of 1MP and can display a maximum of 720p. I expected more here. You can expect a full HD webcam in a notebook that is almost 2.000 euros, and that will also be one of my main points of criticism. But despite the 720p webcam, the other participants in the conversation could see me well. It's just not in line with the price.
Battery and speaker
In terms of battery life, I was able to measure around 5 hours of pure office use and around 2 hours of intensive gaming. However, the included mains plug with 230 watts fully charges the laptop in about 2 hours. The speaker is loud and can also be used to listen to music. Also movies and YouTube videos are fun for musicproNevertheless, loudspeakers or headphones should be used for production.
Razer Blade 15 (2021) conclusion
The Razer Blade 15 base model in 2021 takes the Razer Blade series one step further. It simply shows what computing power is already possible in a notebook. But this also has its price. If you just look at the hardware and then let the price of 2.000 euros melt on your tongue, you think you're making a bad deal. But with the Blade 15, you mainly pay for portability and then the suggested RRP is a fair price. You can start at 1.799 euros. You don't get that much computing power in a comparatively light and thin device. If you are more interested in a 4K model, you can take a look at the Blade from last year, I will have the Advanced Edition in October tested.
Buy the Razer Blade 15
Recommendations for you