Realme 8i review: Very good, inexpensive entry-level smartphone with 120Hz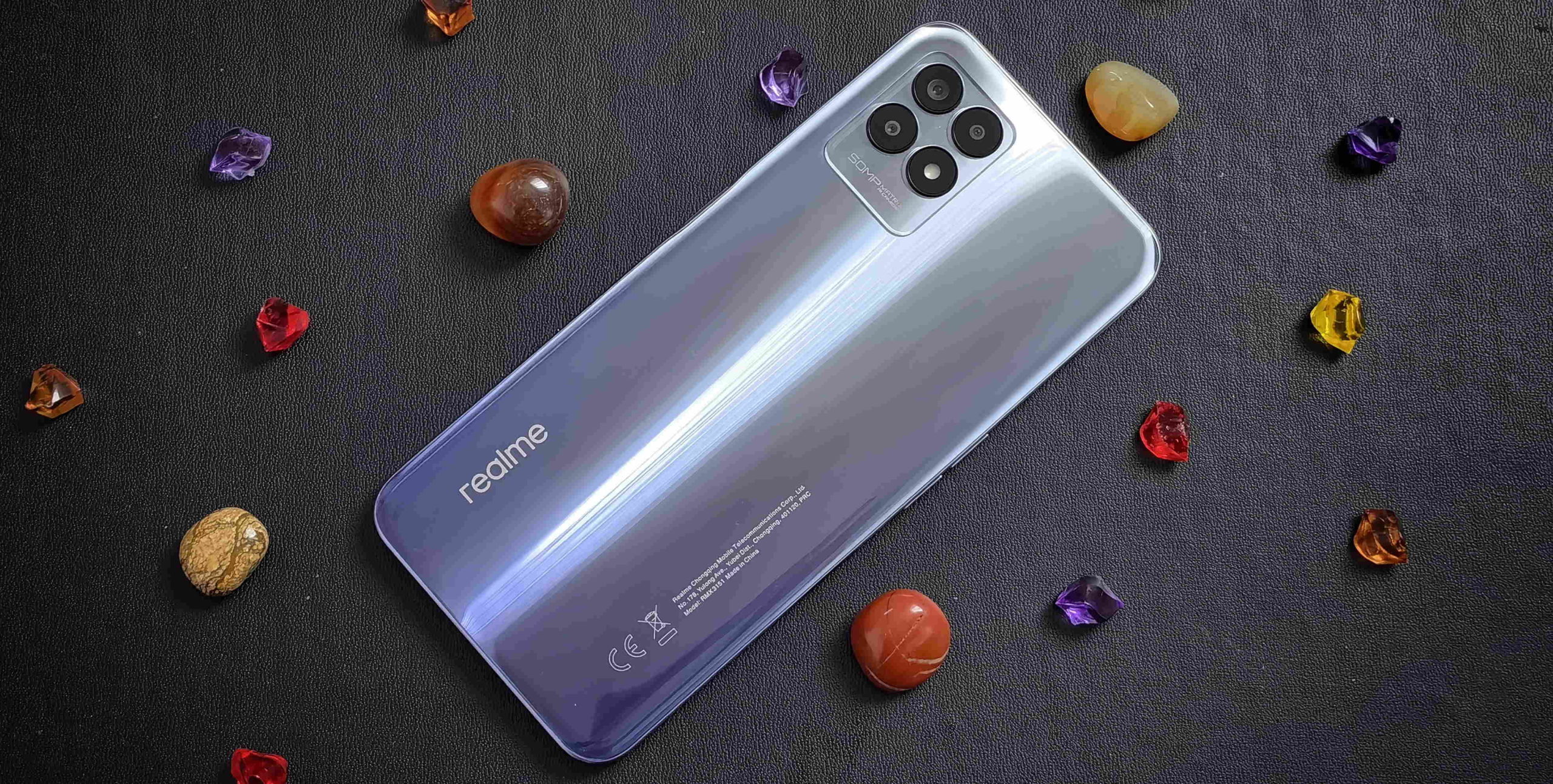 (Post picture: © 2021 TechnikNews)
The Chinese manufacturer Realme has been known for a long time for good value-for-money smartphones. That Realm 8, 8 Pro or the GT Master Edition were all able to convince in our test reports across the board, as they offer a comparatively large amount of hardware for a fair price. With the new Realme 8i, the manufacturer now has another affordable smartphone on offer.
For less than 200 euros, customers get a huge 6,6 inch LC display with 120 Hertz, a Helio G96 from MediaTek, a 5.000 mAh battery and a new 50 megapixel triple camera. On paper we are dealing with an excellent entry-level smartphone for relatively little money, but in the following lines you can find out whether the Realme 8i can also convince in everyday life and whether it can be recommended to others.
Haptics, design and processing
With dimensions of 164,1 millimeters in height and 75,5 millimeters in width, the Realme 8i is clearly one of the larger smartphones. It definitely can't anymore probe easily operated with one hand. Despite all this, the device is surprisingly comfortable and has a good grip, since it is not too heavy at 194 grams and since Realme allows the back to flow almost perfectly into the frame, which is why there is never a sharp-edged feeling in the hand.
The frame is made of plastic, which is hardly prone to fingerprints due to the matt surface and feels noticeably higher quality than a plastic frame with a high-gloss finish. Unfortunately, it's exactly the other way around on the back, because high-gloss plastic is used here, which does not leave an excessively high-quality impression and is visibly more susceptible to fingerprints and signs of wear. For the price offered, I don't want to complain too much, because hardly any other smartphone has a noticeable advantage in this regard. With Space Black and Stellar Purple you have two attractive colors to choose from. I got the latter for testing, which I'm very happy about because I've rarely seen such a color on any other smartphone. It is characterized by a beautiful color gradient from purple on the bottom to silver on the top. If you like it a little more subtle, you should definitely go for the black color. In addition to the colors, you should also immediately notice the cameras in the left corner. What initially looks like a quad camera turns out to be a triple camera on closer inspection, because the black circle at the bottom right is just a flash. The cameras protrude a little from the housing, which means that the smartphone wobbles slightly when it is used on the table.
If we turn the smartphone around, we are greeted by a huge display, which is only interrupted by a small punch hole in which the front camera can be found. The recess does not interfere with everyday use at any time. The edges around the panel are completely okay in this price range.
When it comes to processing, the Realme 8i does a solid job. The back can hardly be dented, which is the case with many smartphones in this price range Proproblem. In addition, the keys are excellently placed, sit sufficiently firmly in the case and have a decent pressure point.
Display - better than expected
The LC display measures 6,6 inches, has a pleasantly sharp resolution of 2.412 x 1.080 pixels and supports a very fluid refresh rate of 120 Hertz, which means that the screen can display 120 individual images per second. As a result, all animations and scrolling appear as smooth as butter, which makes for a great user experience. This is extremely commendable, especially for less than 200 euros. To save a little battery, the display also automatically switches to 30Hz, 48Hz, 50Hz, 60Hz or 90Hz, depending on the scenario.
At first I was a bit skeptical because unlike the Realme 8, this is just an LCD and not a high-quality OLED panel. Even though the Realme 8 is of course a bit ahead, I was quite surprised at how good the LC display in the 8i actually is. The white value is excellent and colors are reproduced well, which is a big thing for the similarly expensive Redmi 10 Proproblem. In addition, the viewing angle stability is surprisingly good, which I would not have expected from an LC display for such a low price. Sure, the colors change color at extreme viewing angles, but it's nowhere near as bad as with the Redmi 10 and Little X3 NFC. The maximum brightness is good enough to be able to read the screen well even on sunny days.
Software - many personalizations thanks to the Realme UI 2.0
The in-house user interface Realme UI in version 2.0, based on Android 11, is used as software. It's quite colorful and, for my taste, a bit confusing in some places, especially the settings. But you can adjust some things to your own taste. For example, you can change the colors of the UI or the icon style of the apps. In addition, Realme integrates the popular Google Discover feed on the left side of the home screen and of course there is also an app drawer.
As additional functions, the user can, for example, configure the icons of the apps, change the navigation and there are screen-off gestures (gestures for the switched-off display). Furthermore, the device can be woken up by tapping twice on the switched-off display and switched off again by tapping twice on a free space. How do I find a very useful and practical feature that I used very often in everyday life. However, I would like to see a quick start function for starting the camera in the future.
Realme pre-installs some bloatware with Facebook, TikTok, Booking.com and WhatsApp. Fortunately, all apps can probe uninstalled without problems.
Performance - fast and (mostly) fluid
MediaTek's Helio G96 works under the hood, which is manufactured using the 12-nanometer process and is extremely powerful on paper for less than 200 euros. Depending on the version, there is also 4 or 6 GB of RAM (including RAM expansion by up to 5 GB) and 64 or 128 GB of internal memory procan easily be expanded via a microSD card. In addition, the smartphone can be used in dual SIM mode, and it is important to mention that two SIM cards can still be inserted when expanding the memory via a microSD card. So you don't have to choose between dual SIM and memory expansion. Kudos to Realme.
The everyday performance is great for such a cheap smartphone. Apps start and close quickly and there are only very few major stutters. Sometimes animations are not played back completely smoothly, which in my opinion is due to the fact that the 120 Hertz are not always activated, but in most cases they are what, paired with the Helio G96, ensures a great, smooth user experience. The smartphone only reaches its limits with very intensive use, which is completely normal in this price range.
Battery - long runtimes
The 5.000 mAh battery inside ensures extremely long runtimes. Despite the activated refresh rate of 120 Hertz, I always got through a day easily and even two days without a charge were now and then proeasily possible. At the end of the day, with a screen-on-time of 5 to 6 hours, I usually still had 35 to 50 Procent battery left. Even heavy users shouldn't run out of realme 8i in a day. The battery life is just outstanding.
With the supplied 18 watt power supply, the smartphone is fully charged in about 100 minutes, which is fine, but the normal Realme 8 offers a little more with up to 30 watts.
Camera - above average in this price range
It will be very exciting with the cameras, because Realme wants to convince across the board on this point. They install three sensors on the back, which can be found in the top left. The main camera is a new 50 megapixel Samsung sensor with a size of 1 / 2.6 inches, which should deliver excellent results for less than 200 euros. There are also two additional sensors, each with 2 megapixels, which are responsible for macro shots and depth effects. Unfortunately, you won't find an ultra-wide-angle camera here, which I think is a shame. The front camera has a resolution of 16 megapixels.
Above all, the main camera impresses with its accurate color reproduction and excellent dynamic range, which is unparalleled in this price range. I also like the sharpness very much, although there are hardly any improvements compared to the Realme 8 and every now and then recordings are sharpened a little too artificially for my taste. In poor lighting conditions, the quality naturally decreases visibly despite night mode, which is completely normal for an entry-level smartphone. Nevertheless, I can see noticeable improvements compared to the Realme 8 and overall the sharpness, brightness and color rendering are more than impressive for less than 200 euros. A Redmi 10 with the same sensor that Little M3 and the Poco X3 NFC also perform worse.
As with all the entry-level competition, the dedicated macro camera is completely unusable. Even in good lighting conditions, recordings are far too blurry and quickly start to rustle. I recommend using the main camera for macro photos (see test photo 3). With the front camera, you can take quite decent selfies.
Test photos
Let's take a look at a few test photos. As always, the following images are absolutely unprocessed, but compressed without loss in order to keep loading times and memory consumption of the website low.
Comparison with the Redmi 10
Last but not least, we want to compare the camera with the camera of the similarly expensive Redmi 10 in different situations. Both smartphones have the same 50 megapixel main sensor.
Although both smartphones use the same main sensor, the differences in the final results are actually bigger than I would have guessed. In good lighting conditions, the Realme 8i reproduces colors in a visibly more natural and attractive way and bright areas are not overexposed too much. The dynamic range is visibly better, which is not only reflected in Figure 2, but also in some of the other comparisons that I made during my test period. In terms of sharpness, the differences are very limited and cannot be seen at first glance, but if you zoom in, you can see the slightly higher level of detail of the Redmi 10.
As soon as the lighting conditions get worse, the Redmi 10 can no longer really keep up with the Realme 8i. The recordings become too dark, begin to rustle very quickly and are inaccurate in terms of color. For 180 euros this is perfectly fine, but in a direct comparison the 8i adds a bit more.
Others - decent fingerprint sensor, solid speaker, and more
Realme integrates a physical fingerprint sensor into the power button on the right, which is very easy to reach. It unlocks the smartphone quickly and almost always reliably. Every now and then the sensor does not react, which is why I have to put my finger on the sensor a second time.
The mono speaker on the bottom sounds decent, but it has to admit defeat to the stereo speakers from Xiaomi. Current Xiaomi smartphones also do a better job in this price range with the vibration motor. Last but not least, I would like to positively mention that the Realme 8i has a 3,5 mm jack connector, which can be used to connect wired headphones with a jack plug.
Prices
The small version with 4 GB of RAM and 64 GB of internal storage costs only 20 euros until October 179, and then you can get it at the recommended retail price of 199 euros. For double the memory and 2 GB more RAM you have to spend 20 euros more.
Summary
The Realme 8i was able to convince me all along the line because it offers a lot for relatively little money and there is almost no need to make any major compromises: Starting with the good 120 Hertz display, through to the strong performance, the first-class battery life and the main camera , which delivers surprisingly useful results for less than 200 euros. Only with the vibration motor and the loudspeaker is there still a bit of room for improvement, but to be fair it must be clearly stated that hardly any other cheap smartphone is significantly better in these areas. The only thing that I find a shame and that I can't quite understand compared to the similarly cheap Realme 8 is the fact that the Realme does not have an ultra-wide-angle camera on the 8i.
Due to the strong overall package, I can wholeheartedly recommend the Realme 8i, especially to those who are looking for a cheap smartphone with a strong Proprocessor performance and a decent main camera. However, if you value a high-quality OLED display and faster charging, you should definitely get the regular Realme 8 (here is our review) into consideration and otherwise it is also worth taking a look at the slightly more expensive Poco X3 Pro, which scores particularly well in terms of performance and speaker quality.
We would like to thank Realme Germany for sending us the Realme 8i before it was released!
Recommendations for you