Realme GT review: Very good, but the competition never sleeps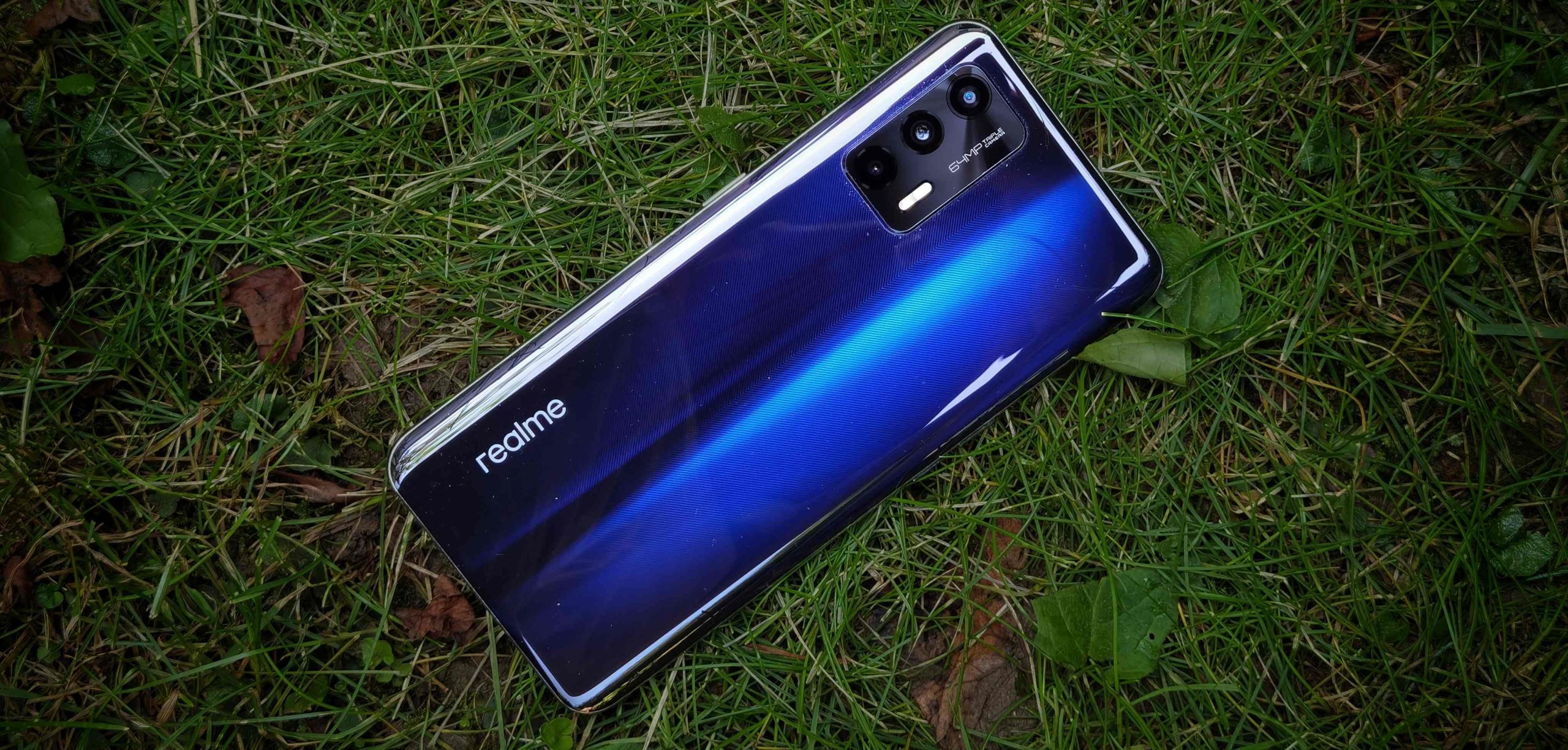 (Post picture: © 2021 TechnikNews)
Realme smartphones have always been characterized by their excellent price-performance ratio. Both that Realme 7 5G as well as that 8 Pro were able to convince across the board in our test reports and were absolutely recommendable due to the prices. Now the manufacturer wants to go one step further with the new Realme GT.

Customers are currently offered some flagship hardware for around 450 euros, such as a Snapdragon 888 from Qualcomm, an OLED display with 120 Hertz, 65 watt fast charge and stereo speakers. All of this sounds pretty good, but the competition is currently stronger than ever. Some comparable smartphones sometimes cost even less and offer a little more on paper, especially for the cameras. In this review, we want to clarify how the Realme GT has done in everyday life and whether it is currently recommended for 450 euros.
Haptics, design and processing
The Realme GT has a fairly normal size by today's standards. With dimensions of 158,5 mm in height and 73,3 mm in width, it is neither particularly large nor small. Most should procan be used easily with one hand and will also get along very well with the weight of 187 grams and the thickness of 9,1 mm. Due to the slightly rounded back, the smartphone even feels a bit narrower in the hand and, unlike some of the competitors, does not convey a sharp-edged feeling. Overall, I really enjoy holding the Realme GT and even felt like I was holding the OnePlus 9 on more occasions as they are almost identical in size and feel very similar. The reason for this is the same materials used. Realme also relies on a frame made of plastic with a high-gloss finish, which feels neither particularly high-quality nor stable. The manufacturer has obviously saved here, which I can just about get over for the price offered. For comparison, that Sony Xperia 10III, Xiaomi Mi 11 Lite 5G, OnePlus North 2 and many more are also equipped with a plastic frame, which is why I don't want to complain too much. Still, it's a shame.
Fortunately, the back feels more valuable, because Realme uses glass with a high-gloss finish, which is, however, quite susceptible to fingerprints, especially with the "Dashing Blue" color I tested. Personally, I really like this color because of a slightly striped pattern under the glass. Depending on the incidence of light, the color always looks a little different and beautiful blue stripes appear. If you like it a little more conspicuous, you should take a look at the color "Dashing Silver" and for everyone who is not a fan of glass backs, Realme has the color "Racing Yellow" on offer, with the back made of vegan leather. The manufacturer is finally providing variety on the smartphone market again. Almost discreetly, Realme positions three cameras in the left corner, which protrude a little from the case, which means that the smartphone only wobbles minimally when it is on the table when operated.
A large OLED display dominates the front, which is only interrupted by a small punch hole in which the front camera is housed. The bezels around the screen are okay, but could be a bit thinner. Xiaomi and Samsung are currently leading in this regard.
When it comes to workmanship, the Realme GT is convincing across the board. It makes a well-made impression, nothing creaks and the back cannot be visibly dented at any time. I would also like to positively highlight the buttons. The power button on the right could be a bit tighter in the case, but the pressure point is excellent and it is also very well positioned. The buttons for louder and quieter on the left are also easy to reach.
Display - very good
Already in the Realme 8 Pro There is an excellent OLED display, which only lacks a higher refresh rate of 120 Hertz. Fortunately, the new GT has this on board, which has a very positive effect on everyday use. Scrolling and all animations are buttery smooth.
But not only the refresh rate, but also the other aspects are convincing across the board. The resolution of 2.400 x 1.080 pixels is completely sufficient with a diagonal of 6,43 inches. No individual pixels can be seen in everyday life. Colors are reproduced very realistically, the black level is grandiose, typical for OLEDs, and the white level is also convincing. The viewing angle stability is basically okay and the brightness is also rock solid. I would wish for a little more in direct sunlight, but as long as the panel can still be read, everything is okay.
Software - many personalizations
The in-house user interface Realme UI, based on Android 11, is used as software. It's quite colorful and, for my taste, a bit confusing in some places, especially the settings. But you can adjust some things to your own taste. For example, you can change the colors of the UI, the icon style of the apps or the animation when unlocking via the fingerprint sensor. In addition, Realme integrates the popular Google Discover feed on the left side of the home screen.
As additional functions, the user can, for example, configure the icons of the apps, change the navigation and there are screen-off gestures (gestures for the switched-off display). Furthermore, the device can be woken up by tapping twice on the switched-off display and switched off again by tapping twice on a free space. How do I find a very useful and practical feature that I used very often in everyday life. However, I would like to see a quick start function for starting the camera in the future.
Unfortunately, Realme pre-installs some bloatware with Facebook, LinkedIn, Netflix and Co. Many of the apps can only be deactivated and not uninstalled.
Performance - absolutely at the flagship level
The Qualcomm Snapdragon 888, which is otherwise only used in significantly more expensive models, works under the hood. Depending on the version, it has 8 or 12 GB of RAM by its side and there is also either 128 or 256 GB of internal memory, which unfortunately cannot be expanded via microSD cards.
As expected, the Realme GT performs like current flagships. Apps start and close extremely quickly, you won't find any stutters or delays here and the overall operating speed is at a very high level. What I particularly like is how consistently and smoothly the smartphone runs, which I already noticed with the Realme 8 Pro noticed positively. The in-house software seems to be very well adapted. More complex apps or games are not prepared for the Realme GT either Protrouble. This smartphone will almost certainly still perform well in two to three years.
heat development
The Realme GT gets noticeably warmer than other smartphones in this price range, especially after longer or more intensive use. It's noticeable every once in a while even with normal, everyday use. to ProHowever, the heat development did not cause any problems at any time, but I would still keep an eye on it. This also confirms my assumption that the new Snapdragon 888 comes with heatproproblems. Both that OnePlus 9, OnePlus 9 Pro as well as that Xiaomi Mi 11 became very warm in my everyday use. Here, for example, performs OPPO Find X3 slightly better with the slightly weaker Snapdragon 870.
Battery - full quickly and empty quickly
The battery is 4.500 mAh and can be fully charged in half an hour with the included power supply unit with up to 65 watts, which is particularly commendable in this price range. Samsung and Apple can only dream of such values. Big compliments to Realme. Wireless charging is not possible, but cannot be expected in this price range.
Unfortunately, the battery life is less convincing, especially in view of the fact that it is actually energy-saving Proprocessor, the OLED display and the decent battery capacity of 4.500 mAh. With activated 120 Hertz I can get through a day, but not much more is possible. With an average screen-on-time of 4 to 6 hours, I usually had 5 to 25 at the end of the day Procent battery left, which is not too good by my standards. For comparison, a Xiaomi Mi 11 Lite 5G with a smaller battery lasts a little longer and that I live V21 5G plays in a completely different league. The Qualcomm Snapdragon 888 seems to be quite power hungry, which is also the case with the OnePlus 9 and 9 Pro noticed.
In conclusion, it can be said that heavy users or people who gamble from time to time should not reach for the Realme GT. However, if you don't use your smartphone too often or not ProIf you have trouble charging the device again briefly during the day, you don't have to worry.
Camera - too little for 450 euros
A rather unspectacular camera setup is used on the back. The main sensor is the IMX 682, which has a resolution of 64 megapixels and is 1 / 1.73 inches in size. The ultra wide angle camera with a sensor size of only 1/4 inch has a resolution of 8 megapixels and there is also a 2 megapixel macro camera, which is slightly larger at 1/3 inch. The front camera has a resolution of 16 megapixels.
The main camera takes very solid pictures for 450 euros with strong, but still sufficiently realistic color reproduction. As is typical for Realme, it is sharpened a little too artificially, which often makes images appear a little unnatural. The general sharpness is completely okay and the dynamic range is also appropriate for the price. In poor light conditions, the night mode is recommended, which exposes recordings for a few seconds. However, I would have expected a little more from the results, because the white balance is often not correct, which is why images are reproduced much too warmly. The Realme GT also has weaknesses in terms of sharpness and partly also in terms of brightness. If this smartphone cost 350 euros, then I would be satisfied with the lowlight performance, but for 450 euros I currently expect more. Cheaper devices such as the OnePlus Nord, Nord 2 and Xiaomi Mi 11 Lite 5G are better here.
With the ultra-wide-angle camera, much more of a scene can be captured, which can be very practical in everyday life, but the image quality must be right for this, and unfortunately that is not the case with the Realme GT. Details leave a lot to be desired and the dynamic range also comes up again and again Protrouble. For 450 euros, that's pretty weak.
I like zoom shots a lot better. Despite the lack of a telecamera, even pictures with 5x magnification can still convince with good sharpness. In a direct comparison, it even beats the iPhone 12, which is almost twice as expensive (right):
The manufacturer could have done without the macro camera. she proproduces blurred and much too pale photos. For macro shots, I recommend using the main camera and then cropping into the image. Those who would like to take selfies with their smartphone from time to time will be quite satisfied with the Realme GT. Faces are rendered a bit too soft for my taste, but otherwise the image quality is convincing for 450 euros.
Test photos
Let's take a look at a few test photos. As always, the following images are absolutely unprocessed, but compressed without loss in order to keep loading times and memory consumption of the website low.
Comparison with the OnePlus Nord and Sony Xperia 10 III
Finally, we want to compare the cameras with the competition in different situations. For this I decided on the one hand for the OnePlus Nord and on the other hand for the Sony Xperia 10 III, as both started with a similar RRP.
The main cameras of all three smartphones take similarly beautiful pictures in good lighting conditions, which mainly differ significantly in terms of color reproduction. The Realme tends towards a warmer and more saturated color rendering, which doesn't correspond to reality. Sony, on the other hand, tries to deliver an image that is as natural as possible. If you switch to the ultra wide-angle camera, Realme can no longer keep up and clearly has to admit defeat to the Xperia. The image sharpness is the greatest here Proproblem To be fair, however, one must also say that the OnePlus Nord does not cut a particularly good figure either. Surprisingly, the GT wins when it comes to zoom shots. I was actually pretty sure that the Sony Xperia 10 III would win here due to the 2x optical telephoto camera, but it's not. The Realme GT takes sharper and more realistic photos despite the lack of a zoom camera.
As soon as the lighting conditions get worse, the Sony can no longer keep up. The OnePlus Nord does a relatively good job, especially for the meanwhile lower prices, where I would have expected a little more with the Realme GT. The sharpness is okay, as is the brightness, but every now and then the night mode is quite wrong. The manufacturer could improve the white balance a little with future updates.
Other - great speakers, good vibration motor, and great fingerprint sensor
Fortunately, Realme relies on stereo speakers, which is still anything but self-evident in this price range. They are loud enough and provide a nice, clear sound. I was very satisfied here.
Also convincing is the built-in vibration motor, which gives a comfortable feeling in the hand and does not sound annoying at any time. It is completely appropriate for the price of 450 euros.
Last but not least, I would like to tell you about the fingerprint sensor. This was integrated into the display and sits a little too far down for my taste, similar to the OnePlus 9. If you hit it perfectly with your finger, it unlocks the smartphone extremely quickly and reliably.
Summary
My conclusion on the Realme GT is quite difficult for me, because on the one hand it convinces with an excellent display, great performance, extremely fast loading times, great speakers and a very good fingerprint sensor. All of this is (almost) at the flagship level and is now available for just 450 euros. On the other hand, the cameras and especially the battery life are not really convincing and are actually below average in this price range.
Then there is the extremely strong competition, led by Xiaomi. In the meantime it will Poco F3 for only 300 euros and offers the slightly weaker - but cooler and more efficient - Snapdragon 870, stereo speakers and also a great OLED display with 120 Hertz. For all those who want a little more with the cameras, Xiaomi also has the Mi 11 Lite 5G on offer and those who absolutely cannot do anything with the MIUI should take a look at the OnePlus Nord 2.
Due to the extremely strong competition, I can only recommend the Realme GT for the current price of 450 euros to those who place a lot of value on performance, and who would like to buy the smartphone in two to three years prowant to use it without problems, want to have a great display and speakers and on top of that don't know anything about MIUI or OxygenOS. I would recommend everyone else to wait a few more weeks until the price drops to around 400 euros. Then, in my opinion, you can access it without hesitation and get a really good smartphone, which, however, will most likely have to be charged more often.
We thank Realme Germany for providing the Realme GT!
Buy Realme GT
Recommendations for you