Samsung Galaxy A52 review: competitive again !?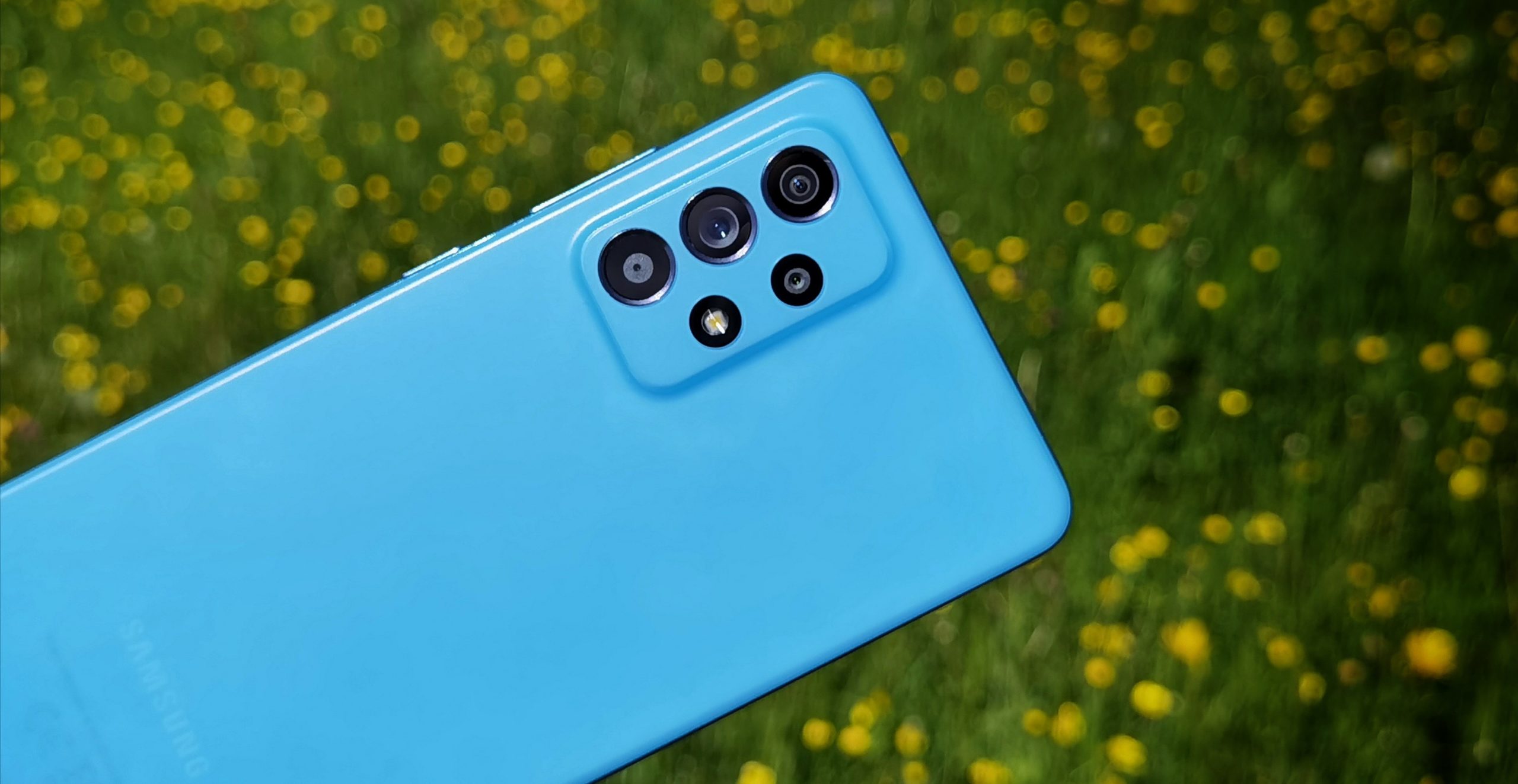 (Post picture: © 2021 TechnikNews)
Last year's Galaxy A51 was last year's best-selling Android smartphone, although it was far from perfect. It had due to a weak Prozessor's noticeable weaknesses in performance and also in the camera and haptics there was room for improvement. This year's successor, the Samsung Galaxy A52, should now eliminate these points of criticism.
Under the hood is the much stronger Snapdragon 720G from Qualcomm, which is also in the more expensive one A72 can be found and should provide significant improvements compared to its predecessor. In the following lines you can find out whether this has been successful, how the smartphone has otherwise fared in everyday life and whether I can recommend it for about 310 euros at the moment.
Haptics, design and processing
For today's standards, the Samsung Galaxy A52 has a fairly normal size with dimensions of 159,9 mm in height and 75,1 mm in width. It also weighs 189 grams and, at 8,4 mm, is slightly thicker than its predecessor. Similar to the Galaxy A32 5G Unfortunately, the back of the A52 is also not as pleasantly rounded, which means that the smartphone is a little sharp-edged in the hand.
The frame is made of plastic with a high-gloss finish, which neither gives a high-quality feeling in the hand nor is it susceptible to fingerprints and scratches. Unfortunately, nothing has changed here compared to the predecessor. On the other hand, the biggest improvements in terms of design are noticeable on the back, because Samsung is now installing a matte back in the mid-range as well. It is still made of plastic, but on the one hand hardly any fingerprints are noticeable due to the matte surface and on the other hand the back now feels much more valuable. Samsung has taken a necessary step forward after what feels like an eternity, but you shouldn't expect too much either. A four-year-old A5 2017 with a glass back and metal frame still plays in a completely different league, but I still see some progress with the A52 compared to last year.
Another innovation on the back concerns the camera. Not only in terms of hardware, but also externally a little has changed. As with the predecessor, the sensors are located in a rectangle at the top left and protrude a little from the housing, which means that the smartphone wobbles slightly when it is on the table when operated. However, the camera bump is colored in the device color and not in black as on the A51, which I like very much. When it comes to colors, customers can choose between black, white, purple and blue, all of which are "awesome". I really like the light blue color of my test device.
If we look at the front, we can see a 6,5-inch display, which is only interrupted by a centrally located punch hole in which the front camera is located. The recess almost never interferes in everyday life due to its small size. However, it is gray / silver instead of black as with almost all other smartphones, which looks a little getting used to.
There is no reason to criticize the workmanship. The smartphone makes a stable impression, the back can hardly be depressed and the keys have a decent pressure point, even if they sound a bit cheap when pressed.
The small punch hole is gray / silver instead of black like on almost all other smartphones. (Picture: TechnikNews)
Display - the highlight
A great strength of last year's Samsung smartphones, whether in the mid-range or in the flagship segment, were the displays, and so it is with the A52. The OLED panel measures 6,5 inches, has a pleasantly sharp resolution of 2.400 x 1.080 pixels and supports a fluid refresh rate of 90 Hertz. This means that the smartphone can display 90 individual images per second. Xiaomi offers a little more here, but you can also be satisfied with 90 Hertz in this price range.
I think the resolution is sufficient. Individual pixels cannot be seen in everyday use. In terms of color reproduction and brightness, there is hardly anything better in this price range. Even on sunny days I never had Proproblems with readability. Colors are beautifully realistic in Natural mode and slightly more saturated in Vivid mode. The viewing angle stability is then rather average. The colors discolor a little when viewed from the side, but that's completely normal in this price range and it never really bothered me in everyday life.
Software - One UI
The in-house user interface One UI, based on Android 11, is used as software. One UI is a highly customized interface that has little to do with stock Android. It's quite colorful, but I still like it relatively well, because the idea of ​​One UI is to still be able to operate the smartphones reasonably well with one hand despite the huge displays. Otherwise there are some additional functions, such as a very good always-on display, which shows you the time and notifications, among other things. Unfortunately, some bloatware was also preinstalled with Netflix and TikTok at the beginning. TikTok can be uninstalled, but Netflix can only be deactivated.
Performance - there is more
The new Snapdragon 720G from Qualcomm, which we already got from the cheaper one, should ensure smooth performance when operating the smartphone Realm 8 Pro know. While you get 8 GB of RAM in the memory version I tested, a slightly cheaper version with only 6 GB is also offered. The internal memory, which can be expanded via a microSD card, has 128 GB in the smaller version and 256 GB in the larger one.
Compared to its predecessor, the Prozessor is definitely a strong and necessary improvement, but Samsung's One UI still doesn't seem too good at it, weaker ones Prooptimize processors for good performance. Jerking, longer waiting times or inconsistent animations are unfortunately part of everyday life and compared to the cheaper Realme 8 Pro you can see that this is not only on Processor can lie. It is possible to play lighter games, but you can already see that more complex games do not run consistently and the picture often stutters. The A52 is not particularly well positioned in terms of future security.
Battery - good runtime, disappointing charging time
Samsung has equipped the A52 with a 4.500 mAh battery that can be charged quickly with up to 25 watts. However, only a 15 watt power supply is included in the scope of delivery, with which it takes about two hours to fully charge the battery. Even if you have to be happy with Samsung that a power supply is included at all, 15 and even 25 watts are rather low in 2021. Several other smartphones are already a step further in this price range.
I liked the battery life much better. Despite the 90 Hertz refresh rate, I always easily got through 1,5 days, sometimes even two. At the end of the day, with a screen-on-time of 4,5 to 7 hours, I usually had around 30 to 60 left Procent battery left. With the running time of the A52, no one should Proproblems and should it still be tight at the end of the day, the refresh rate can probe easily set to 60 Hertz, which saves a little more battery.
Camera - no major weaknesses
There is space for four sensors at the top left on the back. Including a 64 megapixel main camera with OIS, which by default combines four pixels into one to ensure better recordings in low light. There is also an ultra-wide-angle camera with 12 megapixels, which can capture quite a large image section due to its large viewing angle. As is so often the case in the mid-range, the A52 has two additional sensors, each with 5 megapixels, which are responsible for macro shots and depth effects. The front camera has a resolution of 32 megapixels.
As is typical for Samsung, the recordings look a bit more saturated than they actually are, but it's still absolutely fine, mainly because some things have been improved here compared to the predecessor. The sharpness is great and by no means has to compete with the 108 megapixel main sensor of the Realme 8 Pro hide. The dynamic range is also great. Fortunately, the low-light performance is also quite convincing. A few smartphones in this price range still fail here, but thanks to the long exposure in night mode, sufficiently bright and color-accurate images are created. The sharpness is also okay, but others can still keep up very well here. Of course, this is far from the flagship level, but for currently 310 euros you can be absolutely satisfied in poor lighting conditions.
For video recordings, the A52 supports 4K at 30 frames after the latest update pro second and full HD at 60 frames pro Second. Only at higher levels is the stabilization very bad, apparently it is Proprocessor not strong enough. Otherwise, the quality is okay, even if a Find X3 Lite is a bit better.
In the mid-range it is unfortunately common that the ultra-wide-angle camera certainly delivers added value, but the quality is rather disappointing, especially when compared to the main camera. The quality of the ultra-wide-angle camera on the A52 is also somewhat poorer than the main sensor, but the images not only offer added value, they are also convincing with their decent quality. The dynamic range, the color rendering and the sharpness are particularly impressive for the price offered. Only in poor light conditions is this ultra-wide-angle camera unusable despite night mode.
Even the macro camera is definitely convincing and provides added value, which is definitely not the case with other smartphones in this price range. Thanks to the 5 megapixel resolution, the images are sufficiently sharp and the colors are reproduced much more beautifully than with 2 megapixel macro cameras. As soon as it gets darker, the A52's macro sensor also reaches its limits.
Test photos
Let's take a look at a few test photos. As always, the following images are absolutely unprocessed, but compressed without loss in order to keep the loading times and memory consumption of the website low.
Comparison with the Samsung Galaxy A51 and Realme 8 Pro
This camera comparison shows quite well that Samsung has improved a lot in one year. Starting with macro shots, the sharpness and color reproduction in good lighting conditions, through to the low light performance. The Realme 8 Pro can still keep up well, but has to admit defeat, especially in low light and color reproduction.
Other - light and shadow
In other areas, the Samsung Galaxy A52 has a key strength: the IP67 certification against the ingress of water and dust. This feature is usually only seen in flagship smartphones. This should definitely be praised for the low price of the A52.
The stereo speakers that are now available should also be mentioned positively compared to last year's A51. The sound is comparatively loud, clear and full. They sound a little better than the Xiaomi Mi 11 Lite. Compared to a Samsung Galaxy s21 ultra you can still hear a difference, but this also costs significantly more and appeals to a completely different target group.
Unfortunately, there are still a few aspects that are very annoying when it comes to operation. On the one hand unlocking via the fingerprint sensor integrated into the display. Although it is reasonably easy to reach with the thumb, it unlocks the device quite slowly and there is also room for improvement in terms of reliability. Compared to competitionproproducts, Samsung should catch up a lot here in the next generation. Two-dimensional face recognition is not only less secure than three-dimensional one, it also reacts a little more slowly.
In addition, the built-in vibration motor is simply bad, a detail that is unfortunately neglected by many. Bad hardware and optimization meet here, so that the haptic feedback is very loud and uncomfortable.
Summary
The Samsung Galaxy A52 is a very good mid-range smartphone that does not have any major weaknesses. The performance and the fingerprint sensor could be a bit better, but a clear and necessary step forward has been made here compared to the A51. Because of this, in my opinion, the A52 is finally competitive again and no longer has to hide from Xiaomi, OnePlus and Co. Although the smartphones from Xiaomi, for example the Poco F3, are sometimes a bit better equipped, I can recommend the Galaxy A52 across the board since I assume that prices will continue to fall in the near future.
We would like to thank Samsung Germany for providing the Galaxy A52!
Samsung Galaxy A52 buy
Recommendations for you