Samsung Galaxy S21 FE 5G review: Too late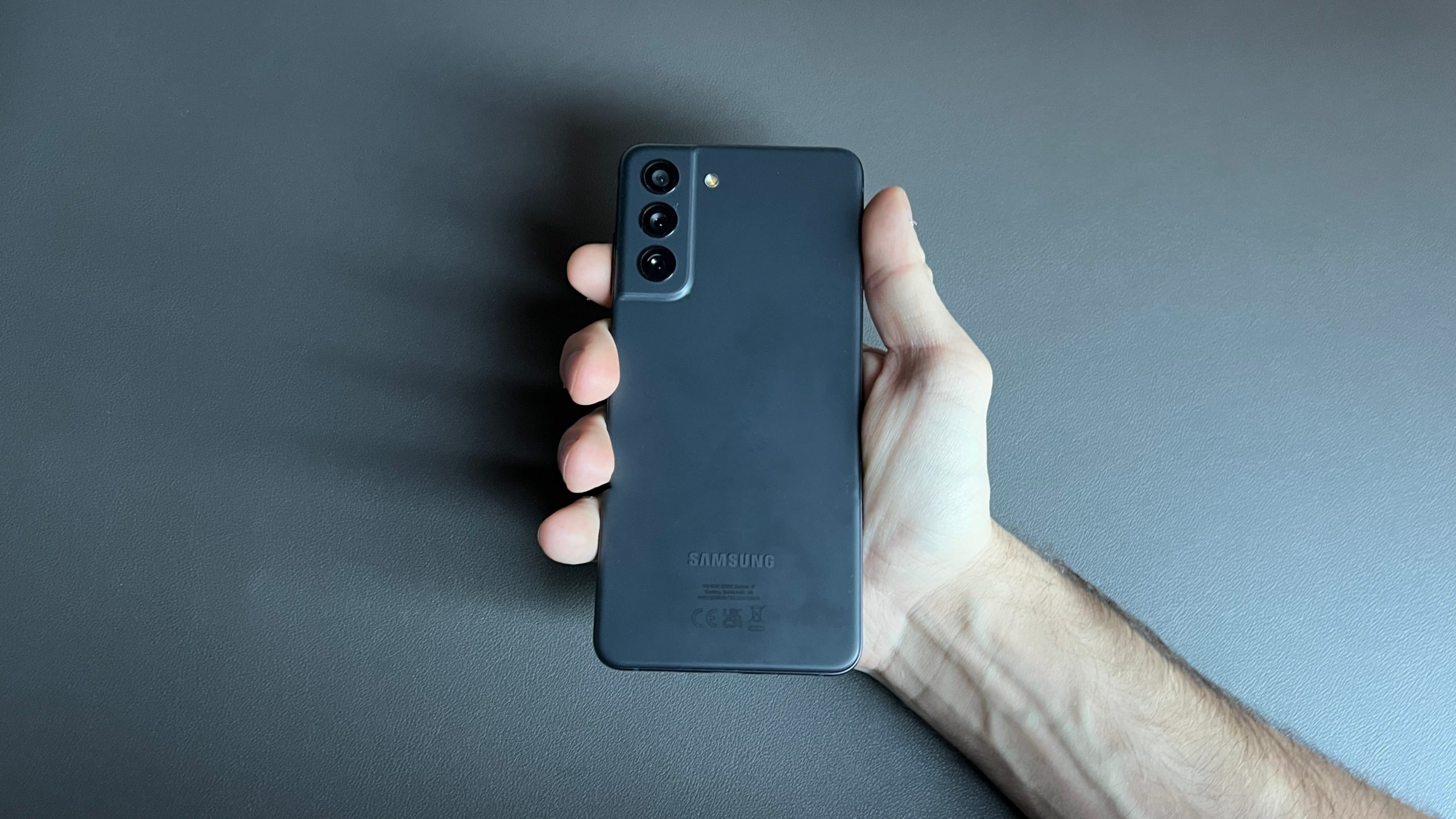 (Post picture: © 2022 Kevin Özgün /TechnikNews)
At CES 2022 in Las Vegas stars Samsung is very belatedly presenting the Samsung Galaxy S21 FE 5G. It puts the "low budget" device next to its bigger brothers, the Samsung Galaxy S21 5G and S21 Plus. We have examined the new Fan Edition for you.
Much later, shortly before the launch of the Galaxy S22 series, Samsung dared to launch the Samsung Galaxy S21 FE 5G. Samsung should have carried out this launch a lot earlier so that it does not overlap with a new generation of Galaxy.
The scope of delivery: environmentally friendly or a cost-saving measure?
In the meantime, doing without a power supply unit has almost become standard. Apple started doing away with the power adapter with the iPhone 12, and manufacturers in the Android space soon followed. Now you only get the essentials: A USB-C to USB-C cable, guarantee slip and of course the Samsung Galaxy S21 FE 5G.
Very high quality workmanship
The Samsung Galaxy S21 FE 5G is both lightweight and a real beauty. Although the S21 FE 5G does not have a back made of Corning Gorilla Glass, you can enjoy a soft polycarbonate back. Wireless charging and reverse wireless charging are also on board - not with fast charging, but at least with 7,5 watts. Fast charging is still possible with various available power supplies.
Nevertheless, it is extremely high-quality, inexpensively processed and, as usual, feels very good. Compared to a glass back, it also offers enormous advantages in the event of falls due to the polycarbonate.
The display is great
Corning Gorilla Glass Victus is used on the front. This covers the 6,4-inch (approx. 16 cm) Dynamic AMOLED display with a resolution of 1.080 × 2.400 pixels and thus has an elongated aspect ratio of 20:9. Of course, it also supports HDR10+ for various content. You can carefree consume content with full brightness in strong sunlight without having to go into the shade. 120 Hertz is also supported in the Samsung Galaxy S21 FE 5G, but unfortunately not adaptively, which is why you have to choose between 60 and 120 Hertz. Unfortunately, the lack of an LTPO panel does not benefit consumption, as the screen permanently supports 60 or 120 images pro second.
The cameras
Samsung installs three modern lenses: 12 MP, f/1.8, 26mm (wide angle), 8 MP, f/2.4, 76mm (telephoto) and a 12 MP, f/2.2, 13mm, 123˚ (ultra wide angle).
Photography is optically possible up to a 3x zoom without digital intervention in the image quality. If you still want to zoom closer to objects, you can digitally up to 30x, but this leads to a significant loss of quality and makes the captured images almost unusable. In my opinion, the images have a high dynamic range and are detailed and sharp. Colors are displayed true to nature and do not appear oversaturated. However, this only affects the three optical lenses, since the detail fidelity is significantly lost with digital zoom.
The software is up to date
The Samsung Galaxy S21 FE 5G comes with the in-house user interface One UI 4 based on Android 12. The software is incredibly adaptable thanks to the integrated artificial intelligence (AI). Apps and backgrounds adapt to the contrast of the wallpaper and give a feeling of one piece.
CPU and battery life
Unfortunately, Samsung has never been known for an advanced battery life - but in Europe this is due to the in-house ExynosProprocessors that deal with power management more inefficiently than Qualcomm Snapdragon CPUs installed in the USA.
But in the Samsung Galaxy S21FE 5G, a Qualcomm Snapdragon S888 (SM8350) 64-bit 5nm octa-core was actually also used for the EU Proprocessor with 1x 2,84 GHz + 3x 2,4 GHz + 4x 1,8 GHz installed. Although this improves the energy management internally in the operating system, you can just about get through the day with everyday use. If you rarely use the smartphone or not at all, you can still use the Samsung Galaxy S21 FE 5G for up to two days.
My conclusion
The Samsung Galaxy S21 FE 5G came onto the market much too late and slowed down itself with the launch of the S22 series and thus received significantly less attention. Basically, you get a solid smartphone with the Samsung Galaxy S21 FE 5G, which is priced behind its big brothers, the S21, S21+ and S21 Ultra, but has more than sufficient technology installed. If you want to buy it, you currently have to put at least 700 euros on the table.
Buy Samsung Galaxy S21 FE 5G
Recommendations for you