>> Test the latest technology and much more: apply to us! <
Samsung Galaxy Watch 3 review: the best Android smartwatch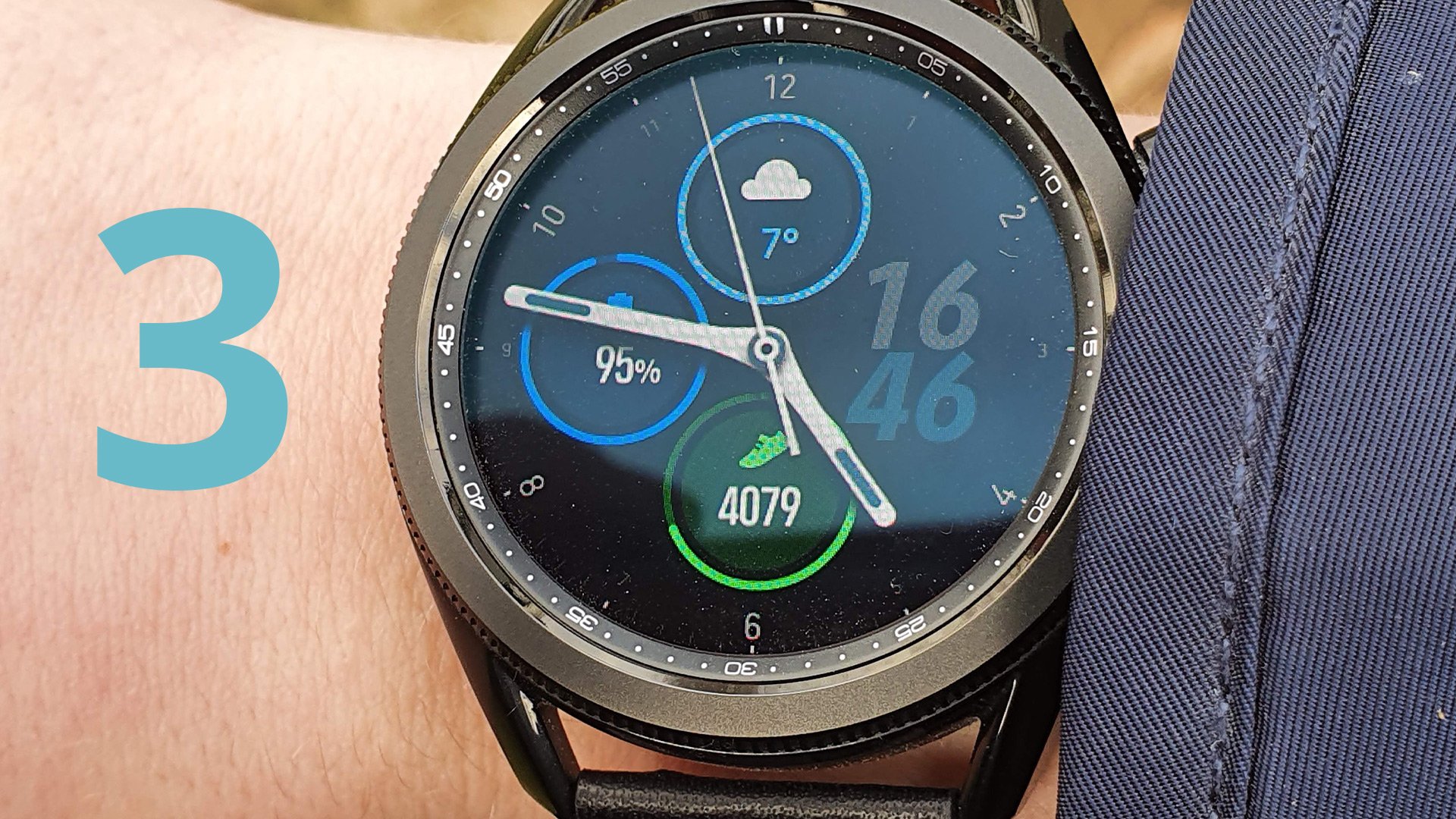 (Post picture: © 2021 TechnikNews)
With the Samsung Galaxy Watch 3, Samsung has given its 2020 Galaxy Watch a successor in 2018. We tested it.
We would like to thank Samsung Germany for loaning the Galaxy Watch 3. This did not affect the test.
The scope of delivery of the Samsung Galaxy Watch 3
Design and workmanship
The design of the Galaxy Watch 3 is as simple as it looks. It is a watch, a watch is round and fastened to a bracelet. What is special, however, is the rotating bezel, which is also deeply anchored in the software. There are two buttons on the right side of the watch, in the LTE version (our test device) the lower button has a red circle to distinguish the watches.
The workmanship is very high quality for a smartwatch. According to Samsung, the watch is made of stainless steel. If you put more money on the table, you get a titanium version. The bracelet doesn't feel cheap. If you want a higher quality bracelet than the normal bracelet, you can retrofit it. The watch also looks very high quality, there are no manufacturing errors in our test device to complain about.
Galaxy Watch 3 hardware
Display
The display size varies depending on the version. There is the Galaxy Watch with a 41 millimeter and with a 45 millimeter size. Our test device was the Galaxy Watch 3 with 45 millimeters and LTE. That's why our watch had a 1.4-inch OLED display with a resolution of 360 x 360 pixels. The display does its job very well and shows content clearly. Nevertheless, you shouldn't watch videos on the small touchscreen. It serves the purpose of small inputs or briefly changing the Spotify track, but in any case. Thanks to the OLED, the colors also look very good, and the black values ​​in particular are convincing.
Technical data
The smartwatch is operated with Samsung's latest SoC for wearables, the Exynos 9110. However, this was already used in the first Galaxy Watch, and a successor would have been desirable. Benchmarks don't make sense for smartwatches, since they are considered more of an "add-on" than the main device. Of the Prozessor runs very well with Samsung's own Tizen software. I rarely noticed any stuttering or similar inconveniences, this is mainly due to the manufacturer's optimization. This is also Samsung's huge advantage compared to Wear OS smartwatches.
Since the Proprocessor and the software are developed in the same company, as is the case with Apple, the hardware and software are very well coordinated. The computing unit is supported by 1 gigabyte of RAM and 8 GB of ROM (4,3 GB of which can be used). In addition to Bluetooth 5.0 and WLAN 4 (n), connectivity also includes NFC for numbers via Samsung Pay. While this was not yet available at the market launch in August, this is now possible with all Android smartphones. Our LTE version has an e-SIM (which usually costs about 5 euros pro Month in the contract must be booked) also the LTE mobile standard on it. The watch also houses a microphone and speaker for phone calls and voice input and output.
Technical data at a glance
| | |
| --- | --- |
| Display | 1,4 inch AMOLED, 360 x 360 pixels, Gorilla Glass DX |
| Proprocessor | Exynos 9110 |
| RAM | 1 GB RAM / 8 GB memory (4,3 GB free) |
| Operating system | Tizen OS 5.5, One UI 2.0 interface |
| Battery | 340 mAh (45 mm version), 247 mAh (41 mm version) |
| connectivity | Bluetooth 5, 2,4GHz WLAN, NFC, GPS, LTE (only in the LTE version) |
Samsung Galaxy Watch 3: software
Samsung's Tizen OS 5.5 runs on the watch with the One UI 2.0 interface. This is relatively clear and easy to understand. If you press the lower of the two buttons on the side, you always get to the start screen, which is the dial of the Galaxy Watch 3. The watch is operated via the touchscreen or the aforementioned rotating bezel. Unlike the rotating crown on the Skagen Falter 3, this can only be used in a few apps, but everywhere. This is where Samsung and third-party providers are exploiting their full potential.
It is almost addicting to turn this bezel, as it is playfully easy to use. The software is divided into circles which can be used to quickly carry out an action. If you turn to the left, notifications are displayed, to the right the apps. For example, the fitness overview, media controls (music, YouTube and others) or the weather can be viewed or changed quickly. Pressing the start button starts the app overview; here, too, an app can be called up quickly thanks to the rotating bezel and started via touch input. The Galaxy Store doesn't have as many apps as the Google Play Store, but the apps are usually better adapted. But I'm definitely missing a native soccer app like Kicker. Samsung has "HERE WeGo" to offer as an alternative to Google Maps, but I haven't really been able to test it in Corona times.
Notifications
The notifications are also very simple to understand and extensive. With WhatsApp messages, pictures are also displayed in addition to the message, which is very helpful so that you don't always have to look at your smartphone. The answer can be via a dictation function (that works so well), with an emoji or a keyboard qweswn. Here you could enter each letter individually or be old school with a T-9 keyboard. What I am currently missing with WhatsApp is the lack of integration of voice messages. These can neither be intercepted nor sent. The hardware would definitely be there.
Wear OS vs Tizen
But what is the big difference between Wear OS watches and Samsung watches in terms of software? Wear OS watches all have Google apps. So you can do without Pronavigate with Google Maps, use Google Calendar and pay with Google Pay. All these apps are not available with Samsung watches and need to be replaced with alternatives. A Maps app is only available from third parties, the calendar would also have to be synchronized with Samsung's calendar and you have to switch from Google Pay to Samsung Pay. Fortunately, this can now be used with all Android smartphones (in Germany). In return, Samsung offers a far better Spotify app in terms of software - more on that later in the report - and smoother software.
To phone
Telephoning works either via Bluetooth or via eSim directly on the watch. Anyone who has always wanted to talk to their watch like James Bond will like the Galaxy Watch 3. I made about 10-11 phone calls with the watch, but only in quiet surroundings. The current lockdown makes it difficult to test this feature in a busy shopping street. At least in quiet surroundings, my interlocutors could understand me. However, it can be clearly heard that I am using a smartwatch on the phone, as several people have confirmed to me. Still a very helpful feature.
Apps
The Galaxy Watch 3 has a total of four apps for the smartphone, two of which are used. First: The Galaxy Wearable app is required to set up the watch, which then downloads the "Galaxy Watch 3 Plugin". But why? Because the app is responsible for all Samsung wearables. But if the user only has headphones or only a watch, then all files would be for everyone else Products unnecessary and would only use a lot of memory. This is exactly why Samsung uses the necessary plugin. However, this is only active in the background and is not a separate app. For all smartphones from other manufacturers, another plugin is also downloaded for synchronization. The second usable app is Samsung Health, which is used exclusively for fitness data. Annoying about this one: There is advertising.
Music through Spotify
Spotify is available for music or MP3 files can be transferred. For Spotify customers, however, the app is a dream. Samsung is the only manufacturer that implemented the app natively on its wearables. In other words: You can also download music to the watch and then go jogging with it. Either you let the music play through the speakers (which I don't advise you to do) or connect Bluetooth headphones. There is definitely enough memory with 4 gigabytes, which remain free. This should be enough for 300 to 400 songs. With the LTE version and the eSIM, songs can also be streamed.
Fitness
When it comes to fitness training, Samsung relies on its own services. A total of 40 workouts can be selected on the watch, and the Samsung Health app adds around 60 more workouts. The advantage over Wear OS: Samsung automatically recognizes "normal" workouts such as running, walking or cycling. As soon as you have walked for 10 minutes, the device reports with "Workout recognized" and shows you the 10 minutes that have already been tracked.
The gyms are currently closed, so I've focused on running and athletics. For running can run preset by Samsungprofile can be used, but you can also create your own using the app.
Optional callouts can be given during training. So an AI voice says: too fast, too slow
m, a little more. That seemed quite annoying to me, but motivated a bit. The workout screens can also be set before training; these show the values ​​achieved during training. The workout is summarized very clearly and comprehensively.
The everyday tracking is also clear and extensive. The daily steps are counted, heart rate, stress and sleep are measured as required, and this also calculates the calories burned.
This data is displayed in the app in various graphs. I was particularly impressed by sleep tracking. The REM, light and deep sleep phases are recorded. However, the values ​​are not reliable to the minute.
So far, EKG and blood pressure measurement have only been possible with Samsung smartphones. So far, it is questionable whether the functions (such as Samsung Pay) will be available on other devices.
Samsung Galaxy Watch 3 battery
The battery of the Galaxy Watch is different for the 41-millimeter version and the 45-millimeter version. The small version only has 247 mAh hours, while the battery of the large watch holds 340 mAh.
In practice, I got 2 to 3 three days of use. With a lot of Spotify use it was mostly two days, but with regular use without always-on display it was three days. This is a good value for a fully-fledged, feature-packed smartwatch. Of course, this is just as expandable, but with the competition in the Wear OS area (e.g. with the TicWatch Pro 3) I only get two days. The watch is charged using the Qi wireless standard.
This brings both advantages and disadvantages. The advantages lie in the variety of charging options. The watch can be charged on charging mats, chargers or even smartphones with "Reverse Wireless Charging", such as the latest Samsung smartphones (from S10 and Note 10 or Z series). That can competitionProproducts, these are usually supplied with power via their own charging pins.
The downside is the loading time. In practice, the Galaxy Watch 3 takes around 2 hours and 10 minutes from 0 to 100 Procent. "Loading up while having breakfast" is therefore not inside. Samsung definitely has to develop further here, with quick charging a battery life of 3 days would not be so bad. For comparison: The TicWatch Pro 3 also takes two hours to charge, but has a 595 mAh battery. So the battery is 255 mAh bigger and charges 10 minutes faster.
Samsung Galaxy Watch 3 conclusion
The Galaxy Watch 3 is the best Android smartwatch out there in my opinion. But this is also due to my prioritization. I use Spotify and privately a Samsung smartphone. For me, the watch makes more sense than (at least currently) a Wear OS wearable. It offers a very nice display, runs smoothly and offers flagship hardware. The software is easy to understand and with Spotify, which also works offline, it offers a unique selling point. The fitness functions can keep up with the competition from Google and the battery runs better (at least in the 45 mm version).
If you don't have a Samsung smartphone and, above all, are a Google user, you will be able to use the TicWatch Pro 3 (currently the best Wear OS Smartwatch) will also be satisfied. If you are looking more in the direction of "fitness" and are concerned about the battery life, you can take a look at the Fitbit Sense, which my colleague David tested hat.
Recommendations for you