>> Test the latest technology and much more: apply to us! <
Shure Aonic 40 review: Bluetooth headphones with noise canceling and studio quality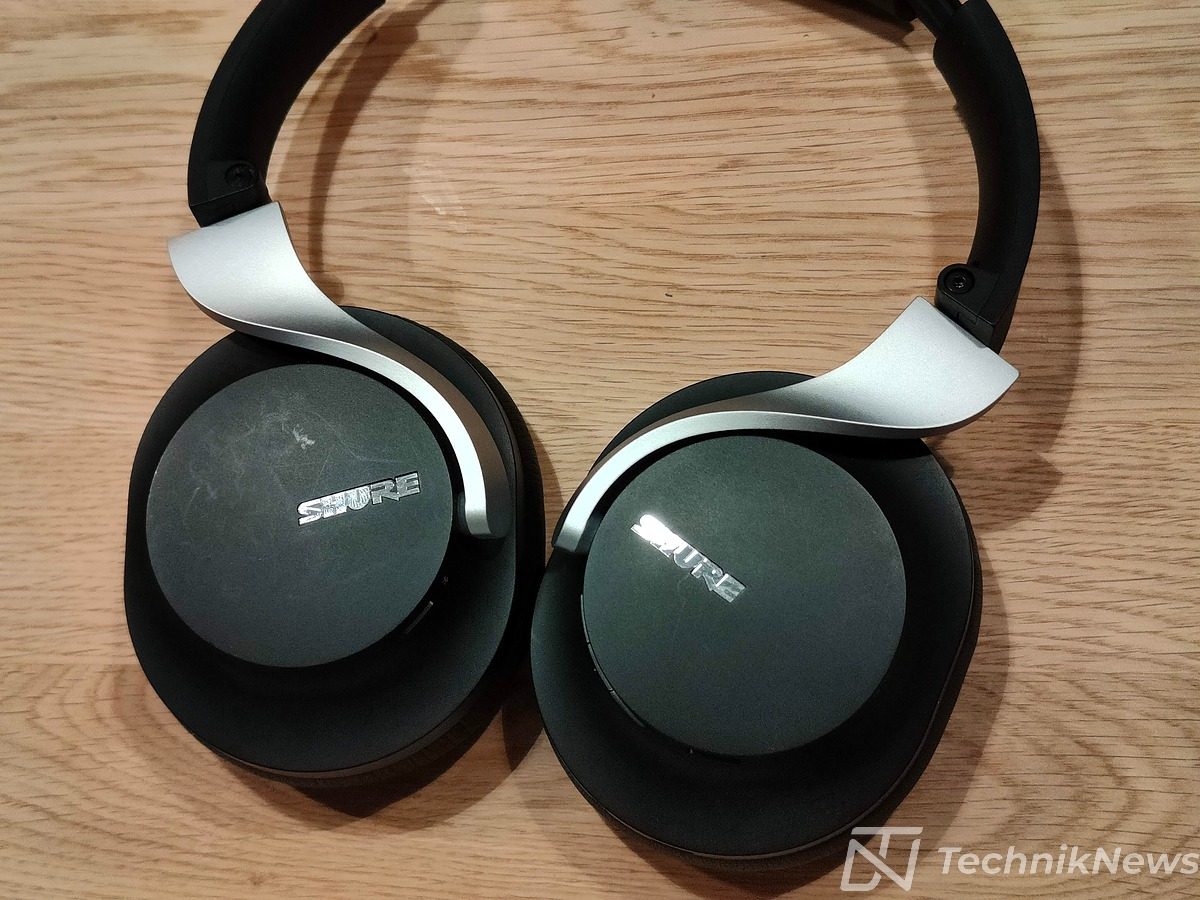 (Post picture: © 2022 TechnikNews)
With the Shure Aonic 40, the Americans have launched Bluetooth headphones with ANC and studio quality. TechnikNews tested him. 
Design and workmanship
The Shure Aonic 40 is of high quality, has a simple design and comes in a compact case. The headphone is engraved in 1:1 in this case made of imitation leather, which helps enormously with transport. In addition to the headphones themselves, this bag also includes a 2,5 mm to 3,5 mm cable and a USB-C to USB-A cable for charging. The design of the headphones looks quite modern, especially the curved ear hook holders or comfortable head pads ensure a comfortable fit. The only drawback in this area: it is noticeably heavier due to the aluminum and plastic than, for example, the Sony WH-1000XM4, which are also in the price range. On the other hand, it is positive that the ear cups can be turned, this is not possible with the XM-4 and can be very pleasant. The ear pads themselves are comfortable and insulate well. But it seems firmer than that of the XM4.
Overall, I like the design and the workmanship very much, I liked wearing them just as much as the Sony WH-1000XM4, even if they were heavier.
Features
The Aonic 40 are set up via an app and have some settings available there. Equalizers can be set, your own created or the button control can be individualized. Including the option to start an assistant or to change the mode: ANC, Pass Through or Standard. The control itself runs via buttons on the headphones, which I would classify as reliable. But now that I've gotten used to the XM4's super-simple gesture controls, it feels dated. Especially with regard to the competition, Microsoft, for example, uses a rotatable control. All this is a lot more intuitive than small buttons on the headphones. Here I wish for an improvement for a successor.
The app is clearly designed and can also be used in German. In addition to the equalizers mentioned, the ANC or the ambient mode can also be leveled, or battery settings can be made. Music can also be played directly, or an update can be installed.
Shure Aonic 40: Sound
The sound quality is 1A and at least on a level with Sony. A difference is especially noticeable when a device supports the LDAC codec. Because the Aonic 40 does not support this. I would describe the sound as "natural", because without an equalizer there is no effect whatsoever. So it's more of a "studio quality" than a "music player". This can be interesting for artists who use headphones for musicproproduction or audio editing. But that doesn't mean that you can't listen to music well with the headphones. Despite this, the bass range can be filled to a large extent, but is not emphasized by default. There is less "bang", especially in the deep bass region, but a very clean, natural sound. Describing the sound of a headphone is always a challenge when you have the chance to turn the headphones offprobeer, then do that before you buy (especially at a price of €250).
The ANC mode is also convincing, but does not quite come close to that of the XM4. At least from the artificial insulation, the padding isolates really well without audio playback. Riding the train wasn't anything Proproblem, noise or conversations are isolated very well. Again, Shure did a very good job.
send email now
Unfortunately, as already mentioned, LDAC is not supported. There are all other common standards such as SBC, AAC, aptX/HD. iPhones automatically and exclusively support AAC, on all other devices there is a free choice. The headphones can also be connected via a jack (2,5 mm) or via USB-C. There you have the option to either stream audio only (lossless) or to transmit the audio signal via USB-C. The connection itself is very easy, there were no crashes.
Battery
The battery of the Aonic 40 is specified by the manufacturer as "up to 25 hours", which I can basically confirm. I got 10 hours out and 10 hours back without ANC on two trips with ANC on Probleme managed without having to reload. Charging is via USB-C, in 15 minutes a battery life of five hours should be possible again via "Quick-Charge". So loading is a rarity and if it is, it ends relatively quickly. Here the Aonic 40 convinces all along the line.
Shure Aonic 40: Conclusion
The Shure Aonic 40 are very good over-ear headphones with good sound and a comfortable fit. But should you get the Aonic 40 or rather Sony headphones? I would make that dependent on personal interest. The Shure are more geared towards studio users, ie artists or Prodozens designed. You have unfiltered sound and can let off steam creatively. The XM4 are intended more for consumers and shine with simpler controls. Despite this, you can hardly go wrong with a purchase with the Aonic 40.
Buy Shure Aonic 40
Recommendations for you