>> Test the latest technology and much more: apply to us! <
Sonos 5.0 home cinema set (2x Sonos One + Sonos Beam) review: The simple surround system for your own four walls?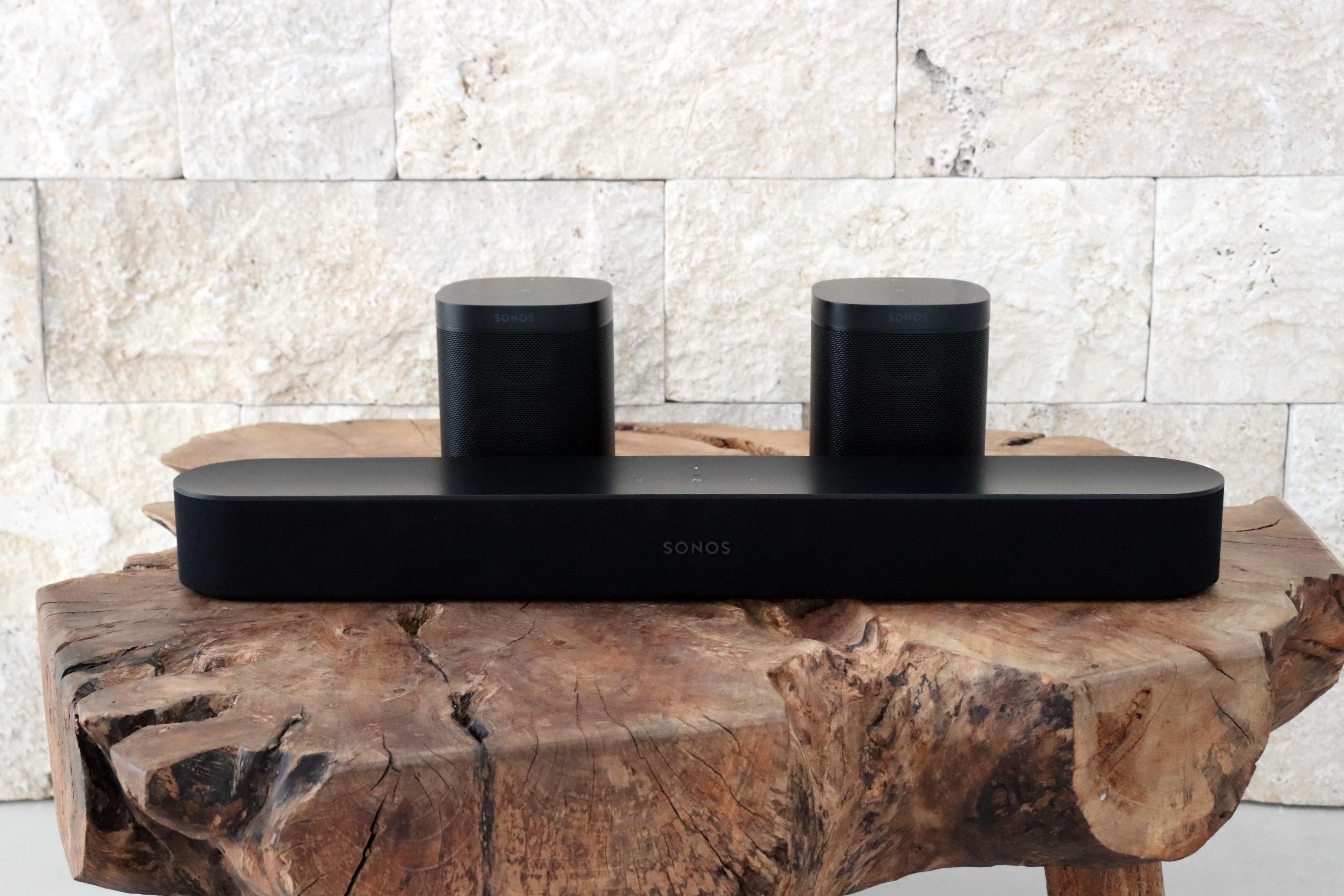 (Post picture: © 2018 © 2018 TechnikNews)
Sonos has long been represented in the WLAN speaker market for your own home. With the Sonos One and Sonos Beam in combination, you should be able to easily transform your living room into a surround sound paradise. I tested two Sonos One and one Sonos Beam and set up such a system.
Choosing the right loudspeaker for your own four walls is really not easy. On the one hand, there are high-end models with incredible sound, on the other hand, there are smarter models with WiFi support for Alexa and other voice assistants. Sonos is definitely pursuing the second path here - and wants to make it easy for everyone to get started with their own surround system for their own four walls. Sonos offers home theater packages for this purpose. I tested the 5.0 surround system, consisting of 2x Sonos One and 1x Sonos Beam, for five weeks. You can read in this test how the overall package of sound, setup and handling was able to convince me.
We unpack: Sonos One and Sonos Beam review - unboxing
An important point in a test report is of course the packaging. After all, it is often the reason for buying in a shop. The Sonos One comes in a discreet, but at the same time modern-looking packaging. The functions of the Sonos One are also listed directly on the side of the packaging. The speaker itself can be seen on the front. Same with the Sonos Beam: On Product image plus functional description are located directly on the packaging.
If you unpack both loudspeakers, one of the loudspeakers comes directly towards you. Both times this is protected from scratches and other damage in a thin fleece. The Sonos One comes with a network cable, a power supply unit and a quick start guide. The Sonos Beam comes with an HDMI (ARC) cable, together with a network cable and a power supply unit. On top there is an adapter for HDMI and also a quick start guide. Even if the speakers are all 2,4 GHz WLAN-capable, connecting via LAN definitely has no disadvantage - a network cable is included anyway.
The connections of the Sonos Beam are a bit meager - a second HDMI connection couldn't have hurt. (Image: © 2018 TechnikNews)
The Sonos One also has an exemplary LAN connection. The power connection is at the bottom and doesn't bother us at all. (Image: © 2018 TechnikNews)
The first steps: Surround system setup with Sonos One and Beam
Unfortunately, when you start the app, the first disappointment: A Sonos account has to be created in order to "guarantee the security of the system". Even if it scared me off at the beginning of having to create an account somewhere again, it makes perfect sense. Since the Sonos One and Sonos Beam can be controlled with Alexa, an account on both the Sonos and Amazon sites is necessary for the link between the loudspeaker and the account for technical reasons.
Okay, go on with the setup. If you are logged in to the app and if you have already set up the loudspeaker in the apartment, it will already be recognized in the app. Even if it is not in the WLAN or LAN. Next with "Set up speakers" you select a room whose name will in future also be displayed in Spotify under "Available devices". You can also create room and loudspeaker groups in the Sonos app using a unique room name.
If you have the Sonos Beam and 2x Sonos One set and set up the Sonos Beam first, you will be asked if you want to add surround speakers to the current setup. Now you will be drawn by the app and the setup will be explained in great detail. The whole process takes less than 10 minutes prowithout problems. After that, there will most likely be a software update (an update came almost every 3 weeks during my test).
Let's go on: Linking the app with Alexa and Spotify
In order to be able to control Spotify directly in the Sonos app (which can be more practical than you think), you can link your Spotify account in the Sonos app. In addition, most of the current Sonos speakers (including Sonos One and Beam) are Alexa-enabled. The same skills as on the Amazon Echos themselves are available here. The loudspeakers can be easily controlled with the well-known voice assistant. I noticed particularly positively that even when the music was loud, Alexa still reacted or heard me. But if you want to control your music on Spotify via Alexa, you have to do this link separately in the Alexa app.
Finally ready to go: using Alexa in everyday life
Only after using it for a long time did I learn to love the Alexa support of the Sonos speakers. You come home, switch on the light in your own room with "Alexa, light on" and start your favorite radio station via TuneIn with "Alexa, play the radio". In addition, of course, there is also "Alexa, play ... on Spotify". If you have - as in my test - the two Sonos One and the Sonos Beam are in the same room (e.g. living room) with "Alexa, ..." not all speakers speak, but the closest one. Very practical - but Alexa can by default anyway with multiple speakers with the same account.
For a week - after a software update from Sonos - Alexa has only given me an "undefined" for all song commands (be it Spotify, Radio & Co.) and doesn't play anything else. I haven't yet been able to find out exactly what that is. But it's my turn with Sonos.
If you have connected the Sonos Beam to your television via HMDI ARC, commands such as "Alexa, turn on the television in [room group]" are also possible. Commands like "Alexa, turn down the TV" are also possible progone without a hitch.
The Sonos speakers play so well: Sound quality
First: one Profi sound system you can not expect. But that doesn't mean that the Sonos speakers don't have a lot of power. According to my personal taste, the mid-range driver up to the bass is missing (especially at higher volume), but at medium volume it is almost on the same level as the Devil One M. Unfortunately, the Sonos sub (woofer) was missing in my test for the decent bass - which I would definitely recommend to every Sonos home theater fan. The Sonos Beam created an artificial surround experience in front of the television, which really surprised me - after all, in my test setup there were only 2 Sonos One (left and right behind the sofa) and the Sonos Beam in front.
In summary: The artificial surround works better than expected. A Sonos Beam as a front speaker or soundbar is absolutely necessary for this. Unfortunately, however - especially the Sonos One - the mid-tones and bass are somewhat lacking at higher volumes. A Sonos Sub could make up for it though.
Conclusion: who is the Sonos home theater set suitable for?
Sonos were pretty early on in the WiFi speaker market. Not without reason: A great app, quick setup, integration of Alexa and stable, jerk-free and synchronous playback (with several speakers) clearly speak for Sonos. On the other hand, this is still not the right thing for soundProfis – the external AV receiver or amplifier is simply missing here. This is particularly noticeable with the Sonos Beam, which can never convert the sound from the television as well as such high-endProproducts from Yamaha. But Sonos isn't trying to do that with this set either - it's more of a beginner's set. That ProI'll try to test fi-Set in the future. On the other hand, Sonos is still far superior to the competition with its app and software. Even though Yamaha are already working on their apps with "Musiccast" and Teufel with "Raumfeld", Sonos is still the most stable.
Sonos doesn't do a bad job. With the speaker package consisting of 2x Sonos One and 1x Sonos Beam, Sonos offers a solid overall package and is suitable for those who value a stable and well thought-out app, who might need Alexa, but who can do without "high-end sound". Although the package with its almost 900 euros (as of December 25, Amazon) is not necessarily cheap, compared to the competition, it is still in the low price range.
Perhaps in a future test of the "Profi sound system" with two Sonos Play:5 and a Sonos Sub.
Buy the Sonos 5.0 home theater set
Recommendations for you