Vivo V23 5G review: Unique design and great selfie experience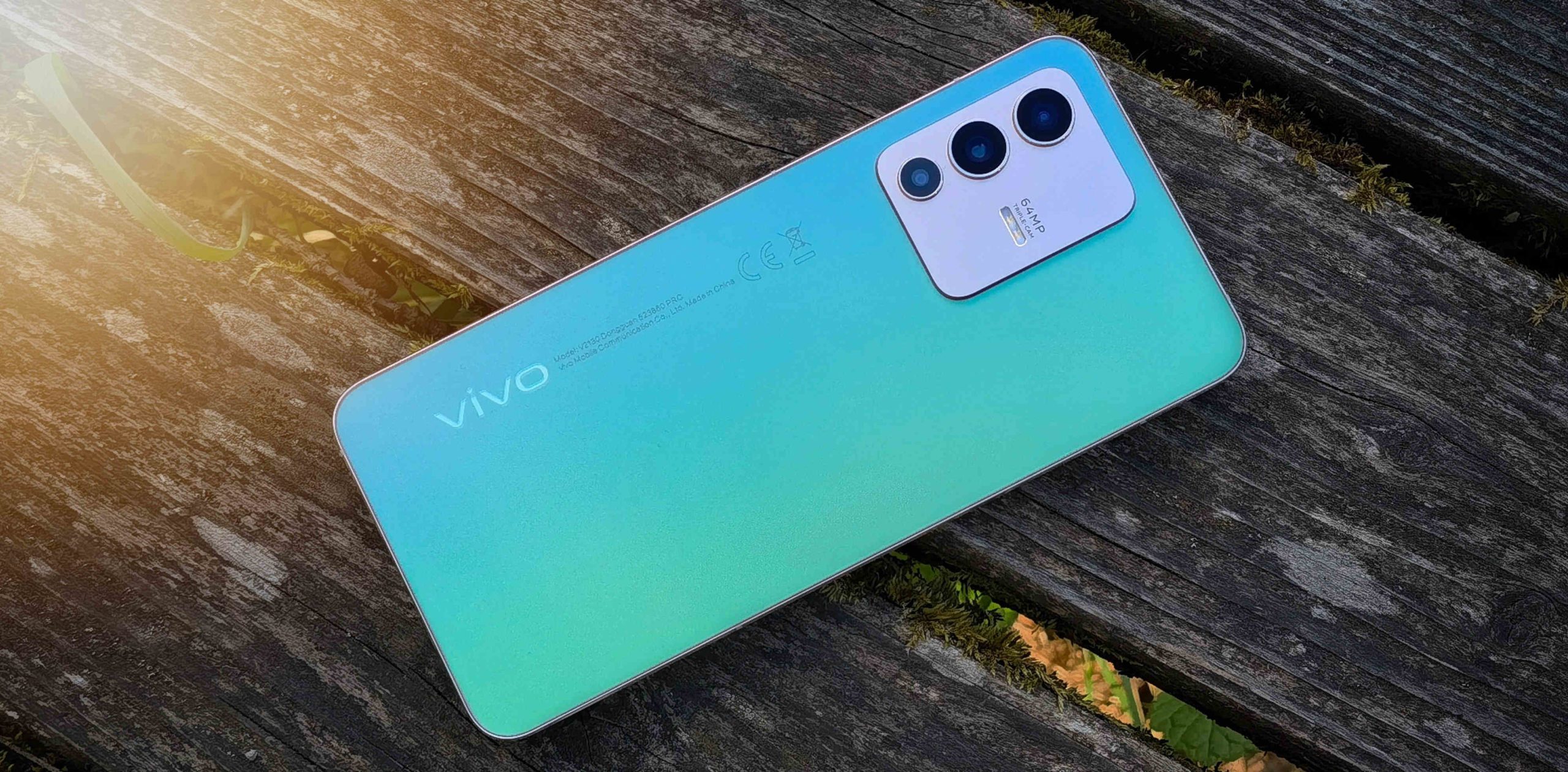 (Post picture: © 2022 TechnikNews)
Just over a month ago, the Chinese manufacturer Vivo presented the V23 5G, a new mid-range smartphone that wants to score particularly well with a unique back that is equipped with a color-changing glass in the color "Sunshine Gold". Another highlight should be the two front cameras, with which excellent selfies should succeed. We have now extensively tested the Vivo V23 5G.
For a recommended retail price of 549 euros (in Austria you only have to pay 23 euros for the V499), customers get, among other things, a high-quality housing made of glass and aluminum, a 90 Hertz OLED display, a Dimensity 920 from MediaTek, a 4.200 mAh battery with 44 watt fast charge, two front cameras and a 64 megapixel triple rear camera. In this detailed test report, you can find out how the Vivo V23 5G has fared in everyday life over the past few weeks and whether it's worth it.
Feel & design - high quality, noble, beautiful & unique
In terms of design, the Vivo V23 5G is a successful change on the smartphone market. It is neither particularly large nor small, which I welcome and the dimensions of 157,2 mm in height and 72,4 mm in width already suggest it on paper. In addition, there is a quite pleasant weight of 180 grams and at only 7,4 millimeters, the V23 5G is one of the thinnest smartphones currently on the market.
The high-gloss aluminum frame is very reminiscent of that of the current iPhones. It is also flat and angular, which makes the smartphone look very classy, ​​but the angular design also gives it a slightly sharp-edged feel in the hand. In my opinion, Vivo has solved it a little more comfortably than Apple, but an ergonomically rounded frame makes the smartphone more attractive to hold. The back is made of glass, which gives an extremely high-quality feel in the hand and fingerprints are hardly ever noticeable due to the matt surface. We are dealing with the currently highest quality smartphone in the price range of 500 to 600 euros and the Vivo V23 5G does not have to hide from flagships. Kudos to Vivo!
"Sunshine Gold": Gold? Orange? Blue? Green? Or maybe turquoise? - everything included!
It gets even better, because we haven't even touched on the actual highlight yet. The Sunshine Gold version of the V23 is characterized by a special design with a color changing lens, which I have never seen before. The glass reacts to UV light and changes from warm gold tones to cool green/turquoise/blue tones. For example, if the sun shines on the back, the glass changes to the cool colors just mentioned. As soon as you put the V23 5G back in the shade, it only takes a few minutes for the back to look gold again. This also makes cool patterns possible, for example if only part of the back is irradiated with UV light or smaller things are placed on the back, so that an imprint of this thing is created:
Personally, I really like this color and everyone I gave the Vivo V23 5G to felt the same opinion. "I've never seen anything like it," "how cool is that" or "what's out there" were frequent reactions. Vivo thus provides a successful change on the smartphone market, which I very much welcome. I hope Vivo sticks to it.
However, if you want it to be a bit more subtle, you are welcome to use the classic color "Stardust Black", which fortunately is also matt, but does not have the color changing lens. In addition to the colors, the camera module in the left corner should also immediately stand out. A total of three sensors can be found here, which protrude slightly from the case, which means that the smartphone wobbles slightly when it is used lying on the table.
A notch in 2022 for a good reason
If we turn the smartphone around, we initially see an unusual picture, because in 2022 Vivo will actually still use a notch that is larger than the in-house one Y76 5G is. However, there is also a good reason why the Chinese manufacturer opted for a large notch, because two front cameras are housed here, which are supposed to be one of the highlights of the V23. We'll see if that's really the case. The side edges and the lower edge of the screen are pleasantly thin. Together with the beautiful and unique back, the Vivo V23 5G is one of the most beautiful smartphones in the price range of 400 to 600 euros. Based on the back alone, I would even prefer the V23 to some flagships in terms of design. Here Vivo has delivered across the board.
Great workmanship
The V23 leaves a very stable impression. Nothing creaks here and the back doesn't dent, which should actually be a matter of course in this price range, but Samsung has dealt with that A53 5G proved that unfortunately this is still not the case. The keys are easy to reach with one hand, sit firmly in the case and have a solid pressure point.
Display – almost perfect
A 6,44-inch AMOLED display dominates the front, which has a sufficiently sharp resolution of 2.400 x 1.080 pixels so that no individual pixels can be seen in everyday use. Furthermore, the screen supports a smooth refresh rate of 90 Hertz, which means that animations and scrolling are pleasantly smooth, but not too smooth like most of the competitors. 120 hertz would have been appropriate at an RRP of 499 or 549 euros.
Colors are displayed in "Professionell" beautifully and naturally rendered, the white value is excellent and, as is typical for OLEDs, we are dealing with perfect black and contrast values. The viewing angle stability is surprisingly good and the brightness is also convincing. It could be a bit brighter in direct sunlight to be able to read the content on the panel even better, but overall the brightness of the V23 5G is completely okay.
Software - major improvements
The in-house user interface Funtouch OS in version 12, based on Android 12, is used as the software. In terms of looks, the in-house user interface is very reminiscent of stock Android. The settings are very clear, there is an app drawer and there are similarities in the notification bar, but there are also advantages compared to Pixel smartphones with stock Android. For example, the brightness control on the V23 is much easier to reach with one hand.
There are also some useful additional functions, such as a good always-on display, a dark and eye protection mode and some dynamic effects. Gesture control is of course also on board, but animations don't look nearly as nice as with the X60 Pro out of. Otherwise, animations with the new Funtouch version are much smoother and more beautiful, which is particularly noticeable when you pull down the notification bar. Furthermore, the manufacturer seems to have finally taken my criticism of the last Vivo test reports to heart, because Funtouch 12 finally introduced a quick launch function for the camera (icon in the lower right corner on the lock screen) and app grid. Thank you Vivo!
Performance - decent, but...
Under the hood is the Dimensity 920 from MediaTek, which is supported by 12 GB of RAM, which is very commendable in this price range. 256 GB of internal memory is available, which cannot be expanded, but should be sufficient for most users.
Everyday performance is good and definitely better than the predecessor. Apps start and close pleasantly quickly, stutters and delays only occur occasionally and the RAM management is excellent. Most games also run sufficiently smoothly, but here you can see most clearly that it is only a mid-rangeProzessor, which actually has no place in a high-end smartphone that costs 499 or 549 euros. Sure, the Dimensity 920 is a good SoC that should be sufficient for many, but for the price offered I expect a little more, especially in view of the competition, which is based on a Dimensity 1200, Qualcomm Snapdragon 778G or even put the Snapdragon 870.
Battery – good running and charging times
The battery is 4.200 mAh and can be fully charged in about an hour with the included 44 watt power supply. A few other competitors are a bit better here, but I'm also very satisfied with the loading time of the V23 5G.
The battery life is also completely satisfactory, which I would not have expected given the rather below-average capacity. At the end of the day, with a screen-on-time of around 5 to 6 hours, I usually still had 38 to 55 Procent battery left, which is easily enough to get through a day without charging. Even 1,5 to 2 days should be possible for many and if you still want something more, you can set the refresh rate to 60 Hertz at any time.
Camera - Decent main camera
On the back we get a rather unspectacular camera setup. The main sensor with 64 megapixels comes from Samsung, is of average size and should be able to take in a relatively large amount of light thanks to the bright aperture of f/1.89. There is also the typical 8 megapixel ultra wide-angle camera with a sensor size of 1/4 inch, which we see in almost all smartphones for less than 400 euros. Of course, a 2 megapixel macro camera should not be missing for this price. The front camera stands out positively, which has a resolution of 50 megapixels, is quite large, has an optical image stabilizer and even an autofocus on board. There is even another front camera with a resolution of 8 megapixels, which is perfect for group selfies thanks to its wide field of view.
Starting with the main camera, which takes decent pictures. Colors are rendered boldly but still sufficiently realistically and the dynamic range is a great strength, as with all Vivo smartphones. The sharpness is solid, but sometimes images appear a little too artificially sharpened. Vivo could improve this with future updates. The recordings in low light are okay with the night mode.
The ultra-wide-angle camera definitely provides added value in daylight, as significantly more can be captured. However, the image quality is only partially convincing. Colors are rendered nicely and the dynamic range is great, but details leave a lot to be desired, which gets even worse towards the edges. I expect more for the price offered, because I get a similar quality even with smartphones for less than 300 euros. To be fair, however, one must also mention that even smartphones for 400 to 600 euros, such as the OnePlus North 2, Xiaomi 11t or Huawei nova 9, also don't really have more to offer.
As with almost all other smartphones in the middle to upper class, the image quality of the 2 megapixel macro camera is also very disappointing on the V23 5G. Pictures lack some details and colors are too pale. So Vivo could have saved this camera and should have invested the money saved in a decent ultra wide-angle camera.
Great selfie experience
I really like the 50 megapixel front camera, both for photos and videos. Selfies are particularly detailed and faces are rendered naturally. The dynamic range and portrait shots are also impressive. Once it gets darker, there are different approaches to improve its image. On the one hand, there is also a night mode for the front camera, which, despite the deactivated beauty filter, draws faces much too softly and otherwise hardly brings any improvements. Therefore, I would recommend not using the night mode, but instead using the built-in LEDs ("headlights") above the display or the screen flash (the screen lights up white - "aura").
As expected, the second front camera with 8 megapixels takes slightly worse selfies. Colors look washed out and the sharpness could be better (see test photo 8). Nevertheless, in my opinion, the quality is completely sufficient for one or the other group selfie and with a little post-processing the photos are impressive.
Videos can be recorded in 4K with up to 30 FPS with good and in FullHD with excellent image stabilization, which stand out from the competition in particular due to the sharpness of the image. The colors also look beautifully realistic and the autofocus works pleasantly reliable. The dynamic range and the audio quality are decent, but Vivo could improve a bit here with the successor.
Test photos
Let's take a look at a few test photos. As always, the following images are absolutely unprocessed, but compressed without loss in order to keep loading times and memory consumption of the website low.
Other - great fingerprint sensor, only one mono speaker and weak vibration motor
I would like to positively highlight the fingerprint sensor in the display, which is easy to reach and unlocks the device very quickly and reliably.
In fact, Vivo only installs a mono speaker on the underside, which can be easily covered, especially when watching videos or gaming. The quality is actually completely fine for a mono speaker. It gets sufficiently loud and delivers a nice, clear sound. Competitors with stereo speakers are, however, audibly better.
The sound quality is decent, but unfortunately nothing special compared to competitors with stereo speakers. (Picture: TechnikNews)
Last but not least, I would like to address the vibration motor, which has been a major weakness in all Vivo smartphones so far and unfortunately this is also the case with the Vivo V23 5G. While it's a slight upgrade over its predecessor in that it doesn't sound as annoying as it used to, the in-hand feel still feels anything but glorious. Almost all of the competition is better in this regard.
Summary
In terms of hardware, the Vivo V23 5G is a rock-solid mid- to high-end smartphone, which can be seen very clearly from the display, the performance, the battery and the rear camera. It doesn't set any standards in these points and a few competitors have a little more to offer, but the V23 doesn't show any major weaknesses in the points mentioned. It's good - no more, but also no less. Only the front camera and the design cannot currently be matched by any other smartphone in this price range, and it is precisely these points that make the smartphone so special and recommendable. The V23 is therefore clearly suitable for people who value a unique design and a great selfie experience.
However, if you don't attach too much importance to it, the price of 499 or 549 euros seems a bit too high, which is why you should rather buy one OnePlus North 2 or Realm GT Neo 2 should work, which have a little more to offer in terms of the display, the vibration motor, the performance, the speaker and the battery charging times.
We would like to thank Vivo Austria for providing the Vivo V23 5G!
Buy Vivo V23 5G
Recommendations for you