>> Test the latest technology and much more: apply to us! <
Xiaomi Mi 11 review: No longer a price-performance killer, but ...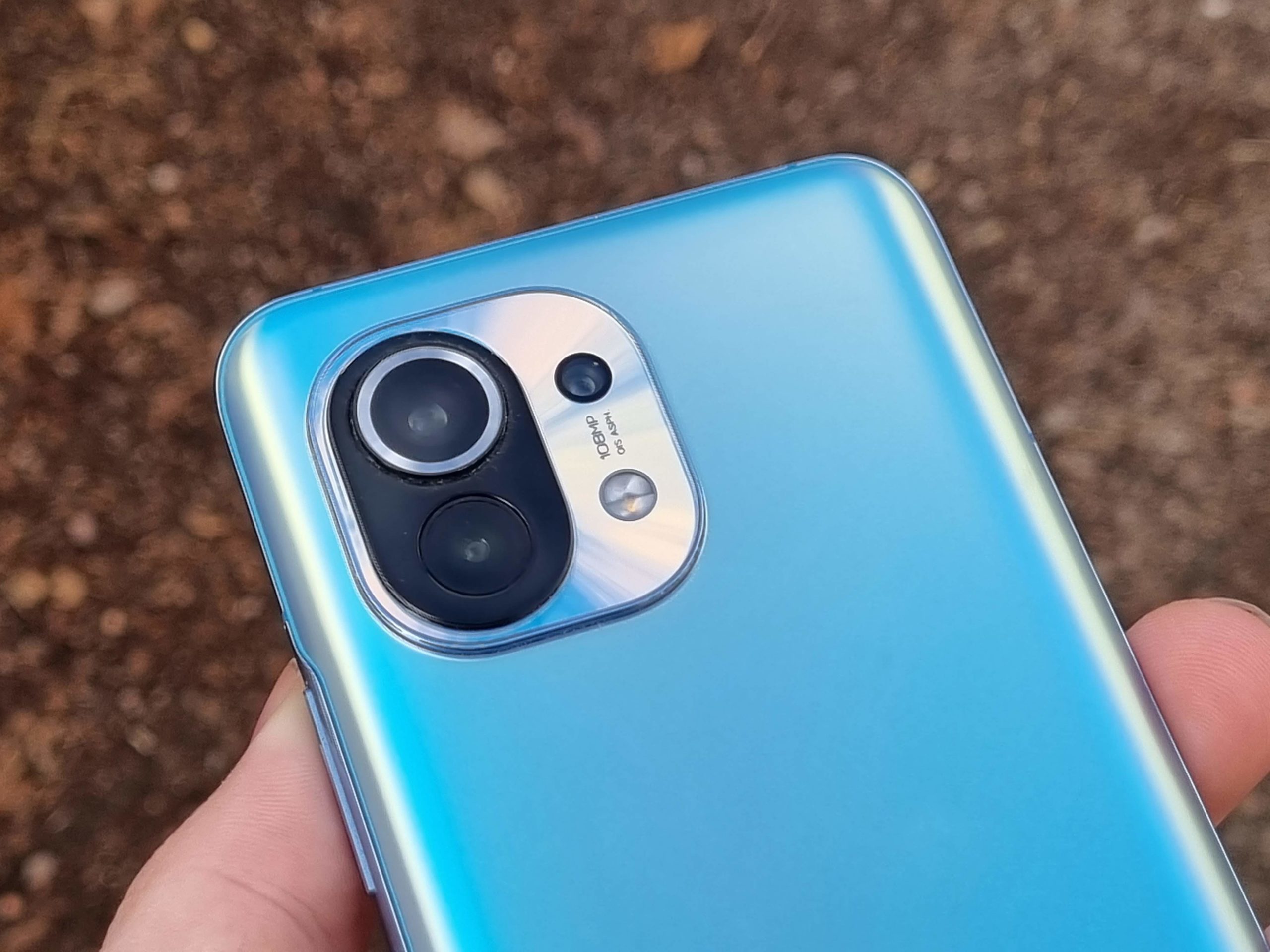 (Post picture: © 2021 TechnikNews)
The Xiaomi Mi 11 is the first smartphone with the new Snapdragon 888, which was released in December in China was introduced. Now it is also coming onto the German market, we have tested it.
The Xiaomi Mi 11 adopts the familiar design of the front of the My 10 Pro and completely changes the appearance of the camera. I was initially confused by the new camera design, but now I love it. It's finally no longer a long strip with a wide variety of cameras, but a round box with three camera sensors inside. The back is either blue or black, depending on the color variant. Fingerprints are easy to see but not very noticeable. About as good as the Mi 10 Pro.
The workmanship is very good. The device feels very high quality and lies comfortably in the hand despite the large display.
Xiaomi Mi 11: display
The display comes from Samsung and you can see that too. It is 6,81 inches tall and has a resolution of WQHD + (3.200 x 1.440). It also shows content at 120 Hertz and on OLED, also together with the WQHD + resolution. For such a large smartphone, which is also very well made for consuming media due to its specifications, it is still relatively light at 196 grams. It might sound strange, but having to carry around 200 grams all the time is very annoying.
The combination of the resolution and the high refresh rate works perfectly. Content runs smoothly across the display and you can also watch movies without it Probleme on the large and high-resolution display. That was exactly the big criticism of the display of the Mi 10 Pro, now these specifications are also available for less than 1000 euros. The display is also very bright with 507 candela, I never had Problemish in strong sunlight.
The only point of criticism is the shape of the display. This is rounded at all four corners, which makes a strange impression.
Hardware
The hardware is also convincing in (almost) all respects. The Snapdragon 888 mentioned at the beginning is currently the fastest AndroidProprocessor on the market. Only this is apparently not cooled enough. With a lot of shooting and complex games, the pulls Protoo much battery and the device gets noticeably warm. But that wasn't bad, in everyday life the Mi 11 masters all applications with flying colors. the smartphoneProprocessors have all become so fast these days, you only notice the real difference in complex games, emulations or a lot of multitasking. Apropos multitasking, the device is only available with 8 gigabytes of RAM. In China there is still a version with 12 gigabytes of RAM, in Germany there is only a difference in the storage options. There is a 128 gigabyte version and a 256 gigabyte version, both of which cannot be expanded with a microSD card. Dual SIM is possible for this.
Anything is possible in terms of network technology. 5G, WLAN 6 and Bluetooth 5,2 are also on board. One feature that I miss on many smartphones is an infrared sensor. This is available on the Mi 11, with which you can control your TV.
I would like to highlight the stereo speakers, which were developed with Harman / Kardon (Samsung). These do not offer a strong bass, but very clean highs. Again, there is no IP certification.
Xiaomi Mi 11: camera
The camera system of the Mi 11 consists of three cameras on the back and a 20 megapixel selfie camera. The main camera on the back is a 108 MP wide-angle camera, which is combined with a 13 MP ultra wide-angle camera and a 5 MP macro camera. On paper, the whole thing is not as good as the Mi 10 Pro. This is probably because more devices will appear in the Mi 11 series in the very near future. There was already a leak for My 11 Ultra, We already have information on a lite model.
The cameras still take good photos. The 108 megapixel main sensor is particularly convincing. This can take good photos in light and dark surroundings, but not with the ultra-wide angle. Photos look "muddy" and have few details, especially when there is little light. The macro camera, which captures a lot of details at close range, is still good. I would only like to question the benefit, a telecamera would have made more sense for me. Digital zoom cannot replace this.
Videos
A lot of marketing is also done with the video function. The maximum resolution is 8K with 30 frames pro Second, 4K is 60 frames and 1080p is 120 frames pro second possible. The videos are very good, but if you record a lot with 8K or 4K, you will notice this in the storage space. As already mentioned, this cannot be expanded using an SD card, but otherwise the videos can be stored in the cloud or on a hard drive.
Xiaomi was very creative, especially with the software in the video area. The cloning of people is fun and very easy, just click the "freeze time" or turn the world upside down with the "parallel world". These aren't effects really meant for "Proprofessional filming". For this, Xiaomi brought them to a smartphone, for which you normally get a cutprograms would need. I have never seen this from any other manufacturer, which is a plus.
Battery
I also liked the battery with 4600 mAh. It took a while for the AI ​​to learn my usage behavior, but after that the battery life was good. My values ​​were 120 hours of screen time with the use of WQHD + and 6 Hertz and without energy-saving modes. With lighter use, however, it can last for up to 10 hours. These are very good values ​​and I have never had to worry about the battery.
If the battery was still empty, it was recharged from 55 to 41 with a fast 0 watts in just 100 minutes. The Mi 11's battery can even be filled with up to 50 watts via wireless charging, something no other smartphone on the European market can do so far (only the Mi 10 Ultra, which was only released in China). But I didn't have a charger that supports this high number. The Mi 11 can also charge other devices wirelessly with 10 watts. Perfect for charging your headphones on the go.
Software
MIUI 12 runs on the device, based on Android 11. MIUI has improved a lot with the 12th version, especially in terms of user-friendliness. It offers a lot of setting options and feels very quick. The app drawer divides the apps very clearly into categories, which is particularly helpful for users with many apps. Like the ringtone, the notification tones are based on nature and have many animations. Only the bloatware (TikTok and a few games) I would like to strongly condemn here, but this can be deleted immediately after the setup. Nevertheless, I would like to mention this for an 800 euro device.
Unfortunately, Xiaomi does not make an official upgrade promise, Samsung promises three upgrades, Oppo and OnePlus only two. Experience has shown that Xiaomi has also given its Mi devices two upgrades so far, but there are no promises.
Xiaomi Mi 11: conclusion
The Xiaomi Mi 11 just feels like an "S" upgrade. There is no official information about a possible one yet Pro- or Ultra model, which is missing in the picture. Measured in terms of performance, the device is definitely a flagship, but the finishing touches are missing, especially with the cameras, the IP certification or the lack of an upgrade promise. Here the device cannot be used with a S21Ultra or iPhone 12 Pro Max keep up. But this could be a possible Pro- or fix Ultra version, which we are now eagerly awaiting. The price has already been reduced to around 600 euros thanks to various pre-order bonuses, but the device is very good for that. For 800 euros it would still be a bit too expensive, just 100 euros extra for more memory is too much, other manufacturers charge 50 euros.
Recommendations for you