>> Test the latest technology and much more: apply to us! <
Xiaomi Mi True Wireless Earphones 2 review: Inexpensive, but with weaknesses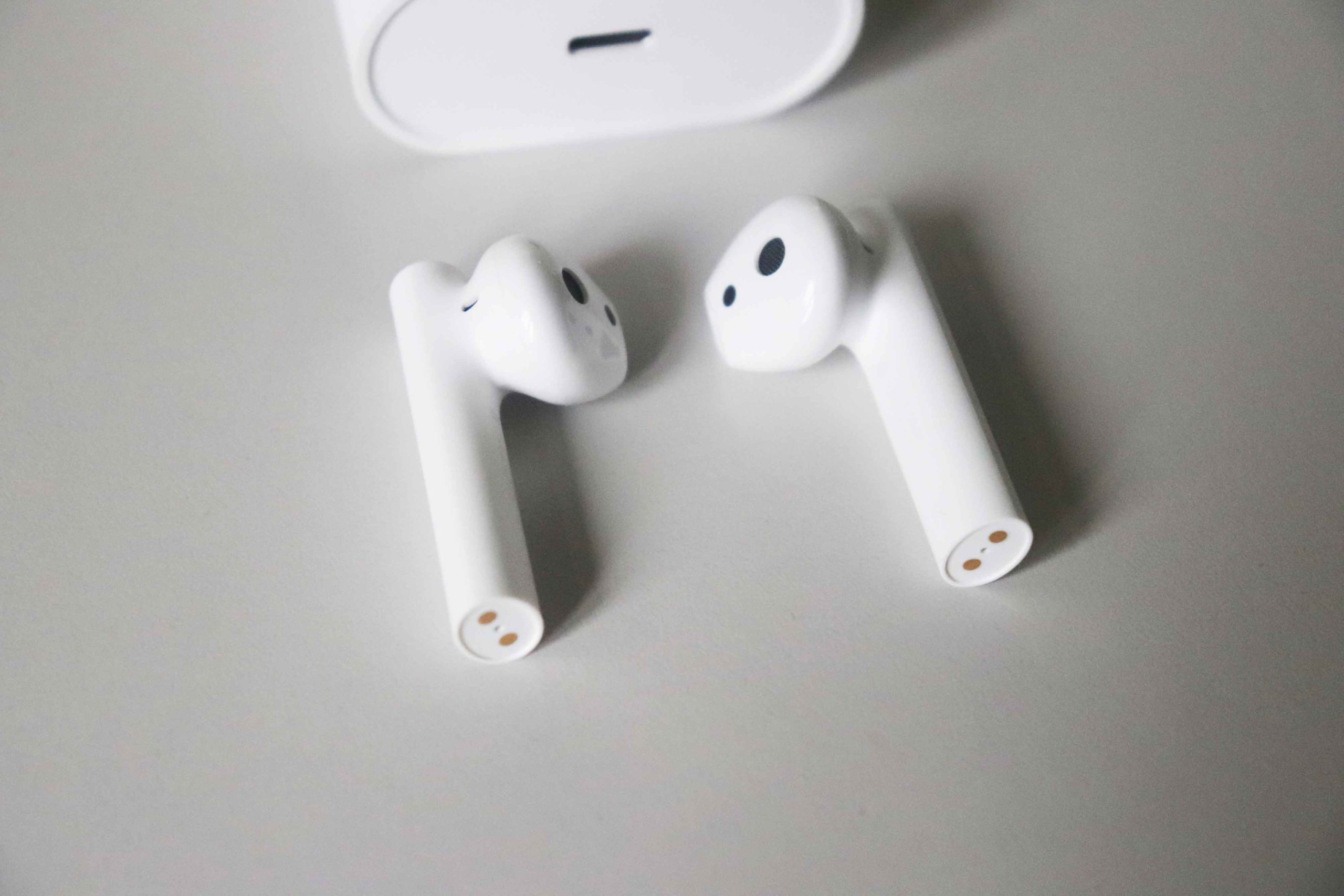 (Post picture: © 2020 © 2020 TechnikNews)
With the Xiaomi Mi True Wireless Earphones 2, the Chinese manufacturer has inexpensive headphones for less than 100 euros in its range. These are clearly similar in design to the Apple AirPods. Whether they are good at this price, we have in the following TechnikNews Test figured out.
A few months ago, Xiaomi officially presented the new Mi True Wireless Earphones 2. In addition to the Mi True Wireless Earphones 2 Basic, this is the better version, which is currently a lot more expensive at 79,99 euros compared to the Basic at 29,99 euros. It promises outstanding sound with powerful bass and Ambient noise cancellation for crystal clear phone calls. Why should you spend over 200 euros on in-ear headphones from other manufacturers, right? Well, there is a catch. We tested the Xiaomi headphones for a few weeks.
Compact, lightweight, USB-C
The small headphones come in a blue, compact packaging. The scope of delivery includes the charging case, the headphones themselves, a USB charging cable and a user manual. The weight of the headphones and case is 50 grams, which makes them very light. The plugs alone weigh only 9 grams. The charging case is also quite narrow and thin, which makes it proeasily fits into a trouser or jacket pocket.
What I particularly like is the fact that the charging case is charged via USB-C. Unfortunately, some manufacturers still rely on the now outdated micro-USB for charging their headphones. So that you can continue listening quickly, the case is equipped with a quick charge function. One hour of charging offers full music enjoyment for 14 hours (including case). The Xiaomi Mi True Wireless Earphones 2 themselves lasted almost 4-5 hours review, so it fits well with the manufacturer's information.
Bluetooth 5.0 & pop-up windows for MIUI
The in-ear headphones are coupled to your own smartphone, laptop or tablet using Bluetooth 5.0. If you also have a Xiaomi smartphone with MIUI, there is a pop-up window that shows the current battery status of all components when pairing - comparable to that of the Apple AirPods. Other devices do not have a separate window, but the charge level of the headphones is displayed in the status bar and in the Bluetooth settings.
Little bass, good middle
In the sound check, the Mi True Wireless Earphones 2 cut off so half-baked. You can turn it up really loud, but at all volumes very little bass, but good mids. The highs are also okay, although not necessarily as good as the competition in this price segment. The high latency of 200 milliseconds, i.e. the time it took to transmit the sound from the smartphone to the headphones, was also striking. In interview scenes in films, for example, the lips were not quite in sync - not very bad, but still annoying.
Holds well in the ear
The wearing comfort of the Xiaomi headphones convinced me. Although there are no attachments on these, I never felt like I lost them. Although they fit me well, it can of course be completely different for other people. Here you need a bit of luck that the headphones fit well in the ear. In addition, there were none even when worn for a long time Problemish or pain.
Good microphone quality, disappointing operation
There are also two microphones in each of the Xiaomi headphones, which performed surprisingly well review. In addition, Xiaomi also offers noise canceling for telephony, but not for ambient noise. Anyone who thinks that they can no longer perceive their surroundings with these headphones is unfortunately mistaken - you can hear everything through.
As with other in-ear headphones, you can control certain things by tapping the left or right earbud. With the headphones from Xiaomi, however, this is disappointingly little: a double tap on the left starts the Google Assistant or the voice assistant of the smartphone, and a double tap stops or starts the music playback. If a call comes in, you can answer it with a double tap - that's it. You can't skip forward or backward or control the volume of a song. In addition, there is no app in which these shortcuts can be set.
However, it is commendable that the headphones automatically stop playing music when one is taken out of the ear.
Summary
The Xiaomi Mi True Wireless Earphones 2 are relatively cheap compared to other in-ear headphones, but that also has its price. Music lovers will not really get their money's worth with this sound, but bargain hunters will with this price. The Xiaomi earplugs lack essential functions, such as changing songs or at least an app in which you can set these shortcuts.
On the Xiaomi website, the headphones are labeled "Outstanding sound with powerful bass"Touted - of that really cannot be mentioned here. If you consider these points, even the 80 euros (RRP) are already expensive (at Amazon currently available from 50 euros). Xiaomi also has the Mi True Wireless Earphones 2 Basic, which are probably on the same level in terms of sound, but only cost 30 euros.
So, in my opinion, bargain hunters should go straight for the basic version, but music lovers should spend a little more money and invest in headphones with good sound quality. Need some inspiration? We from TechnikNews already have numerous In ear headphones tested here on the blog.
Thanks to Xiaomi for providing the test device!
Recommendations for you