Xiaomi Poco M3 review: is a smartphone worth 150 euros?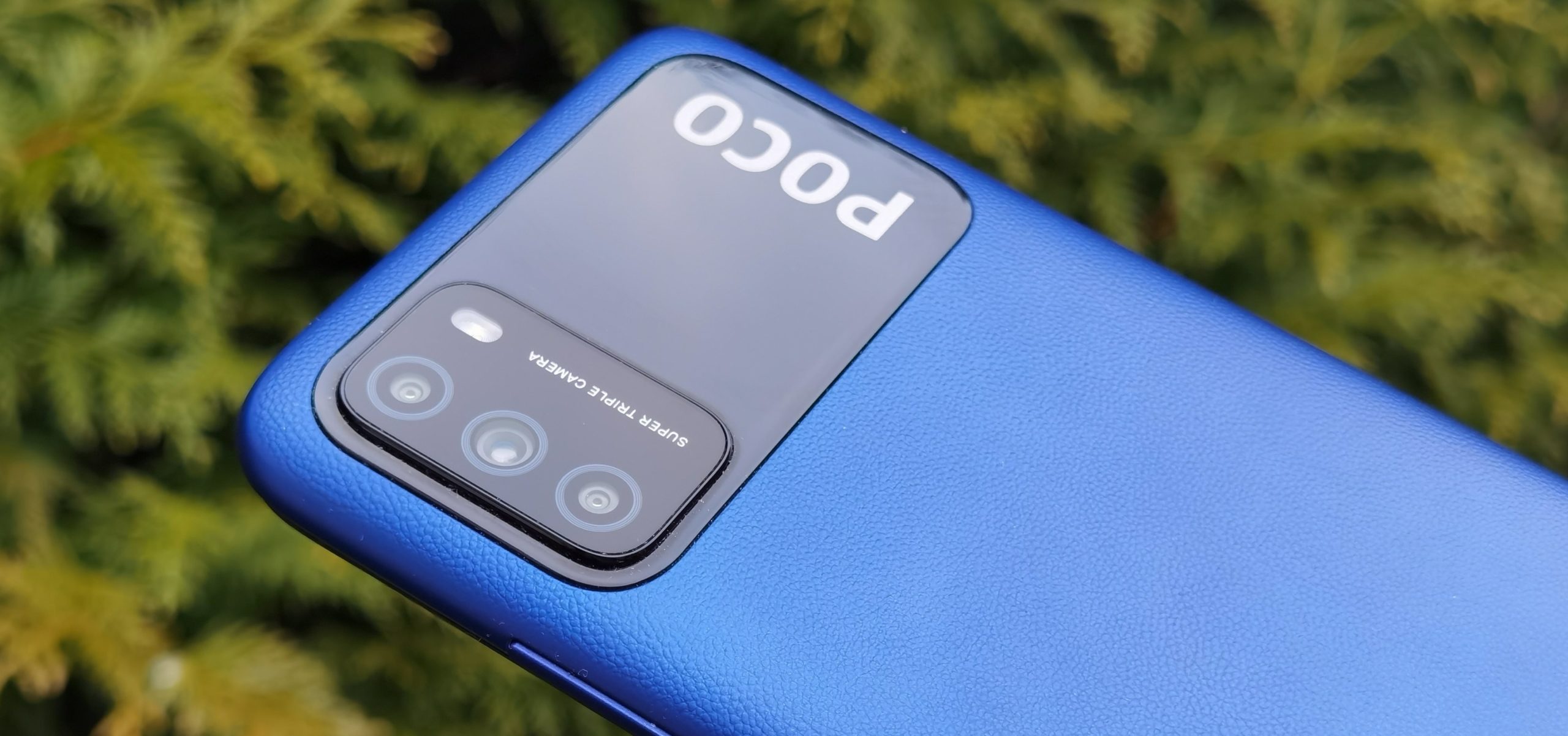 (Post picture: © 2021 TechnikNews)
The Xiaomi Poco M3 is another inexpensive smartphone from the Chinese manufacturer, which is offered for only 150 euros. Despite the low price, the equipment on the data sheet is really impressive.
Among other things, it offers a 6.000 mAh battery, the Snapdragon 662, a 48 megapixel triple camera and much more. In the following lines you can find out whether the smartphone can convince not only on paper, but also in everyday life and whether a smartphone is generally worthwhile for 150 euros.
Haptics, design & processing
The affordable entry-level smartphone from Xiaomi differs significantly from other devices in terms of design. The back is made of plastic, but it has a leather-like texture. As a result, the Poco M3 feels surprisingly high quality and, above all, grippy in the hand. Sure, more expensive devices feel much more valuable, but you should never forget how much the M3 costs. Personally, I also like the feel of the back better than that of the Little X3 NFC. The camera hill, which is covered by an elongated, shiny layer of plastic, is also interesting and quite noticeable. The Poco logo can also be found here. You can definitely think what you want from the optics, but I like it very much and Xiaomi provides a change again. When it comes to colors, the buyer can choose between black, yellow and blue. I tested the blue version, which is relatively immune to fingerprints due to its structure.
As special as the back is, the front is just as unspectacular. A large display dominates here, which is only interrupted by a small, teardrop-shaped notch. The display bezels are reasonable for the price, so you can't complain, especially because the competitors like that OnePlus Nord N100 or the Poco X3 NFC are not really better either.
There is no reason to criticize the workmanship and the feel is okay too. As already mentioned, it feels quite comfortable, but due to the dimensions of 162,3 x 77,3 x 9,6 mm it is very difficult to operate with one hand.
Display - completely solid
The LC display has a diagonal of 6,53 inches and has a pleasantly sharp resolution of 2.340 x 1.080 pixels. You won't find a smooth refresh rate of 90 or even 120 Hertz here, which is not to be expected due to the price.
The color reproduction and contrast values ​​are solid and the viewing angle stability is also okay. At extreme viewing angles, however, the colors change visibly. The maximum brightness is also okay, even if it can be very difficult to read in brighter surroundings, but what can you expect for 150 euros? You just can't complain here, especially because the similarly expensive OnePlus Nord N100 isn't really any better.
Software - MIUI 12
The in-house user interface MIUI version 12, based on Android 10, is used as software. An update to the current Android version will certainly follow in the near future, but, as always with Xiaomi, this could still be a while in coming.
MIUI has always been characterized by a number of additional functions and it is the same with the Poco M3. Among other things, there is a reading mode, its own screen recorder and of course a good night mode. This works with almost all apps. There is also Mi Share, which works similar to Apple's AirDrop. Also on board is a gesture control, which we see in a similar way in almost all other smartphones. You can think what you want about the optics of the software, but I personally prefer other user interfaces that look a bit tidier, especially the settings are much too confusing in my opinion. As is typical for Xiaomi, there is also some bloatware ex works, but most apps can be used prouninstall without problems.
Performance - that can be done better
A Qualcomm Snapdragon 662 is working under the hood, with 4 GB of RAM and either 64 or 128 GB of flash storage. The internal memory can be expanded with a micro SD card.
When I first heard that the M3 would be equipped with a Snapdragon 662, I was very happy and had high hopes, because for 150 euros this is a great device Proprocessor. Just for comparison, the EUR 50 more expensive OnePlus Nord N100 is only powered by a Snapdragon 460. Unfortunately, I was then rather disappointed by the everyday performance of the M3. Apps start sufficiently quickly, but unfortunately there are frequent stutters and delays. The integrated gesture control in particular is anything but smooth. There are also repeated delays in the camera app and sometimes it even takes a few seconds for the device to respond. I would have expected a bit more and I think that's not the case Proprocessor, but is due to the software.
In conclusion, it can be said that the performance is okay for the price offered, but I would have expected a little more.
Battery - it couldn't be better
The battery is definitely the highlight of the Xiaomi Poco M3. It has a proud capacity of 6.000 mAh and can be quickly charged with up to 18 watts with the included power supply unit. Wireless charging is of course not possible.
In my everyday use I always got through a day easily and even two days was not at all Proproblem At the end of the day, with a screen-on-time of 5 to 7 hours, I usually still had 50 to 70 Procent battery left. These are really extremely impressive values.
Camera - completely satisfactory
On the back of the Xiaomi smartphone we find the camera hill at the top left, where there is space for three sensors: A 48 megapixel main camera and two lenses with 2 megapixels each, which are responsible for macro shots and depth effects.
With the main camera, you can take quite passable pictures, at least if you include the price. The color reproduction is great, the sharpness is good and lowlight shots are also okay. The night mode brings slight improvements every now and then, but you should take photos with the Poco M3 when there is enough light. For 150 euros there is no reason to criticize the camera, you simply can't expect more.
The macro camera, on the other hand, is rather useless. Objects can be photographed from a very close distance, but the images are rendered far too blurry and too pale.
Test photos of the Xiaomi Poco M3
Let's take a look at a few test photos. The following images are unprocessed, but compressed without loss in order to keep the loading times and memory consumption of the website low.
Comparison with the OnePlus Nord N100
Let's compare the camera in different situations with the Nord N100 from OnePlus, which costs similarly.
It has become pretty clear that the Poco M3 delivers the better results for the most part. The recordings are visibly sharper, more accurate in terms of color and, in poor lighting conditions, noticeably brighter and more detailed. The OnePlus Nord N100 is only slightly ahead in terms of dynamic range.
Other - stereo speakers for 150 euros
The quality of the built-in stereo speakers is extremely praiseworthy. They get sufficiently loud and sound up to about 70 Procent volume also still relatively good. For the price offered, this is really great.
The built-in vibration motor, on the other hand, is rather disappointing. It doesn't feel or sound particularly good. Here you get significantly more with the Poco X3 for just 50 euros more.
Last but not least, let's take a look at the fingerprint sensor. This is located on the side of the smartphone and unlocks the device quickly and reliably.
Summary
The Xiaomi Poco M3 offers a very strong overall package for only 150 euros and shows that you can get a lot for little money. Nevertheless, I can only recommend the device to a limited extent, which is mainly due to the performance and the competition. The day-to-day performance is already on the borderline and in a year or two it will only be worse. That's why I would advise against buying it, because you want to use your smartphone for about two years and that could be rather difficult with the M3. I would advise everyone to spend at least 200 euros on a new smartphone, because with the Poco X3, for example, you get the much better and, above all, future-proof smartphone.
Unless you want and can only spend 150 euros on a new smartphone, then there is virtually no getting around the Poco M3. There is probably nothing better for this price at the moment, but if you have the opportunity to spend a little more money, I would definitely recommend it.
In conclusion, it can be said that I actually liked the Poco M3 from Xiaomi relatively well, because of the expandable performance - which is by no means totally bad - I can only recommend it with reservations.
Buy Xiaomi Poco M3
Recommendations for you