Xiaomi Poco X3 NFC review: Unbeatable for the price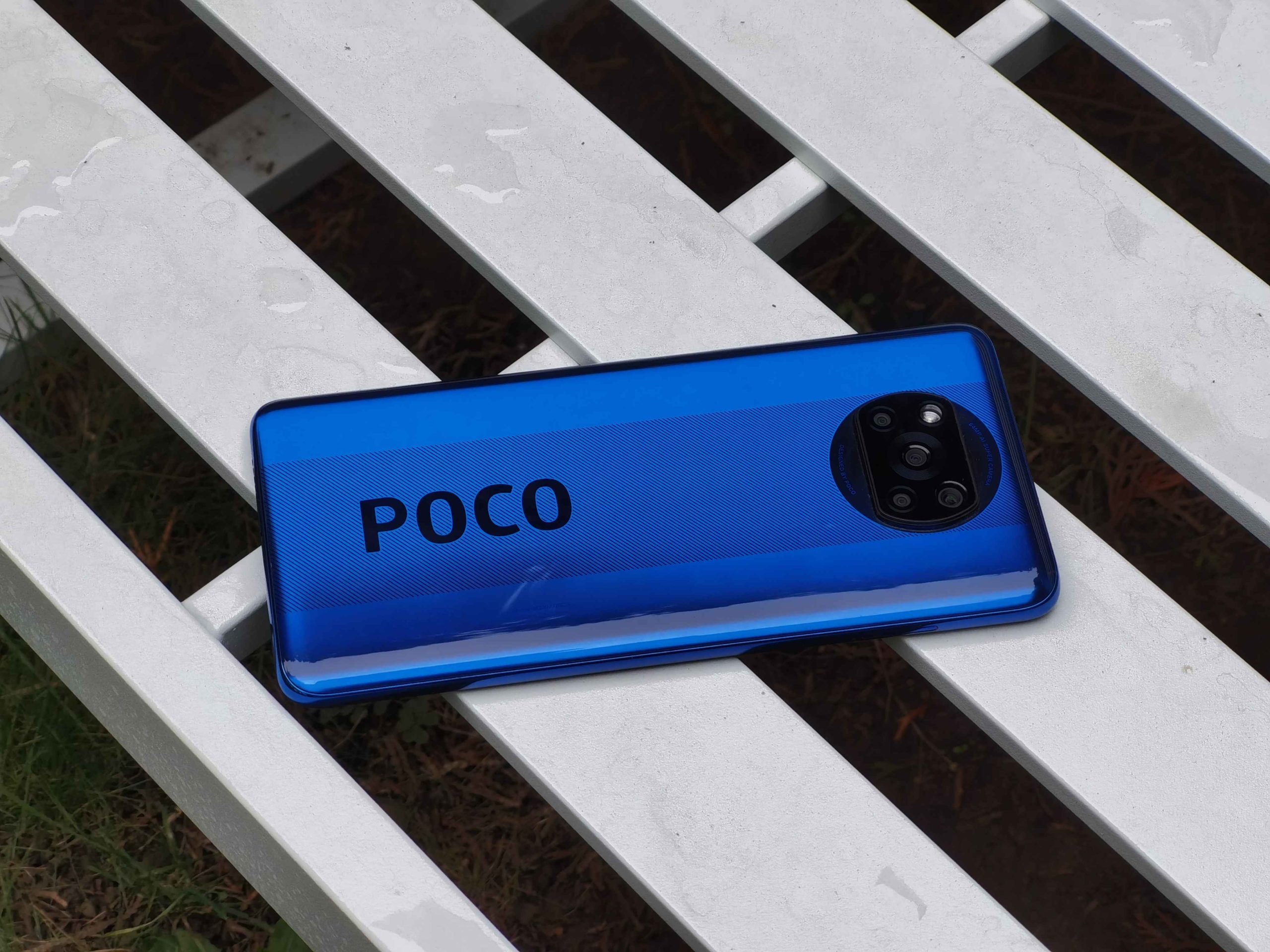 (Post picture: © 2020 TechnikNews)
With the Xiaomi Poco X3 NFC, the Chinese clearly want to attack the middle class. For only 229 euros, this smartphone offers, among other things, a 120 Hertz display, the Qualcomm Snapdragon 732G and much more. In this review, we will now take a look at whether the Poco X3 NFC can also convince in everyday life and whether it is really the new price-performance hit.
A few weeks ago I packed up here TechnikNews the Xiaomi Poco X3 NFC, set it up and talked about my first impressions. I recommend anyone who is more interested in it here our article. Now I would like to take a closer look at the X3 and, of course, at the end of the day clarify the question of whether it is worth buying.
Haptics, design & processing
When I picked up the Xiaomi Poco X3 NFC for the first time, I was struck by its weight and enormous dimensions. With a weight of 215 grams, it is definitely one of the heavier smartphones and the dimensions of 165,3 x 76,5 x 9,4 mm have it all. This means that the smartphone looks relatively clunky, similar to a Galaxy S20 Ultra, and is therefore very difficult to operate with one hand. However, if you prefer large, heavy and thick smartphones, you will get your money's worth here.
The front is of course made of glass, the back is made of plastic and the frame is also made of plastic. It doesn't feel particularly high-quality, especially because the back can be pushed in very easily with a finger, but you can't complain for around 229 euros. For comparison, the Samsung Galaxy Note 20 with an MSRP of a proud 925 euros also only has a plastic back, so this is still completely okay with the Poco X3 NFC.
The eye-catching camera module on the back, the stripes and the huge Poco logo definitely take getting used to, but I got used to it after a few days. Nevertheless, I am of the opinion that a little more effort could have been made here. A Poco F2 Pro looks a lot nicer in my eyes, but of course that's a matter of taste. In return, I really like the already mentioned front. The display edges are pleasantly thin and the front camera sits in the middle in a small punch hole. A few years ago that would have been unthinkable in this price range.
With gray and blue, there are unfortunately only two color variants to choose from. I tested the blue model. In my opinion, the color always looks a little different depending on the incidence of light. Unfortunately, fingerprints are almost magically attracted and a few scratches are likely to appear over time. I couldn't find any scratches myself, as I always used the protective cover that came with it.
There is absolutely nothing to complain about when it comes to processing. The smartphone is stable, the keys are tight and have a very good pressure point.
Display
The IPS display measures 6,67 inches and has a sufficiently sharp resolution of 2400 x 1080 pixels. Since this is an IPS panel, the contrasts and especially the black value leave a lot to be desired. After using only smartphones with OLED displays for 4 years, I noticed this immediately. However, other smartphones in this price range don't really do any better. Only the Galaxy A41 and a few smartphones from Xiaomi offer an OLED display in this price range.
The colors are really impressive - not too strong but not too pale either. The maximum brightness can also convince me. Sure, mine Huawei P40 Pro+ or a OnePlus 8 Pro are a bit better here, but for about 229 euros I have absolutely nothing to complain about. The highlight of the display is clearly the smooth refresh rate of 120 Hertz - something very rare in this price range. This makes animations look much smoother and it's just fun to use the Poco X3 NFC.
Software
The in-house user interface MIUI 12, based on Android 10, is used as software. Above is the Poco launcher. It is currently unclear whether and when the X3 NFC will get Android 11. I strongly assume that there will still be an update to Android 11, but as always with Xiaomi, that could still be a while in coming.
In general, the Xiaomi software is very colorful, nested (especially the settings) and reminds one or the other of iOS. There are some additional functions, such as Mi Share, which is very reminiscent of Apple's AirDrop. So far, Mi Share only works with devices from Xiaomi, Redmi, Oppo, Vivo and Realme. In addition, there is of course a night mode, a reading mode and even your own screen recording.
Unfortunately, some bloatware is pre-installed, such as eBay, but which one procan uninstall without problems. However, the preinstalled games cannot be uninstalled. For 229 euros I don't want to complain too much. In addition, there is advertising at one point or another, such as when downloading apps from the Google Play Store.
Camera
As is so often the case in the middle class, Xiaomi uses four sensors: a 64 megapixel main camera (f / 1.89), a 13 megapixel ultra wide-angle camera (f / 2.2) and two sensors with 2 megapixels each for macro shots and depth effects. The last two could have been saved again, I think.
With the macro camera you can take decent shots every now and then and you can get very close to objects, but in my opinion you should take macro photos with the main camera and then crop them a little. The following pictures illustrate this quite well: The pictures from the macro camera always appear a bit pale and slightly blurred.
Otherwise, the camera of the Poco X3 NFC really surprised me positively. The main camera can convince across the board, especially when there is enough light. Excellent image sharpness, good dynamic range and beautifully realistic colors. Of course, the X3 cannot keep up with the current flagships from Samsung, Apple, Huawei and Co. by a long way, but for the price this is completely okay. Even with low light, the Poco can still convince to some extent, provided that there is still some light available. In extreme low-light situations, i.e. when there is almost no light at all, recordings are no longer useful. But other smartphones in this price range from 200 to 300 euros do not do that any better. Overall, I'm very impressed with the main camera.
The ultra-wide-angle camera can also convince me, provided there is enough light. Like almost all ultra-wide-angle cameras in the middle class, it can hardly be used in light conditions that are getting a little weaker. If there is enough light, the recordings can be seen for real, especially thanks to the very good image sharpness. Only the colors could be reproduced a little more naturally.
Test photos
Let's take a look at a few test photos. As usual, a bit compressed to save storage space and reduce the loading time of TechnikNews to increase. The following pictures are definitely lossless and unedited.
Comparison with the OnePlus Nord and Poco F2 Pro
Let's briefly compare the lowlight performance with other smartphones. For comparison, come that OnePlus North and the Xiaomi Poco F2 Pro
The Poco X3 NFC can keep up very well with the more expensive competitors. On closer inspection, however, one notices the somewhat lower sharpness and brightness of the photos.
Performance & battery
A Qualcomm Snapdragon 3G works inside the Xiaomi Poco X732 NFC. There is also 6 GB of RAM with 64 GB or 128 GB of flash memory, which can be expanded using a micro SD card. The performance is basically at a very high level - apps start and close pleasantly quickly and there are very few stutters when scrolling thanks to the smooth refresh rate of 120 Hertz. However, animations with the integrated gesture control seem a bit tricky, especially when you want to switch between apps in multitasking. The X3 treats itself to a moment of commemoration from time to time and there are occasional wobbles. Xiaomi could improve that with future software updates, because that Proproblem is not due Proprocessor, but in the software. Of the Prozessor has enough power and is currently unbeatable in this price range. Overall, I was happy with the performance, but I might have expected a little more.
My absolute highlight of the Xiaomi Poco X3 NFC is without question the excellent battery life, which already stands out on the data sheet, because Xiaomi has installed a 5.160 mAh battery here. With a screen-on-time of around 3 to 6 hours, I usually had 50 to 70 left at the end of the day Procent battery left. Once I had 17 at the end of the day Procent battery with a screen-on-time of almost 9 hours. These are phenomenally good values ​​and definitely a bit better than my Huawei P40 Pro+. Everyone should get through at least a day with this smartphone, even the heavy users.
If the battery should be empty, it can be recharged with the supplied 33-watt power adapter. Wireless charging is not supported.
Others
The Poco X3 NFC actually offers stereo speakers for the low price of around 229 euros. They're okay, even if they sound a bit thin and only from about 50 Procent volume become significantly louder. I also compared them to the speakers of the OnePlus Nord and Realme X2, both of which only have a mono speaker. Compared to the Realme X2, the Poco clearly wins, but it doesn't quite reach the OnePlus Nord. Overall I am very satisfied with the speakers.
I also really like the fingerprint sensor on the side. It is easy to reach, easy to feel and unlocks the device reliably and quickly.
Last but not least, I would like to praise the relatively good vibration motor. I've seen that much worse in this price range.
Price & availability
The Xiaomi Poco X3 NFC with 6 GB RAM and 64 GB flash memory has an MSRP of 229 euros and the version with 6 GB RAM and 128 GB flash memory has an MSRP of 269 euros. Both versions are available from various dealers. The colors Shadow Gray and Cobalt Blue are available.
Summary
The Xiaomi Poco X3 NFC convinced me across the board. For around 200 euros, it offers an above-average overall package, starting with the design, through the display, through to performance, battery and camera. Almost everything is right here. In everyday life, the only thing that bothered me personally was the plastic back, which doesn't feel particularly high-quality, but, as already mentioned, even more expensive smartphones (Samsung Galaxy Note 20, Motorola edge) not really better either.
Anyone who is currently looking for a smartphone between 200 and 300 euros cannot ignore the Poco X3 NFC. As already mentioned, it offers a really strong overall package without any weaknesses. However, if you can't make friends with the MIUI, you should probably use another smartphone, such as the Samsung Galaxy A51.
For me personally, the Xiaomi Poco X3 NFC is currently the best smartphone in the price range from 200 to 300 euros and I am very curious to see what will happen in the future. Very high praise, Xiaomi.
Xiaomi Poco X3 NFC: Buy it
Recommendations for you