Galaxy Note 10 Lite: This is what the flagship looks like on official renders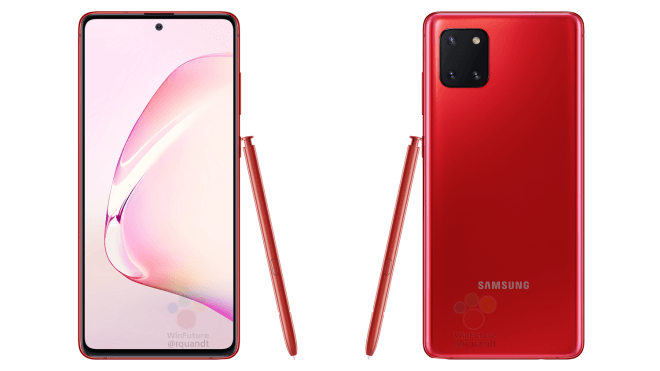 (Post picture: © 2019 WinFuture)
The fact that Samsung is working on new "low-budget" versions of this year's flagship with the Galaxy Note 10 Lite is no longer a secret. We already have one at the beginning of December first render of the Note 10 Lite. Now there are fresh, official renders by "Roland Quandt" from WinFuture. These tell us more about the device.
The Note 10 Lite already gives us a small glimpse of what we can expect from the upcoming Galaxy S11 series. Like its big brother, the Note 10 Lite should come with an Infinity-O display with a "camera hole" in the middle and also with an AMOLED display, like that WinFuture. We assume a Full HD + resolution - to differentiate ourselves from the "premium devices". Probably for this reason, the display should not have rounded edges, but rather be flat. Another distinction can also be seen in the display edges - these should be the same as with the Galaxy S10e be a bit thicker than the flagship devices.
Well-tried and new square
The Galaxy Note 10 Lite should also get an S-Pen "typical of the Note". In addition, there should even be a new version of the pen with Bluetooth 5.1 and a location function, which should make the pen less easy to get lost. The new camera design, which is similar to the first render of the Galaxy S11 devices, is particularly noticeable. This is the same as with current devices - such as the Google Pixel 4 or with the iPhone 11 series - a square. However, the individual lenses of the Note 10 Lite are lined up one below the other. Furthermore, not much is known about the cameras so far, but a 48MP wide-angle sensor will probably provide the basis. In addition, the other two sensors could be a telephoto and ultra wide angle lens.
Nothing is known about the hardware yet, but you can expect a new Exynos Processor run out. The jack connection, which can be seen on the render images, is also pleasing. The Galaxy Note 10 Lite will be presented together with the S10 Lite. According to WinFuture, this should take place in the next few days for a price of around 670 euros (RRP).
Recommendations for you