>> Test the latest technology and much more: apply to us! <
LG at CES 2021 with smaller TVs, air purifiers and more smart homes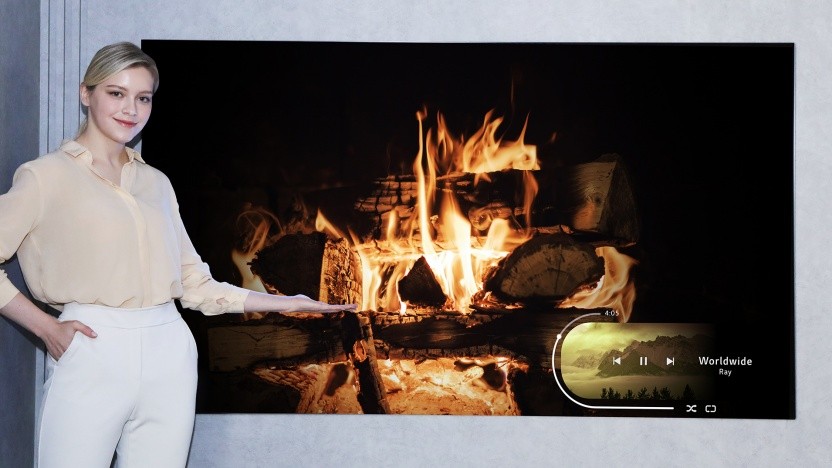 (Post picture: © 2021 LG)
As part of CES 2021, LG today gave an outlook on what can be expected in the technology year 2021. The company shows new technologies in entertainment, business, health and much more. We summarize the press conference.
Under the motto "Life is ON - Make Yourself at Home", LG will present its visions for an even more networked and more comfortable lifestyle at the first digital CES 2021. Today we showed televisions with mini LEDs, presented portable air purifiers and introduced innovations in the smart home.
Smaller, brighter TVs with mini LEDs
There will be four different sizes of the new one #LGQNEDMiniLED Television. #LG #CES2021 #THESE pic.twitter.com/jLcOT0VJf2

— TechnikNewsNET # CES2021 (@TechnikNewsnet) -
TVs are getting bigger these days. As part of CES 2021, LG is now showing a TV with OLED with a 42-inch display diagonal. So small is the new big: in the future there will be a total of seven sizes, namely 42, 48, 55, 65, 77, 83 and 88 inches. The former is LG's smallest OLED TV to date. All panels should be 20 Procent more efficient, thus also be significantly brighter than before.
The panels for the new 42-inch televisions are not only wanted in their own Proproducts, but also deliver them to third-party manufacturers. As a result, we could see more OLED TVs of this size in the coming year. The crowdsproProduction of OLED panels in 42 and 83 inches has now also started. In the future, there will also be more focus on the diagonals from 20 to 30 inches. As you can see, the trend is definitely towards smaller televisions again.
Air purifiers are all the rage
On #CES2021 one shows #LGPuriCare-Devices, such as an air purifier to take with you: #THESE pic.twitter.com/czEv0GIv61

— TechnikNewsNET # CES2021 (@TechnikNewsnet) -
In addition to new television technologies, the manufacturer is also showing updates for the LG PuriCare Products. That is the Proproduct division for air purifiers of LG. At this year's CES 2021 we will see portable air purifiers for the office, home office or car. Driving robots with UV against bacteria were also proudly presented. These are to be used in highly frequented locations such as hotels, fitness studios or offices.
A moving UV robot from #LG. #CES2021 #THESE pic.twitter.com/EspFzJuV1H

— TechnikNewsNET # CES2021 (@TechnikNewsnet) -
Also the mask with air purifier that we have on the IFA 2020 have already seen in Berlin are shown here again. the Proproducts are not yet available on our market. It is not possible to say when an introduction is expected.
Stacked WashTower, refrigerators with windows
Stacked washing machine and dryer - the new one #LGWashTower on #CES2021. #LG #THESE pic.twitter.com/Y9CcKQFz5j

— TechnikNewsNET # CES2021 (@TechnikNewsnet) -
LG also gave us new ones Proproducts from the living area are shown. With the "WashTower" there is a washing machine and dryer stacked in one. All of this together with artificial intelligence – this is intended to provide the necessary washing in the futureproprogram and temperature can be set automatically. So no more complicated turning of the controls on the washing machine.
When it comes to refrigerators, more and more people are relying on glass, more precisely transparent glass - so that you can always take a look inside.
All ProView LG products online
All Proproducts are on the digital booth from LG available - also for private customers. In addition to a 24/7 live stream with the latest LG news, all new products can also be "touched" and viewed in digital form.
Recommendations for you