Poco X4 GT review: great smartphone with great battery life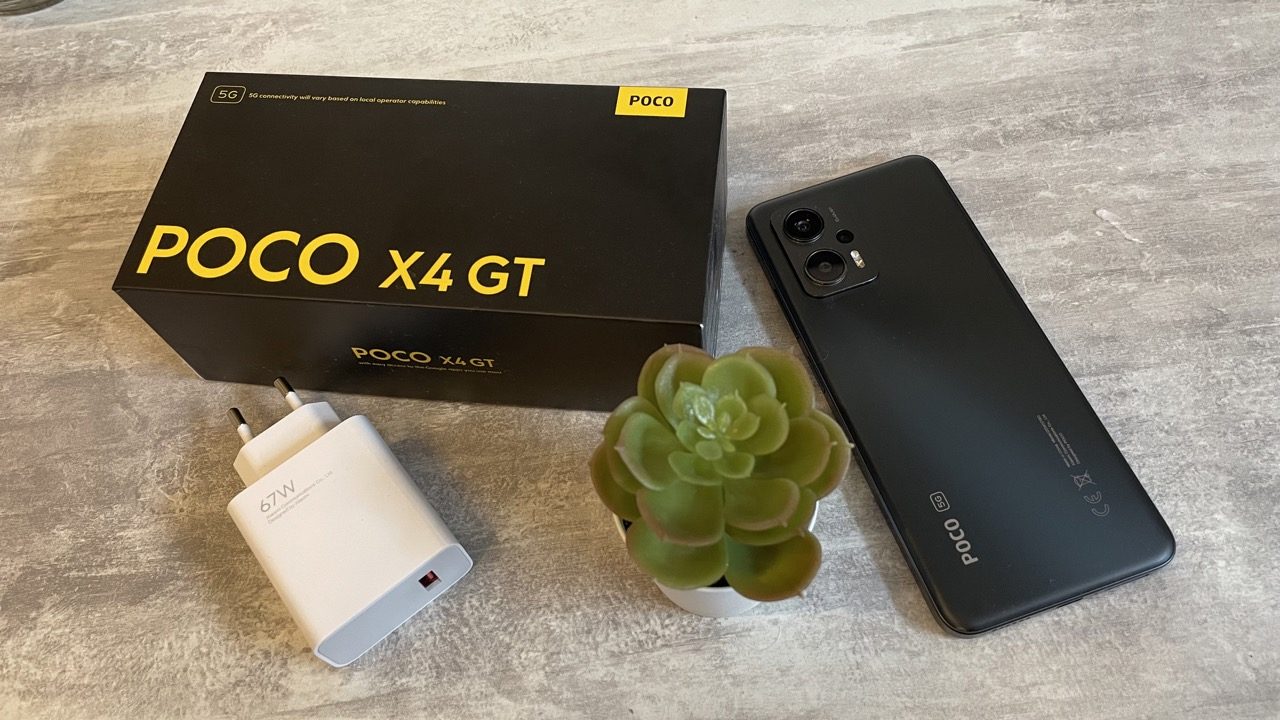 (Post picture: © 2022 TechnikNews)
With the Poco X4 GT, the Xiaomi subsidiary Poco presented their latest and best smartphone in the popular X series. We tested the X4 GT extensively in everyday use for three weeks.
For a price of around 350 euros, customers get a very large battery with 5.000 mAh, which can be charged quickly with 65 watts, a very smooth 6,6-inch LC display with a refresh rate of 144Hz, a 64-megapixel triple camera and a MediaTek Dimension 8100 offered. The specs look pretty good for the price. You can read below how the smartphone has fared in everyday life over the past three weeks.
Haptics, design & processing
The Poco X4 GT is quite a large smartphone with a height of 163,64 millimeters and a width of 74,29 millimeters. It is 8,87 millimeters thick and weighs 200 grams. Despite its size, the X4 GT feels good in the hand and has a good grip thanks to the angular frame.
The frame of the device is made of matte aluminum and feels relatively high quality. The fingerprint sensor was also installed in it, which unlocks the smartphone extremely reliably and quickly. The back is made of matte plastic and doesn't feel very premium, plus it's a fingerprint magnet. You can choose between the colors blue, silver and black. I have tested the latter and would advise against it, as it almost magically attracts fingerprints. At the top left are the three cameras, which clearly protrude from the case. When used without a case, the smartphone wobbles extremely when it is placed on a table. Overall, the smartphone is well made.
Display - LCD and 144Hz
Poco installed a 4-inch LC display in the X6,6 GT with a resolution of 2.460 × 1.080, which is only interrupted by the punch hole in the top center, in which the front camera is located. The display supports an extremely high refresh rate of 144Hz, which feels a bit smoother to use than 120Hz. It gets bright up to 650 nits, which is plenty. However, the display could be a bit brighter in direct sunlight. Dolby Vision and HDR10 are supported. For an LC display, the screen has relatively stable viewing angles and is very colorful. The display edges are ok for the price range, but could be a bit thinner. I liked the display relatively well when using it in everyday life, but in this price range you could also expect an OLED display, which would offer a significantly better black value and would be even more stable viewing angles.
Performance
A MediaTek Dimensity 4 works in the Poco X8100 GT, which has 8 GB of LPDDR5+ RAM and, depending on the version, 128 GB or 256 GB of UFS 3.1 storage. The memory cannot be expanded, so you should think carefully about how much memory you need before you buy it. Of the Prozessor offers a very decent everyday performance. There were hardly any jerks or delays, and thanks to the 144Hz, everything always seemed very smooth.
Charge the battery
The battery is 5.080 mAh, which is above average. With permanently activated 144Hz you can get through a day well, but if the refresh rate is set to dynamic, a day and a half of use is also possible. The 65 watt fast charging is unusual in this price range. In 18 minutes, the battery can be charged from 65 to 0 with the included 50 watt power supply Procharge and after half an hour the battery is 80 Procent loaded. These rates are extremely good, and Samsung and Apple could really take a lesson from that.
camera
The X4 Gt offers a triple camera system consisting of a 64-megapixel main camera, an 8-megapixel ultra wide-angle camera and a 2-megapixel macro camera. The front camera has a resolution of 16 megapixels.
The main camera takes great pictures and has good color reproduction, as well as very good image sharpness. The images of the ultra-wide-angle camera are usable, but could be a bit sharper. In my opinion, however, the macro camera should be neglected, as it is not particularly sharp and does not have particularly good color reproduction. In situations with little light, the main camera can still convince with usable pictures. In contrast to the main camera, the ultra-wide angle is not really usable in low light, as the images look very washed out and out of focus. The front camera takes solid pictures, but the color reproduction could be more natural. In low light, the recordings are still usable, but there is a lot of noise.
Loudspeaker & vibration motor
The X4 GT has stereo speakers with Dolby Atmos, which sound relatively good. They get pretty loud, but have a rather weak bass. The vibration motor is relatively good by Android standards. However, it is a bit spongy and could vibrate a little more for my taste.
Software
The smartphone runs MIUI 13, which is based on Android 12, with the Poco Launcher. Whether you like the software is a matter of taste. The settings are a bit confusing and the software is a bit overloaded. However, everything always reacted very quickly and smoothly. The MIUI offers many personalization options and many settings, which I find very good. There is no update promise from Poco for the X4 GT, although one can assume at least 2 major Android updates.
Conclusion & availability
The Poco X4 GT is a great, enduring smartphone that has a very fast display and a snappy Proprocessor owns. I also liked the camera, as well as the design and the processing. For a price of around 370 euros with 128 GB of memory and around 400 euros for 256 GB of memory, I can recommend the X4 GT with a clear conscience. It is available at all usual electronics dealers, such as The Amazon or MediaMarkt.
Recommendations for you