Realme GT Neo 3T review: Good smartphone without recommendation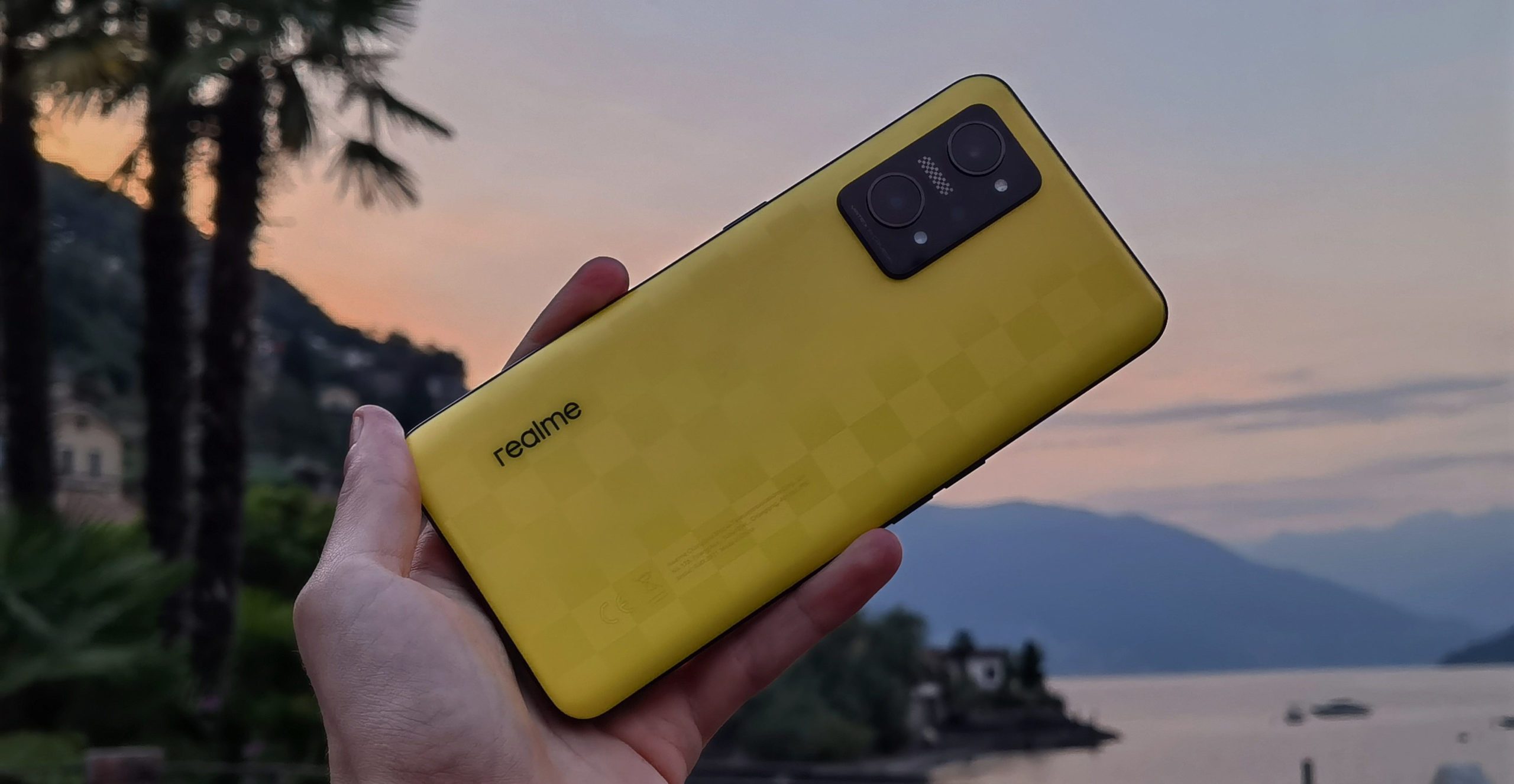 (Post picture: © 2022 TechnikNews)
Last year's GT Neo 2 from Realme was one of the best mid-range smartphones of the entire year, since some of the flagship hardware was offered for a comparatively fair price and the price dropped even further after a few weeks. There is now a successor, the Neo 3, which has been noticeably improved, especially in terms of loading speeds and cameras. However, there is also a slightly weaker Realme GT Neo 3T, which hardly differs from last year's Neo 2.
For a recommended retail price of 429 euros, customers get a large OLED display with 120 Hertz, a Snapdragon 870 from Qualcomm, a 5.000 mAh battery with 80 watt fast charge and a 64 megapixel triple camera. In the following lines you can read how the smartphone performs in everyday life and whether it can be recommended.
Haptics & design – nice, but…
With dimensions of 162,9 millimeters in height and 75,8 millimeters in width, the Realme GT Neo 3T is definitely one of the larger smartphones that are no longer procan be easily operated with one hand. For such a large smartphone, however, the Neo 3T feels surprisingly good and comfortable in the hand, which is due to the slightly rounded back towards the frame. I don't find the transition to be quite as successful as with the Neo 2, but you won't find a sharp-edged feeling here. The thickness of 8,6 millimeters is absolutely fine, especially when you consider that a 5.000 mAh battery is installed inside and the weight of 195 grams also fits perfectly with the overall design of the smartphone.
The frame is made of plastic, which has unfortunately become a matter of course in the middle class in 2022. Although it doesn't feel as high-quality as current flagships, it still makes a stable impression and due to the matte coating it is hardly susceptible to fingerprints, which is not the case with most of the competition from Samsung, OnePlus and Xiaomi . Unfortunately, the manufacturer also uses plastic on the back, which is completely incomprehensible, since last year's GT Neo 2 has a matte glass back. This is a clear step backwards that should not have happened. The plastic is matte, which is why fingerprints are hardly noticeable, but it doesn't feel particularly high-quality and well-made, which means that the back can be slightly dented.
I like the color quite a bit and I think it's great that Realme dares to do something like that. (Picture: TechnikNews)
After all, Realme has come up with something when it comes to the colors. With "Shade Black", "Drifting White" and "Dash Yellow" customers have three beautiful colors to choose from, all of which are matt. Both the white and yellow model are intended to evoke racing flags, which is definitely well done. In addition, the camera bump on the yellow model is black, which together with the black frame provides a nice contrast. On the white device, the camera bump is white. If you like it classic and not too flashy, you should rather go for the black version.
If we turn the Neo 3T around, we see a familiar picture for 400 to 500 euros. The large display is surrounded by relatively narrow bezels and is only interrupted by a small punch hole in the left corner, which accommodates the front camera. The cut-out never interferes with everyday use.
Display - strong
The display is a 6,62-inch Samsung E4 AMOLED display with a resolution of 2.400 x 1.080 pixels, which is more than sufficient so that you can never see individual pixels in everyday use. The panel also supports a smooth refresh rate of 120 Hertz, which means that the screen can display 120 frames per second. As a result, all animations and scrolling look buttery smooth, which ensures a great user experience. To save battery, the display also automatically switches to 30Hz, 60Hz or 90Hz, depending on the scenario. Up to here everything is the same as with the Neo 2. Realme has only made a small change to the touch sampling rate (indicates how often the screen registers, scans or recognizes inputs in one second), because while it was still the same with the Neo 2 is an impressive 600 Hertz, the panel of the Neo 3T "only" comes with 360 Hertz. However, you do not notice this difference during use.
Both the black and white values ​​are really good and colors are reproduced extremely naturally in the "Nature" color mode, which I really like. Here I hardly see any difference to more expensive flagships. However, if you like it more saturated, you should activate the "Lively" mode. I am positively surprised by the maximum brightness, which is unparalleled in this price range. I never had, even on sunny days Proproblems with readability. The viewing angle stability is also decent, but there is still room for improvement in this area.
Software – Realme UI 3.0
The in-house user interface Realme UI in version 3.0, based on Android 12, is used as the software. I'm actually a big fan of the Realme UI now, because you can customize a lot here to your own taste. For example, the colors of the UI, the notification bar or the animation when unlocking via the fingerprint sensor can be changed. In addition, Realme integrates the popular Google Discover feed on the left side of the home screen and of course there is also an app drawer. Compared to the Realme UI 2.0, the settings app and the notification bar have become a bit clearer and there are even nicer and smoother animations, which improve the user experience enormously.
As additional functions, the user can, for example, configure the icons of the apps, change the navigation and there are screen-off gestures (gestures for the switched-off display). Furthermore, the device can be woken up by double-tapping on the switched-off display and switched off again by double-tapping on an empty spot. A very useful and practical feature, which I use very often in everyday life. There is now even a quick start function for starting the camera, which I missed in the recent past.
Unfortunately, Realme pre-installs some bloatware, which spoils the actually positive first impression a bit, but at least all apps can be uninstalled.
Performance - fast and fluid
Qualcomm's Snapdragon 870 works under the hood, which is a bit older now, but still has a lot of power. Depending on the version, it is supported by 8 or 12 GB of RAM and there is also a choice of 128 or 256 GB of internal memory, which unfortunately cannot be expanded via a microSD card.
Even if the Snapdragon 870 is getting a bit old, it ensures excellent performance in the Realme GT Neo 3T and usually lets the smartphone stay very cool, which is definitely not the case with the Snapdragon 888 and 8 Gen 1. Apps start and close extremely quickly, jerks and delays only occur very rarely and overall the operating speed is at a high level. What I particularly like is how consistently and smoothly the smartphone runs, which I have noticed positively in all Realme smartphones so far. The in-house software seems to be very well adapted. This works for complicated things Realme GT2 Pro Although a bit faster and smoother, the 3T also performs really well here, especially for the RRP of 429 euros.
Battery pack -

long running times & extremely fast loading times
The battery has a proud capacity of 5.000 mAh and can be used with the included 80 watt power supply in about 30 minutes from 0 to 100 Profully charged, which is extremely impressive, especially in this price range. Along with the choice of materials on the back and the touch sampling rate, the 80 watt fast charge is the only difference compared to the Neo 2.
With the Neo 3T I never had in my entire testing time Probleme to get through a day without a charge. 1,5 to almost 2 days were even possible. With 120 hertz activated, I still had 5 to 6 at the end of the day with a screen-on time of 35 to 45 hours Procent battery left, which are very good values. With the Neo 2 I achieved almost the same values.
Camera - too little
A fairly unspectacular camera setup is used on the back, which is also used in the GT Neo 2 and the cheaper GT Master Edition. The main sensor is the IMX 682 from Sony, which has a resolution of 64 megapixels and is 1/1.73 inches in size. It's not bad at all, but I don't understand why Realme put this sensor in a smartphone that costs 429 euros because it's cheaper Realm 9 Pro+ With the IMX 766, a noticeably better sensor is used. Why does the cheaper device have a better main camera?
In addition to the main camera, as with almost all smartphones, there is also an ultra wide-angle camera with a sensor size of just 1/4 inch, which has a resolution of 8 megapixels. There is also a 2 megapixel macro camera on board. A 16 megapixel front camera is responsible for selfies.
With the main camera, decent shots can be taken in good lighting conditions, which are particularly convincing with a great dynamic range. The sharpness is okay, but you could expect a little more for 429 euros, especially compared to the 9th Pro+, which currently costs around 100 euros less and delivers slightly sharper images. Also with the color rendering I see the 9th Pro+ Advantage which provides the more natural results. Green tones in particular don't really look realistic on the GT Neo 3T.
Unfortunately, nothing has changed in poor light conditions compared to the Neo 2. The pictures mainly lack sharpness and the colors are way too oversaturated, which is particularly evident in the sky. A Xiaomi 11t example is not really better here, but a Huawei nova 9, OnePlus North 2 as well as the cheaper Realme 9 Pro+ show relatively well that you can expect a little more in the middle class.
With the ultra-wide-angle camera, significantly more of a scene can be captured, which can be very practical in everyday life, but the image quality must be right for this, and unfortunately that is not the case with the Realme GT Neo 3T. Details leave a lot to be desired, there is a lot of noise at the edges, even in good lighting conditions, and colors are almost never reproduced correctly. The Realme 9 Pro+ doesn't have a good ultra wide-angle camera either, but at a current price of 330 euros you can't complain too much. Honestly I see that 9 Pro+ even a minimal advantage here, which is mainly due to the more natural color reproduction.
As with many other smartphones in this price range, the macro camera is rather useless. Very rarely, recordings can be seen at first glance, but as soon as you take a closer look, you can clearly see a strong image noise. Furthermore, the captured images lack sharpness and accurate color reproduction and as soon as the lighting conditions deteriorate even slightly, this camera should definitely not be used anymore. A Poco F3, Xiaomi Mi 11 Lite 5G and even that Galaxy A52 have a noticeably better macro camera. With the GT Neo 3T, I recommend using the main camera for macro photos.
With the front camera, you can get solid selfies, even if faces are drawn a little too soft for my taste despite the deactivated beauty filter and the sharpness could be a little higher.
Test photos
Let's take a look at a few test photos. As always, the following images are absolutely unprocessed, but compressed without loss in order to keep loading times and memory consumption of the website low.
Other - solid speakers, great vibration motor & more
Realme has given the GT Neo 3T stereo speakers that ensure a decent sound. They get sufficiently loud, but would like to sound a bit fuller. I see OnePlus and especially Xiaomi a little further ahead when it comes to speakers.
The built-in vibration motor is really good and in fact the difference to flagship smartphones is hardly noticeable. It conveys a very high-quality feel in the hand and doesn't sound annoying at all.
The smartphone can be unlocked, among other things, via the fingerprint sensor integrated into the display, which works extremely quickly and reliably, but could have been positioned a little further up for my taste.
Last but not least, I would like to mention that the GT Neo 3T is unfortunately not protected against the ingress of water and dust according to IP68, which is completely bearable for the price offered. Except for the current A devices from Samsung, no other smartphones in this price range are officially certified against the ingress of water and dust, so I can't really criticize that.
Summary
The Realme GT Neo 3T is basically a GT Neo 2 in a (cheap) plastic case. Although there are slight differences on paper in the fast charge and the touch sampling rate, these are not actually noticeable in practice. So I wonder why Realme put this smartphone on the market for a suggested retail price of 429 euros. Although it is a very good smartphone with few weaknesses, but if there is a GT Neo 2 for a price of around 330 euros (depending on the dealer), I would of course prefer the Neo 2. Even if the price is the same, I would advise everyone to prefer the Neo 2, since you are getting a much higher quality case (and one on paper higher touch sampling rate). However, if you value a good camera, it should definitely be Realm 9 Pro+ or OnePlus Nord 2 to be considered.
Thank you to Realme Germany for providing the Realme GT Neo 3T!
Buy Realme GT Neo 3T
Recommendations for you