TechnikNews Weekly # 047: Xperia XZ4, Spotify hardware for the car, new Netflix prices and more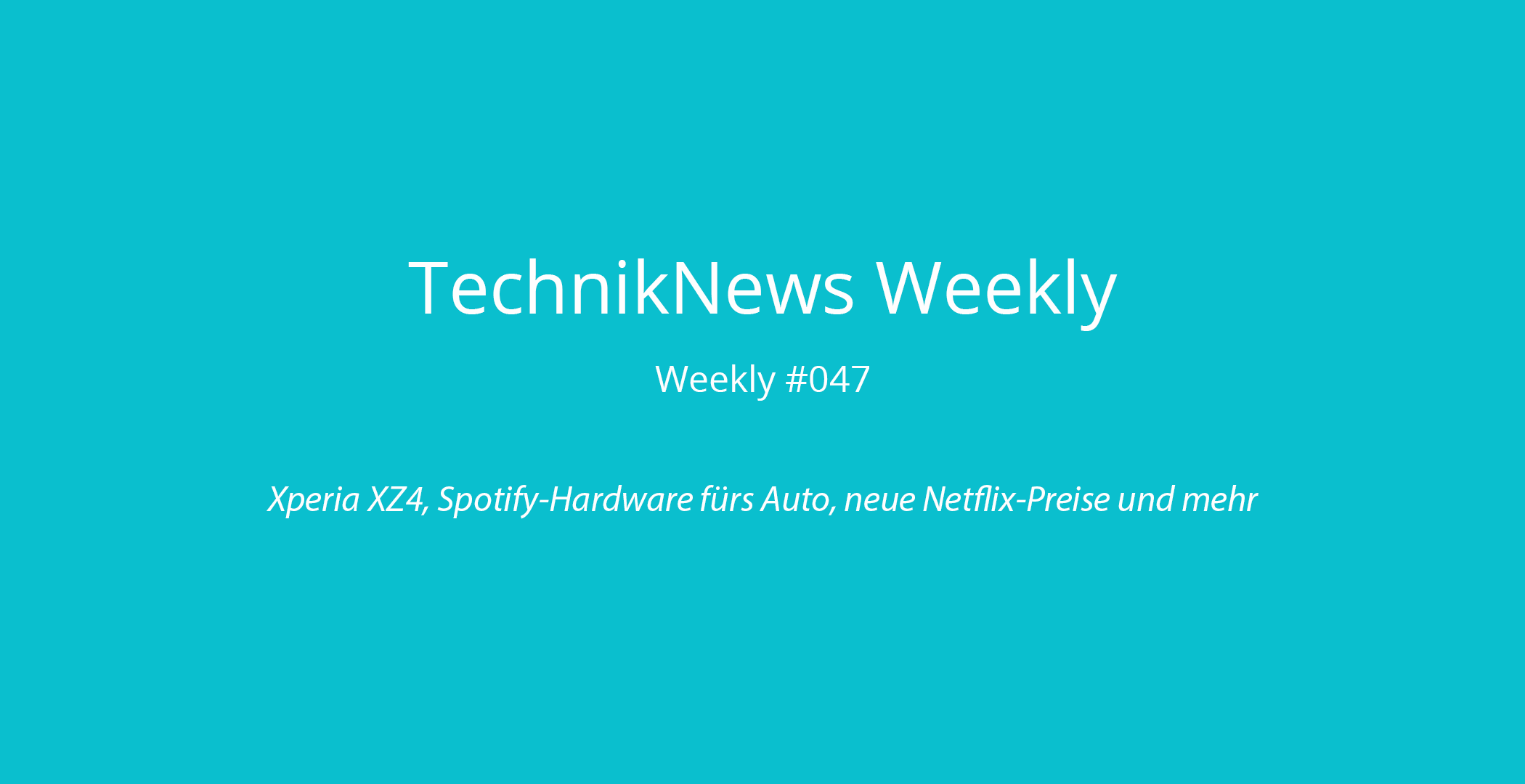 (Post picture: © 2019 TechnikNews)
Another week would have been survived. The CES in Las Vegas is now over, which is why there was only everyday news this week. The summary of the week is now here in TechnikNews Weekly.
Xperia XZ4 is likely to be unveiled at MWC 2019
Sony sent out invitations for a keynote at MWC 2019 this week. It is assumed that a new device from the XZ series will traditionally be presented there - in this case it would be the Sony Xperia XZ4. In addition, there are rumors about a presentation of the Xperia XA3 and Xperia XA3 Ultra.
Spotify hardware for the car
A year ago some suspected that Spotify would present its own hardware for the first time. In the end, we never got to see them. Now everyone is writing about the music streaming provider working on a gadget for the car. This should be connected to the radio via Bluetooth so that you can enjoy music from your Spotify library in this way. For the control there should be a number of buttons and "Spotify Voice", which should be a separate voice assistant.
Netflix is ​​raising prices
This week it was also announced that Netflix has once again tinkered with the prices. The new subscription prices, which rose by exactly two euros, currently only apply to new customers. Existing prices meanwhile still see the usual prices. A day later it became public that the monthly amounts in the USA have finally increased. New customers and existing customers are affected here. It is not yet clear whether existing subscribers will also see more expensive prices at some point.
Guide to password managers and 2FA
To provide some variety, a guide to password managers and two-factor authentication was published the day before yesterday. I explained there what it is, how it works and why you should use these two things. I also listed there several services and options to which one procan grasp easily.
Apple Smart Battery Cases for the current iPhones presented
Apple launched the battery cases for the iPhone 6s and iPhone 7. They looked like Apple's silicone cases, only they had a hump on the back. This was necessary because the battery was installed there, with which the runtime of the iPhone was to be extended. Apple has now shown such cases again, this time for the current iPhones. Little has changed in terms of design. Only Qi wireless charging functionalities are now on top.
Links to all other articles from the last week
Recommendations for you