>> Test the latest technology and much more: apply to us! <
TechnikNews Weekly #058: Android Q Beta 2, Honor 8A, new Proproducts in the Google Store and more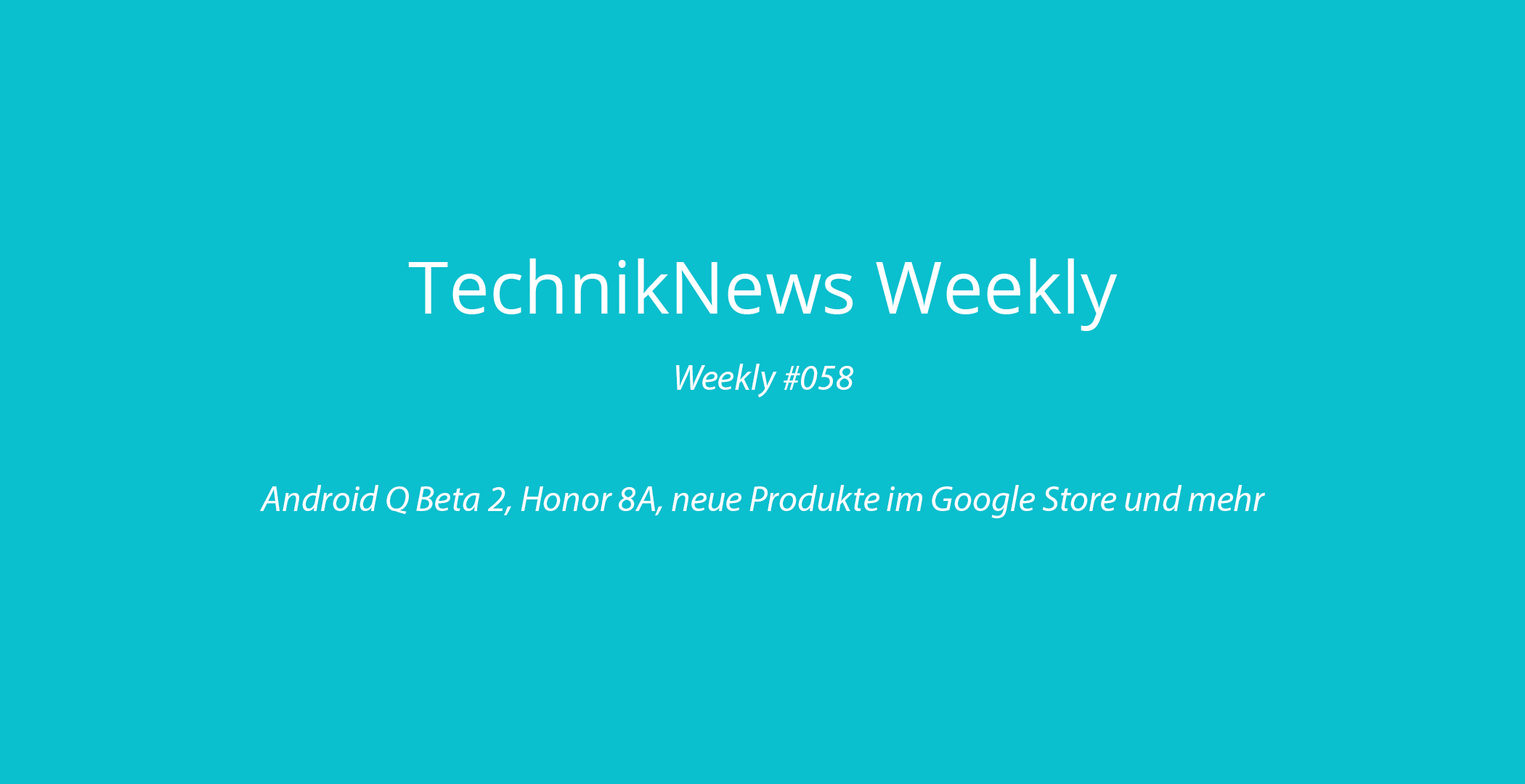 (Post picture: © 2019 TechnikNews)
The week started with April Fools' fun and now ends with a cozy one TechnikNews Weekly on. Hopefully you weren't fooled too much - we also had an April Fool's joke in store for you on April 1st. Your favorites, however, were the 2nd Android Q Beta, the new Honor 8A and more.
EU draft: compulsory computer driving license for everyone?
Believe it or not, our April Fool's joke on April 1st was your most read news this week. Sure: the headline was chosen deliberately sensational. In this article we have claimed, with very serious references, that there is a new EU draft on the subject of computer driving licenses. This should become compulsory for everyone - if you don't have one, you will be excluded from the Internet in the future. Fortunately, we haven't got that far - so enjoy yours now TechnikNews Weekly, with or without a computer license. Sorry for our little joke 😉
The second Android Q beta is here
We start our news overview with the Android Q Beta for Android. The second edition of this was published this week and brings some new functions with it. The design has also changed a bit at some points. In addition, the multitasking of iOS has also been adapted and now incorporated. You can find all changes clearly in our article.
Honor 8A: a new budget smartphone
Not everyone needs the best specs or would rather save the money and spend it on other things. Honor thinks so too and released a smartphone for little money this week. The budget smartphone comes with a tight working memory of 2 GB and a slightly weaker one Proprocessor. However, it only costs 159 euros. More details are in the article.
New Proproducts leaked in the Google Store
After a redesign in the Google Store, some new menus caused a stir. So you have probably unintentionally published some unpublished items in the store. The previously unreleased Google Pixel 3A and two new speakers with Google Assistant were shown there. This ProHowever, products are not yet available for purchase - it is unclear when exactly they will be available.
Withings Move is now fully customizable
The Withings Move wearable, which was shown at CES this year, can now be completely personalized when you buy it. This means that you can choose over 5800 different combinations when ordering. That ranges from pointer colors to the dial.
More articles this week
All articles that are not in your toplist of the TechnikNews Weekly are available for you to read in chronological order below.
Recommendations for you